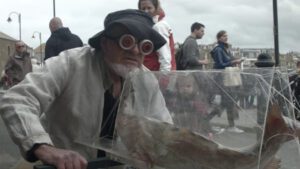 "Codswallop" is a performance piece created by the Cornish veteran artist Ken Turner, inspired by the ancient Greek philosopher Diogenes. At the St Ives Festival in September 2017 he placed a large, fresh cod onto a trolley and pulled the vehicle through the streets of St Ives challenging people to discuss their lack of sensibility to art. He visited the Penwith Gallery and Tate St Ives, which was closed, talking to people in the street and the cod, asking them all what they thought of the art on display. The resulting film by Huw Wahl, from which these images are taken, is available to view on youtube.
The challenge, which highlighted the corruption in conception and execution of the contemporary art scene was well reported by the official festival reporter. The St Ives Time & Echo promised to carry a full report on what happened but failed to do so. The Penwith Gallery complained that he did not have permission to enter their gallery and have so far ignored his request to screen To Hell With Culture, a film about Herbert Read by Huw Wahl, presumably because it shows a vibrant, literary mind engaging with artists. Something the Penwith Gallery is loathe to do today. The Newlyn Society have also failed to engage with Turner's performance preferring to ignore his contribution to the debate on why St Ives has lost its avant garde credentials and become a mannerist tourist trap disinterested in debate and hoping for the artists who remember to die, so they can go on churning out tourist junk-art on the backs of the names of some of the foremost artists of 20th century art history.
The wording on the side of the trolley carrying the fish 'Codswallop Concerning Corruptible Perception' pinpoints the problem. Gaining positions of power on boards and as trustees, individuals feed off the eminence of St Ives while prices for local houses drive out unmonied artists and vested interests maintain a tight control over studio spaces. The loss of critical writing allows repetition to display itself as style. Kitsch has become excellence. Exhibitions are designed to display the Art Council's bias and thinking art has given way to the theme park. Ken Turner's courage was not matched by a single discussion, a single challenge to his performance, a single write-up of the issues. Such silence is the nail in the coffin for St Ives.
Daniel Nanavati
Volume 32 no.2 November/December 2017 pp35-36