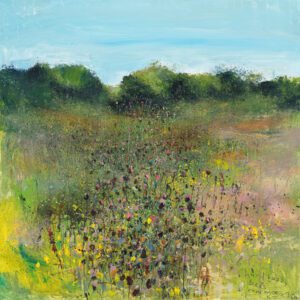 The impressive conversion of a sizeable industrial building overlooking, with large picture windows, the Tregeseal valley, was completed in late 2016. Opening with the Jackson Foundations first exhibition, in this new building, entitled "Following the Surfer".
After a six month running period the second and current installation continuing until Sept 2017 is insect themed. Publicised as " a Bee in my Bonnet, and the occasional wasp." It comprises of wall hung paintings of various sizes within the genre, an educational area upstairs displaying bee homes and habitat issues, and video room downstairs showing among, other things, Mr Jackson shoving bees into his fridge so subdued he could use them as live models for this current exhibition.  Kurt Jackson has given himself the no small task of twice yearly exhibitions which will entail the wholesale production of entirely new collections, to a set theme.
On a quick head count in this Bee exhibition, there were 40 paintings in different areas of the four roomed gallery which measured 600 x 500 mm priced at £8,000 each. There were 3- 1200 x 1200mm paintings identical to each other at £24,000 each , and 1 large rectangular landscape 2200 x 1800mm at £42,000.
In addition to these there was 1 super-canvas 2400 x 3000mm coming in at a whopping £120,000.
The smallest work and entry level purchase for an original Jackson being a framed mixed media block of wire and other effects at a humble £1,500. This was a one off, but there were other small collage pieces of broken books and bee materials in box frames as well as several 6 inch sq paintings which were being rolled at a mere £3,000 a go….
There is card stand for a normal souvenir of your visit, good washroom facilities , and after all that excitement two really good cafes within a short walk of leaving this all new and impressive,
Bee in my Bonnet March – Aug 2017. Gallery open Wed till Fridays 10-5 Saturdays 10 – 1 pm.
Chris Hutchins is an artist and philosopher.
Volume 32 no.2 November/December 2017 p36