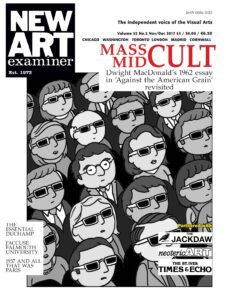 In This Issue:
SPEAKEASY by BERT BISCOE, talks about the relationship between critics and artists.
DANIEL NANAVATI, the UK Editor, takes a look at Dwight MacDonald's seminal essay from 1962, in Against the American Grain, on Masscult and Midcult.
J'Accuse Falmouth University
We reprint TIM SHAW'S explosive letter of November 2016.
The Shocking truth
FREA LOCKLEY, our new Cornwall editor and until 2016, Assistant Lecturer at Falmouth University for 8 years, lifts the lid on the academic business model.
THE CURIOUS CASE OF MARCEL DUCHAMP Part 2
MIKLOS LEGRADY, our Toronto Editor, revisits MARCEL DUCHAMP and analyses what the man thought of himself and his real contribution to art history.
ART AND ARCHITECTURE TOWARDS POLITICAL CRISES
An examination of the international architectural biennial in Paris in 1937, that so enshrines the political crisis of the times and resonates with us today.
REVIEWS:
Markus Lüpertz: Threads of History
AL JIRIKOWIC, our Washington DC Editor, reviews the MARKUS LÜPERTZ show at the HIRSHORN
GLITCH ART IAN KEAVENY threads his way through an art form that in its own estimated is already dead.
DOUG McGOLRDICK on NATHANIEL MARY QUINN at the RHONA HOFFMAN GALLERY, ANNIE MARKOVICH on FRAN SHAFFER at 116 GALLERY.
SCOTT TURRI on HADI TABATABAR at the MILLER GALLERY, CARNEGIE MELLON UNIVERSITY
DANIEL NANAVATI on CODSWALLOP by KEN TUNER at the St Ives Festival. CHRIS HUTCHINS on BEE IN MY BONNET at the The Kurt Jackson Gallery