Vito Acconci is a name you should know. A pioneer of conceptual art, his career lasted over 50 years and encompassed poetry, video, performance, installation, design, and architecture. As a trailblazer of video art, during the 1960s and 1970s he used a new creative medium to produce unprecedented works. Acconci understood the one-on-one interaction of video, despite its impersonal connotation. This understanding is a key component to his piece Theme Song (1973).
Acconci created a unique – if somewhat uncomfortable – viewing experience with this single channel video/performance. Lying on the floor, Acconci situated the camera right in front of his face, bringing the viewer up close for this personal encounter. The structural aspect of the frame, created by this perspective, fits with the intimacy of the setting. There is an intense tone throughout the video and does not let the mood shift, showing that he is in control of the planned performance. Throughout the piece, Acconci speaks to the camera as if he was speaking to the viewer. The dialogue he develops revolves around the idea of the un-named and unspecified viewer creating a relationship together. A key aspect of his monologue, and the implied dialogue created by the work, is that Acconci never uses gender-specific terms. Using words like 'you,' in combination with the viewer's perspective makes this piece of video almost a face-to-face interaction. Even if this piece was viewed by 20 or 100 guests at a time, Acconci is able to maintain the one-on-one experience. He asks the viewer questions such as "Why won't you join me?" in an attempt to entice them to join him in the visible frame. Throughout the video he keeps himself on the left half of the frame as if we could actually join him. At several points Acconci smokes his cigarette and changes the music playing in the background. Both actions convey a sense of familiarity and informality to the conversation. The intimate and shifting tension he creates changes between themes of manipulation, allurement, and vulnerability.
While watching this video you should ask yourself, 'Do I want to join him?' Of course, you can't join him physically and maybe that's not the goal. Possibly Acconci wants you to join him mentally in his sphere of existence, connecting on a conceptual level. The climax of this piece has a sombre and sad, although effective, feeling as he admits and accepts that 'you' are not joining him after all.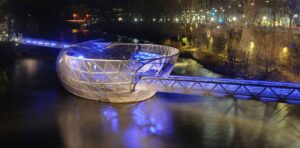 This concept of engaging with the viewer intimately and directly, even on an individual basis, using some spoken language, fits within his larger body of work. As an influential video, installation, and performance artist, Acconci seems to utilise all aspects of his practice in this piece. The back-and-forth between invitation and discomfort, wit and unwelcome advances presented by this piece is an example of his ability to display, and to an extent portray, exhibitionism that directly engages with the viewer.
In a pre-social media age Acconci mastered the art of seducing the camera. He recorded himself doing mundane acts by himself, to be shared with anyone who viewed his work. I would argue that he was not an experimental artist, but rather an artist experimenting with what art is. Ironically enough, he has said that he didn't consider what he was doing at the time to be art, more like activities he filmed. He also thought of himself as an art-doer or creator, not an artist. Watching works like Theme Song today prove that there is a nostalgia in a medium like single channel video. Certain media are more effective at certain times. A piece like this would not have nearly the same reception in a gallery space now compared to when it was created. Acconci utilised the new medium of video to create a conversation about what art can be and what can be placed in a gallery. By extension he is also creating a dialogue about how the artist and the audience can engage with each other.
Alexander Stanfield
Volume 34 no 4 March/April 2020 p 33