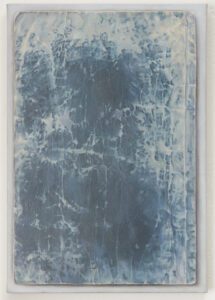 All Vija Celmins remembers of her childhood are the sounds–bombings, trains, sirens, planes. For the past half-century, her art has been geared toward silencing these sounds, giving them space to breathe on canvas, and in doing so, generating a sense of fixed quietude from memories of war. It is fitting that the first retrospective of her work in over twenty-five years, currently on display at SFMOMA, draws upon the artist's own words in its title, "To Fix The Image In Memory." "To fix the image in memory–not for itself but for its clarity and balance," Celmins once said. "Art offers its beautiful stillness…a sense of wonder constructed over time."
Walking through the retrospective, this sense of stillness accumulates. In Celmins' early work, one confronts fragments of her wartime years–an opened envelope, a suspended plane, a house aflame. Though she was only five years old when her family fled wartime Latvia, the detritus of conflict stayed with her into adulthood. It emerged in her artwork starting in the mid-1960s, when she began collecting press clippings of the Vietnam war. While others in her cohort of emerging LA-based artists opted for cool and bright color palettes, Celmins has generally found vibrancy in muted shades of gray; her work dwells among shadows, finding light in darkness and movement in matter.
The exhibition, featuring over 150 works spanning the breadth of Celmins' career, showcases her preoccupation with capturing and, as she puts it, "re-describing" the natural world. Her themes are universal and global, sky and sea, rocks and sand. Her early "disaster works" blend into her famous graphite renderings of oceans, lunar surfaces, and galaxies. In one diptych, the arc of a dive-bomber pirouetting in the air mimics the trajectory of a pair of shooting stars. In the waves of the Pacific, sloping and steady, she sees aberrations, variations in pattern, shape, and style. On the face of the moon, her pencil finds pockmarks, meticulously replicating the distortions of the photographs she used as source material. In her constellation drawings, she creates by subtracting, by making small, deliberate erasures upon the face of a blackened canvas. Over the course of her career–only now receiving the critical commendation it deserves–Celmins has made a point of playing with reality, duplicating the earth beneath us and the sky above, fixing images in memory, for now and for all time.
from December 15, 2018 through March 31, 2019.
Zoya Kinstler