The artist Jason Lilley talks about his work on the Penwith Gallery Archive
From an early age I have developed a keen fascination with the art and artists of Cornwall, especially those of St.Ives.
In 2013 I was made a member of the Penwith Society of Arts who own, and exhibit at, the Penwith Gallery. It was later in that year that I was delighted and amazed to discover that the gallery housed a very rich and largely undiscovered archive.
The Society (which has over the years included the membership of Ben Nicholson, Barbara Hepworth, Peter Lanyon, Patrick Heron, Bernard Leach, Wilhelmina Barnes-Graham, Henry Moore and Terry Frost, amongst others) was formed in 1949 due to a disagreement with the more traditionally minded members of The St.Ives Society of Artists. This newly formed Society's aims were to be more inclusive of the new voices and issues which were filtering into the post war art world.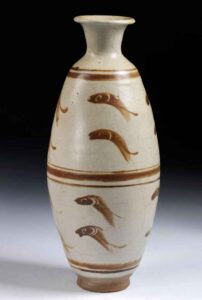 The Society was thought moribund within weeks of its inception, but here we are sixty eight years later and the legs are still twitching. Despite mass resignations, politics, personal grudges and envy, it still survives.
Kathleen Watkins (the keeper of keys for nearly 50 years, secretary, front of desk and general scary person who demanded 50p admission for entry to the gallery) passed away in late 2013 aged 80. In the chaos that ensued the archive became open for discovery.
I was given the task to check out a room in the gallery which had no lighting and was swimming in an inch of water from a burst pipe. Inside, there was a multitude of paper, books, magazines, the odd artwork and, on the floor, black plastic bags were strewn everywhere. It was in a complete mess. I inspected the nearest bag and pulled out two bits of paper.
Unbeknownst to me at that moment, this simple act was the start of two fantastic years working on archive material of real historical significance; something that could reawaken and re-invigorate the story of 20th Century art in St.Ives. One of the pieces of paper was a letter from Wilhelmina Barnes Graham in which she was lamenting the snow in Scotland and how she wanted to come back to Cornwall; at the bottom of her letter was a lovely sketch of her trudging through the snow. The other was a telegram from Peter Lanyon sent in 1950, which read, "Sorry I can't make the meeting this Saturday, could David Haughton please proxy for me? However if David cannot do it then anybody but Barbara or Ben." (Hepworth and Nicholson).
This was historical gold dust. Each refuse bag revealed more and more amazing letters, catalogues and documents, in varying degrees of condition. I couldn't believe what was happening. The following two years saw the rescue and safe storage of the Society minutes from 1949, artists catalogues from 1947, photographs, press cuttings, correspondence and documentation, provenance and books (including Bernard Leach's donated library, with his and Shoji Hamada's drawings scattered within their pages). In all, 17 archive boxes, with another 40 boxes left un-catalogued, were saved. Sadly, there were casualties due to the water leak; a lovely John Milne catalogue was reduced to barely recognizable pulp, yet thankfully this was the exception rather than the rule. Nearly 200 etchings / lithographs/prints, nearly 200 paintings/sculptures, and over 100 posters were catalogued, photographed and researched. One of which was an unsigned ink drawing which my intuition told me was by Rose Hilton, and, purely by chance, Rose came into the gallery a week later, recognized it and signed and dated it there and then. Before leaving, Rose also generously donated it to the gallery.
The Society members were clearly not as excited as I was about the archives. They were quite happy to inherit and live on the name of its past but had little respect or interest in the values and achievements of its founders.
To this day I am still unsure as to why whispered unfounded rumours started against me. Perhaps my enthusiasm for the archives and the gallery made them conclude that I was after the Chairmanship, however I see no kudos in titles, only in actions.
The archive and artworks should be exhibited, devoured by academics, and their contents shouted from the rooftops. They have however lain dormant since late 2015, and sadly, to this day, the Society still don't know what they have or what to do with it all.
Archives in the end are hard work and the Penwith's are definitely no exception. It really could have been a great opportunity for the Society to tell their own unique human story.
The Society could still be relevant today, but to be so, it needs to be much braver artistically and not content with purely surviving. The gallery is no longer unique; artworks are too familiar, with some found in nearly all the seaside gift shops/galleries throughout Cornwall. As a result of the Society's failure to find its own signature, amateurishly curated exhibitions and membership now acquired by nepotism, it may well be that the Society's legs might finally stop twitching
Jason Lilley
Jason Lilley is a member of the Penwith Society and exhibits his work predominantly with the Belgrave Gallery. Jason has curated a wide variety of professional exhibitions and works from his studio in St.Ives, Cornwall.
Volume 31 number 5 May /June 2017 pp 33-34
Since this article appeared the New Art Examiner has been banned from being sold in the Penwith Gallery and Jason Lilley was publicly abused as a trouble maker by Tony Frost, son of Terry Frost, outside the Belgrave Gallery on 17th June 2017.