– a special art exhibition at RCVA, WMU, Kalamazoo, Michigan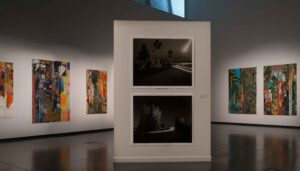 Richmond Center of Visual Arts (RCVA) is a designated space for academia, community artists and international artists to exhibit. A beautiful 5,000 sq feet exhibition space founded in 2007 on the campus of Western Michigan University within the city of Kalamazoo, Michigan. I was invited by RCVA to review its 10th anniversary show "TIME, LOCATION, SPACE" presented by two retired professors John M. "Jack" Carney and Curtis Rhodes.
I often think teaching is a parallel course for many artists, providing a shelter environment for art making. On the other hand, many artists stop making art when loaded with academic responsibilities. However, the show struck me that they both regained their creative spark in art producing after retiring.
John Carney began teaching at WMU in 1966, and retired in 2000. During these close to 40 years, he taught Graphic and Foundation Design courses and established the Photography area's BFA and MFA degrees programs in 1972.
Curtis Rhodes also joined the art faculty at WMU in 1966, and taught Painting, Drawing, Printmaking and Art History. Retiring in 2004, he served as curator of the WMU print collection acquiring works by major national and international artists which today form the core of WMU's print collection.
"TIME, LOCATION, SPACE" is a grand exhibition featuring many of Carney's large photograph on carbon pigment print, Black and White pictures with interesting light from long exposure. Rhodes is featured with abstract paintings influenced by archaic pre-columbian motifs as well mystic modern rendering on large 6 foot watercolor papers.
Interviewing both of them I learned interesting tidbits which motivated their work.
Kostrzewa and Carney:
LK: Tell us the method of your photography.
JC: I don't print through Photoshop as a print engine(software). I print through QTR (Quad Tone Rip) and use the only "carbon pigment" by Epson inkjet. The reason is Photoshop gives B/W photos a very neutral gray but, the carbon print process allows you to get a very rich tones in B/W photography.
LK: Why do you build your own cameras and scan 4×6 inch film negative instead of using digital camera?
JC: For the amount of details in my photos, the best lenses produce the best images. I scan a 4×6 inch negative to get the higher quality. You cannot get such details in 35mm camera output.
LK: I heard you catch your film exposure from moonlight and you have a special way to measure the moonlight by its cycle?
JC: Yes, there is 29.5 days in a moon cycle. With full moon, there is a very clear night; with less moon, there is clear starlight. I like traveling full moon day until 18th day, half through the moon cycle. I use yardstick when I start exposure, then I know in how far the moon will move in one hour. It could take me one hour 55 minutes to get one picture exposure. That is how you see all the details on the rock images of my photos.
LK: In "TIME, SPACE, LOCATION" you have works from 1988 to 2015. How has your work evolved over 30 years?
JC: Early on I built cameras, in fact six of them. I devoted each camera to a specific focal lens, so I didn't need to focus the lens when I was taking pictures.
In my second stage, I began to measure time exposure. When I opened the shutter I watched as the images evolved. I didn't know what would really happen until I processed the film.
Around the year 2000, I retired and I went on to my "theatrical production" stage. I am the producer. I select "SITE" to set up my stage. My actors are "TIME" and "SPACE", and they make their own play. Time and space are the ones that make the images. I exist in this time and space and watch them evolving. I would want viewers to experience the same excitement I went through and still go through as this process takes shape. I don't Photoshop any image.
Kostrzewa and Rhodes:
LK: I see your work gradually changing through the last 15 years. It seems to me your earlier works are motif-like shapes, but your newer works are more spontaneous with loose brush strokes. Can you tell me about it?
CR: My work comes from my experience and memories about my various travels in Australia, Peru and the Amazon jungle. I found many objects in the cultures of prehistoric periods, particularly the Inca and Mayan cultures. My earlier works are influenced by my time in Australia. My experience in the Amazon jungle also stay with me. I rely completely on my memories, and the pictures define my visual memories. All the work is about the locations and the time I spent in these locations.
LK: Can you tell me about your method of painting?
CR: I use Arches 300 lb of watercolor paper. I started with watercolor then went to pencil drawing, charcoal rendering, and finished with oil pastel. The medium is categorized as "mixed media".
LK: Why do you want to have this exhibition, I heard it was your idea. How do you see this show in your career?
CR: It was a desperate cry to have something to say. Reflecting the many years we have spent here and all the work we have done to take us here. We dedicated our careers to build a strong art department. We spent our entire career here!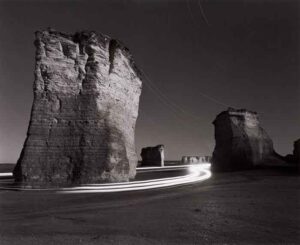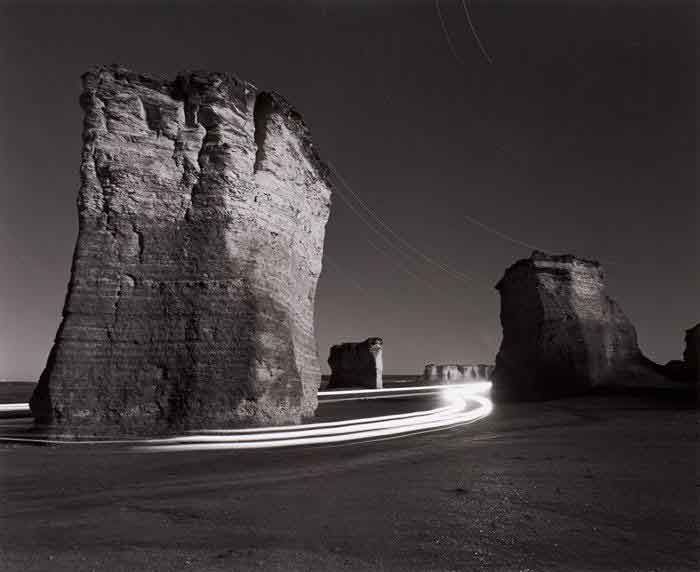 Reflection:
On my way back home, I thought about Rhodes' paintings, and I could actually see the bouncing of Klee, Miro, Klimt and Degas, a flick of their brushes, shapes and colors. I thought it was a beautiful exhibition, a short version of modern art history. It was definitely beyond any MFA thesis exhibit. However, it echoed an outcry for academic training. Is that all? They remind me of many dedicated art educators I have known. With much to say about the last often frustrating 50 years of higher Ed in art making. However, that would be another long article to discuss. After all, art is to speak human voice, and the only voice Professor John Carney and Professor Curtis Rhodes need is the the voice they have.
Lihting Li Kostrzewa,
Lily (Lihting Li) Kostrzewa, a Taiwan born artist, earned BFA, MA, MFA degrees, has taught Drawing, Painting and Design at three Universities in the USA. Now a professional artist, she specializes in East/West cross-cultural painting.a Taiwan born artist, earned BFA, MA, MFA degrees, has taught Drawing, Painting and Design at three Universities in the USA. Now a professional artist, she specializes in East/West cross-cultural painting.
Volume 31 number 5 May /June 2017 pp 35-36