Alexander Stanfield
Artists often attempt the creative leap to connect the personal and universal, which is no simple task. (no subject) non-attachment is a deftly executed exhibition by Audrey Barcio that seeks to bridge that gap through self-reflection on their own heritage, their methods of creative practice, and captivating abstraction.
Barcio has created a body of work that echoes the abstract expressionists of the mid 20th century. Formalism is on full display with this exhibition of 22 paintings. Vibrant patterns are the sum of shapes, hard edges, and rhythmic angles creating visually striking compositions. Geometric forms play with bold and pastel colors to create compositions that keep the viewer's eye entertained and intrigued. The use of mica in the matte-finished acrylic paints adds another layer for the viewer to interact with and to see how refracted light creates new images to contemplate depending on their perspective. These two-dimensional works possess a tactility that invites the viewer to consider the interplay between mediums.
This exhibition of work also deals with the idea of assemblages and craft, as several of these canvases are stitched together with interdisciplinary precision. Here, Barcio is battling with the pejorative connotations of 'craft' as opposed to 'art'. A term often associated with female artists in art history, 'craft' as a genre was used to lessen the recognition many female artists deserved. This creates a dialogue between Barcio and their creative practice. To stitch together pieces of canvas alludes to an attempt to piece together their own identity as an artist through family history, personal experiences, and art history in the larger sense. The act of stitching paired with the geometric forms is reminiscent of pieces of fabric laid across a sewing table, waiting to be combined. It's as if the individual, colorful forms are connected to aspects of Barcio's identity as a person.
Many of Barcio's paintings play with the concept of negative space. The witty title for the exhibition references the idea of a void, and many of the individual pieces are also untitled. The utilization of 'gaps' extends to the painting compositions with the use of grey and white checkered sections. These areas act as a negative space while simultaneously suggesting that something does indeed exist there. Barcio's relationship with the concept of personal memory is manifested by these gaps in the compositions and may even be a nod to the effect of a Photoshop Lasso; whimsical, but effective.
There is a feminine presence that influences several pieces in this exhibition, such as Untitled, 2020, Acrylic, flashe and mica on stitched canvas, 54" x 42'. The frequency of pyramid forms and the compositions of several works suggests a connection to a greater feminine identity, not unlike the presence of an O'Keeffe floral painting, but with geometric forms instead of deserts blooms. There is an undeniable influence of female painters such as Ages Martin, Joan Mitchell and Hilma af Klint present in Barcio's work. However, that does not detract from Barcio's own sense of creative practice. To reflect on the body of work, and those who came before you as an artist only furthers the legacy you wish to create.
With the uncertainty of the pandemic, I was not able to physically attend Barcio's exhibition, but I was fortunate enough to be able to ask Barcio a few questions about this exhibition of their newest body of work and their sense of what it means to be an artist.
Conversation:
AS: Your body of work appears to draw from several styles of visual and installation art. Do you subscribe to a particular mode? Or would interdisciplinary be an appropriate way to describe your approach?
AB: I have always given permission for concepts to lead my decision-making process. This action can lead my work towards sculpture, installation, video or painting, although from an early age my interest has been rooted mostly in painting as a medium. Painting has a unique history, and that history is also personal for me. It challenges me and pushes me forward in a way that I find liberating.
AS: Your work also appears to be influenced by artists from the New York School. Are/were you drawn to this collective for specific reasons, if at all?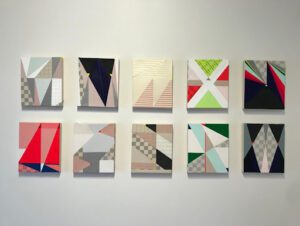 AB: To have been alive in New York in the 1950s and 60's, and to have been welcomed to be part of that group of talented artists, poets, musicians and playwrights/actors, would have been profound. One of the best books that gives a glimpse into that time period is Ninth Street Women by Mary Gabriel. Topics raised in that book inform a painting class I teach that combines art history and theory with painting, and which begins from that era. One of the most profound discussions from this course surrounds how many individuals from that time period were not invited to participate because of their identity, politics, or even aesthetics, and who were denied access to the market and have been left out of the historical canon. To me, with my art history education (which was mostly based on a Euro centric, white male perspective) I am not surprised by how many LGBTQ+ artists, artists of color, women artists, Indigenous artists, and disabled artists have been left out of the conversation. My mission as an educator is to destroy the bigoted historical and market driven canon and instead present an inclusive point of view for my students. As an artist, when I consider who I draw influence and inspiration from, it tends to come from those who have been overlooked.
AS: I think the hand-sewn aspect in your work is great. As a creator, do you differentiate between craft and art?
AB: Artists use methods to reinforce their concepts. For me, the choice to use sewing in my painting process is intentional to my concept of stitching together past and present histories—both personal with the loss of parts of my physical body and the wearing of prosthetics, as well as referring to lineages within art history to which I relate. The conversation between art and craft is challenging. Any artistic technique could theoretically also be utilized as part of a 'craft-based process.' The 1978 essay "Art Hysterical Notions of Progress and Culture" by Valerie Jaudon and Joyce Kozloff addresses, among other things, the false hierarchies that have been invented to separate so-called fine art from other aesthetic phenomena, mostly as a way of diminishing the work of artists who don't identify as male. I've seen this first-hand from my previous experience working at a commercial gallery where female artists are marginalized for using the same processes male artists are championed for using. I've never heard anyone call Picasso and Braque crafty for using collage.
AS: When you began to produce the works in this show, what was your intent? What type of dialogue with the viewer(s) were you hoping to instigate?
AB: My intention for this body of work to have a conversation with my heritage, both personal and historical. I've previously veered away from personal narration in my work and have instead focused on universalities. But since 2020 when I began to make this new series, I have felt that there has been a collective focus on self-reflection. During the pandemic, I've reflected on the path that has led me to where I am today, and those who came before who influenced me.
AS: My last question is more of a statement and question. It is notable that you have received recognition from two foundations with female artist namesakes, Pollock-Krasner Foundation and Joan Mitchell Fellowship. Do you identify as a female artist, and if so, does receiving said recognition have more value to you as an individual?
AB: I do identify as a female, and I hold in high honor those artists who have left behind foundations and other mechanisms to support other artists through grants, fellowships and mentorship. I've been immensely fortunate to receive such support myself, including the Pollock-Krasner Foundation Grant, and I was recently nominated for, although not awarded, the Joan Mitchell Fellowship. I often wonder which successful contemporary artists are right now considering leaving behind a similar legacy. As an artist, I think one of the most notable things we can offer is support for the next generation of artists, whether through teaching or grants and scholarships. I am proud that teaching is part of my overall artistic practice, and as soon as I'm able I intend to set up a scholarship for first generation college students like myself.
A special thank you to Sahra Beaupre at Echo Arts for providing me with a digital tour of Audrey Barcio's work in the gallery space.
Audrey Barcio: (no subject) non-attachment 12.10.2021-2.09.2022, Echo Arts, Bozeman, Montana.
Volume 36 no 4 March / April 2022