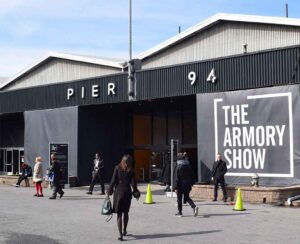 It's been an interesting couple of weeks in the New York Art World, as the Armory Show moves to Pier 90 and 94, cancelling Emerging Artist show Volta.
Due to the unsound structure of Pier 92 on New York's Hudson River, part of the Armory show previously to be located on Pier 92, was scheduled to move to nearby Pier 90. The other half will stay in its original location, Pier 94, which is holding up. It seems the big boys won the space race as Emerging Artist fair, Volta, originally located on Pier 90, was displaced by the Armory Show and subsequently announced the postponement of its 2019 New York fair until 2020.
In an unusual act of charity, or justice, all exhibitors signed up with Volta were notified that they would be reimbursed for expenses, but less than two weeks before the March 6 VIP and Press opening of the fair, costs were incurred for shipping, framing, commissioning artists and other expenditures for Volta galleries and artists.
In an incredible act of generosity, David Zwirmer's Chelsea gallery has come to the rescue of many artists originally included in the Volta show. At the urging of the Hort family, and its foundation, major collectors of emerging artists, David Zwirner's Chelsea gallery will exhibit at least twenty-five artists originally included in the Volta show. The gallery, at 525 West 19th St. in New York, will be open to viewers on March 6, from 9-5 and March 7-10, from 10-6. David Zwirner is also soliciting other galleries to provide space, and in an act of unity, they are responding. More information, including a listing of artists exhibiting at Plan B is available. Go to David Zwirner's gallery or Volta's website.
Read New Art Gazette online next week as I interview David Zwirner, Mr. Hort, and show you the work at Armory, Scope and the newly named Plan B show (formerly Volta).
Nancy Schreiber
US Editor