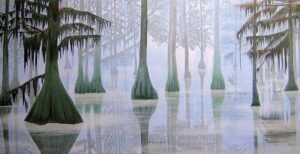 Fern Shaffer has been working as an artist for over 40 years, exhibiting performances, paintings and photographs as both shaman and teacher.
In this not so quiet space of a gallery, Gallery 116, located in St. Charles, Illinois, Shaffer paints the common plants including Cannabis, Artemisia, Dandelion, Digitalis, Lungwort, Ginkgo and Gopherspurge. Large representations of one leaf of each plant, seven 5×7 ins paintings and 35 smaller works measuring 3×5 ins speak about the power of plants to heal various diseases and ailments in humans. Careful study, connection and fine draftsmanship are embedded in this body of work.
What is unusual about these paintings is the disparity of size between each plant and the paintings. It's as if each plant posed for a portrait. Drawn and painted in acrylic, a green leaf appears on a flat black background, simply, branches echo Matisse cutouts. The details of each plant are abstracted to reveal the form of each plant, these are not botanically correct in the scientific sense.
The first painting titled, Artemisia is also the namesake of a woman's gallery in the 70s in Chicago where Shaffer was a member and officer. The exhibition hand out reads
'Artemisia has been used for a variety of digestive tract disorders including cramping, diarrhea and constipation, popular disorders of the 21st Century.'
A humble Dandelion covers most of the rectangular canvas, its edges resembling arrows both menacing and beautiful. There is something captivating in these works that defies description in words; it's the spiritual connection the artist feels for each plant and whichever one speaks to her, she paints
In 1995, artist Othello Anderson and Shaffer embarked on a nine year ritual of documenting her performance of healing. Mountains in Tennessee whose tops were blown off for mining, parts of the Atlantic and Pacific oceans from overfishing, deleterious results from the greenhouse effect and waste material accumulation were photographed with Shaffer as shaman performing healing rituals. This kinetic performance became an exhibition in 2015 at the Peggy Notebaert Nature Museum in Chicago.
As a painter Shaffer addresses aspects of Art in tune with ethereal or invisible powers of healing, – an irony in the visual arts. Although the viewer cannot 'see' the power per se, the palpable presence is felt on a cellular level.
Shaffer's body of work includes over 25 exhibitions both here and abroad including MOCA in Chicago, the artist's home.
Price range $250-$5,000
Annie Markovich
Volume 32 no.2 November/December 2017 p33