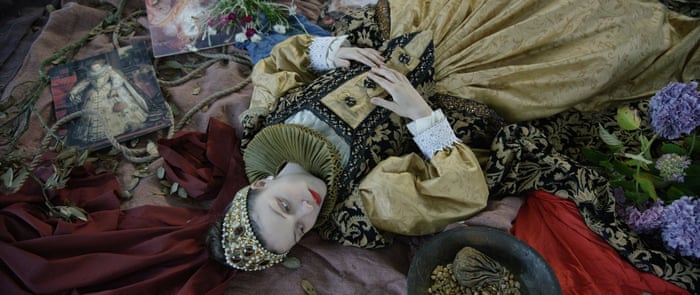 Walking inside the casual maze of rooms, each hosting an individual sound and video work, separated by a double layer of plastic noise-reduction curtains and heavy, black velvet fabric; the body becomes fiercely present. The works here are framed thematically by the concept of alienation—contemporary discord between the body and mind and our human needs not being met as a result of increasingly capitalistic values and systems, referring to this state specifically as a 'collective disease.' Darkness frames each space, facilitating both intimacy and solitude, and in this environment what really becomes the focal point is the complexity, the failings and frustrations, the architecture and symbols of, and deep need for human communication.
John Akomfrah's 3-channel video Vertigo Sea (2015) opens the exhibition. Three massive screens cycle through birds-eye sweeps over luscious forests and mountains, untouched ice caps, infinite oceans. Slowly, both historic and contemporary scenes of animals being hunted and slaughtered get folded into the cycle, introducing a violence that feels cruel and gratuitous. The brutality then becomes human as we face still images and video of black and brown bodies being forced to walk off of ships or jump to their deaths from planes flying over the ocean. But, this deeply emotional experience becomes severed by the introduction of constructed scenes—actors in period costume casting forlorn gazes, or slow, cinematic pans of clocks nested on a shoreline—completely gutting the poignant tension that Akomfrah so naturally achieved.
The next piece, Arthur Jafa's APEX (2013), unquestionably sets the critical, essential tone of this exhibition. A series of 800 images sourced from the internet blip onto the screen just long enough to focus but not long enough to dwell. The sequence is set against a backdrop of an unrelenting beat that is somewhere between nightclub and hospital monitor, the rhythm paced in a way that is both hypnotic and haunting, like a heartbeat. Like much of Jafa's work, this piece is centered on the experience of blackness and black cultural production, the images forming a collective body of violence, pain, pleasure, fetish; they tell a story of being consumed. It's the perfect pitch to elicit maximum anxiety and urgency, framing these images of macerated, severed, splayed people transformed into flesh, interspersed with images of microscopic organisms, cosmic space, pop stars, movie clips, and fashion ads. Black culture and fetishism, objectification and appropriation, images estranged from their context, it's a contemplation on consumption. Consuming the consumed, we are being exploited ourselves as we exploit the abstracted, disembodied content that is the endless cycle of image production in the 21st century.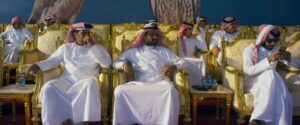 We find solace from that anticipated beat drop that never arrives in the next room with Angelika Markul's Land of Departure (2014). This acute pulse, now set deep within the bodies' physical memory, is suddenly bathed in white noise-like static which for many is used to soothe, linking back to that pre-conscious time in the womb, calming the anxieties and unsettledness both sub- and consciously intuited. But while gazing at the night sky as it transitions from dusk to dawn, paced and resonant like a lullaby, it also becomes quite a strikingly lonely moment. The time and space scale-shift creates a deep point of intimate contemplation as we look to the night sky for answers, for some kind of knowing. And as the light from the sun begins to sneak into the horizon, the film slides backwards and we reverse back into the night. There is a terror in this infinitude.
The exhibition closes with Clément Cogitore's short Les Indes galantes (2017), featuring a staged krump battle set against the libretto "Les sauvages" (The Savages) from the fourth act of the aforementioned opera.
Land of DepartureMy first impression of the piece is one of absolute hypnosis; the baroque instrumentation sounding out primal rhythm chains immediately settles into the bones in a similar manner to that of the machine-like pulse from APEX. The lighting and ambiguity of context works with the operatic score to create maximum drama. But, after the initial romance, a heavy question settles in, one that is also posed by Madison Mainwaring for the New York Times International: can this re-staging truly subvert the operas' historic ideologies? Cogitore's piece, actually only a small segment of the full stage enactment currently being performed at the Paris Opera, suddenly becomes uncomfortable. The objectifying white viewer becomes distressed by her own voyeuristic position on the other side of the screen, as these dancers perform this deeply intimate conversation while she idly watches them for her pleasure. And while there is no clear answer to this question, the employment of dance as both a language and pedagogical tool in this work creates the opportunity to both observe and question power structures, historically and contemporary, and how they're either engaged or overthrown through sound and form.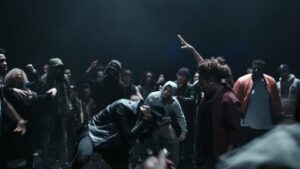 This exhibition reconnects us to the human experience, to palpable performances of privilege and ritual, through time and both lived and imagined reality. And, despite the cruelties enacted, we still maintain this primal urge to connect, to belong, to communicate and to be reflected, our existence validated. Community affords certain assurances, but, what is a world without alienation?
Kathryn Zazenski
Volume 34 no.2 November/December 2019 pp 28-29