The Japanese House: Architecture and Life after 1945, 23 March 2017 – 25 June 2017 Barbican Centre, London.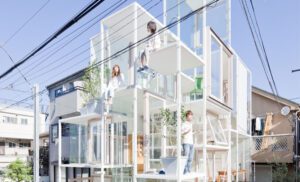 In contrast to the sad home of Philip Larkin's poem, which "stays as it is left, shaped to the comfort of the last to go", the Japanese house, as perfectly demonstrated by this exhibition, is an ever–changing and ever–challenging construct that defies nostalgia.
Due, in part, to the geophysical nature of Japan and also to inheritance tax constraints that make it difficult for a home to be passed down within the family, the Japanese house is a relatively short-lived structure. Home as a concept is imbued with an impermanence that does not resonate with our British expectation of comfortable familiarity and tradition.
The exhibition shows how the Japanese house is being constantly re-invented and the idea of home reconsidered by every new generation of architect. It has passed through many phases, on a fascinating progress that explores the meaning of home (can a coat with pockets containing survival objects be home?) and the relation of interior and exterior, through, for example, the interweaving of house and nature – one house has plants for walls, another takes the form of a series of self-contained units separated by plans and trees.
The relationship of Interior and exterior is developed in the recreation of the home of an urban hermit. Here we see a man whose life is lived inside but remains responsive to the outside world by looking at the branches of a tree, exchanging greetings with the postman, reading perched on a window sill.
This thought-provoking exhibition has been beautifully put together and will inspire you towards a deeper value system to lift our homes away from anything mundane.
Susie Corrie studied Greats at Balliol College, and teaches Latin in Oxford.