Steven Litt
CLEVELAND, Ohio — Viewed from a distance, the State of Ohio might seem hostile territory for the visual arts, or fine arts of any kind. It's a blood red conservative state where voters twice picked anti-cultural Donald Trump for president by an eight percent margin, and put in place a Republican-dominated legislature with a deep antipathy to cities, where the arts cluster.
Yet a strong current of public and private support for arts and culture also runs through Ohio history. That's why it's one of America's richest states in its number of art museums and visual art schools, ranging from departments at private institutions, such as Oberlin College, to the free-standing Cleveland Institute of Art, the Columbus College of Art and Design, and programs at state university campuses in Cincinnati, Columbus, Cleveland, Kent, Akron, Youngstown, Toledo, and Bowling Green.
Across the "Big C" cities of Cleveland, Columbus and Cincinnati, the visual arts and the arts in general have spurred creative economies and hastened a back-to-the-city migration after decades of population and job losses caused by globalization, white flight and sprawl. With young professionals and empty nesters now coalescing around colleges, universities and medical centers, local visual arts scenes have spurred revitalization in once-struggling urban neighborhoods such as Cincinnati's Over- the-Rhine, Cleveland's Ohio City and Tremont, Detroit's Shoreway and Little Italy, and the Short North in Columbus.
In the Short North Arts District, galleries, boutiques, restaurants, and chic hotels line nearly two miles of North High Street from downtown Columbus to the Wexner Center for the Arts, a non-collecting institution at The Ohio State University named in honor of billionaire retailer Leslie Wexner's father that displays contemporary art, film, video, dance and performance. In 2011, Columbus real estate magnate Ron Pizzuti and his wife, Ann, established the Pizzuti Collection in a former 1920s office building a block west of North High Street to exhibit their 2,400 works of contemporary art. In 2018, the Pizzutis donated the building, forty artworks, and access to their collection, to the Columbus Museum of Art.
The coronavirus pandemic has hit the arts hard and decimated local restaurants and retail districts, but a post-COVID rebound seems likely. That's true in part because the rise of remote working is encouraging workers in pricey coastal cities to relocate to mid-continent locales where it's affordable to live minutes from parks and bike trails, a big museum or theater district, and great restaurants.
Cleveland, for example, boasts the Cleveland Orchestra, routinely ranked one of the top five classical ensembles in the U.S., and among the best in the world. The Cleveland Museum of Art, with a collection of nearly 65,000 objects spanning 6,000 years of history, has long ranked as one of the ten richest museums in terms of endowment wealth in America.
Cleveland leads the state in cultural institutions because of generous philanthropy and strong audience demand. Research conducted in 2015 for The Plain Dealer in Cleveland by the nonprofit Cultural Data Project, now DataArts, found that per capita participation in cultural activities in Cleveland, measured by individual visits to exhibits and performances, was 87 percent of New York's level. In other words, with a population of less than 400,000 and a Metropolitan Statistical Area of 2 million, Cleveland has a rate of audience participation close to that of a global tourism mecca with a population more than four times its size. Columbus came in at 54 percent of New York's level, and Cincinnati came in at 30 percent.
The Forest City's cultural appetite explains why Cuyahoga County voters in 2007 approved a 10-year, 30-cent-a-pack tax on cigarettes to create one of the most generous local government funds for the arts in the U.S., generating roughly $12 million a year for everything from big museums to start-up galleries and community theater companies. Voters renewed the tax in 2015 by a whopping 75 percent margin.
Cleveland is part of a larger story. Yes, Ohio is a largely rural state that votes red, but unlike most surrounding states, which are dominated by a single large city, Ohio has numerous urban areas. All gained cultural anchors in the 19th and early 20th-century thanks to industrial barons who wanted to educate and pacify immigrant masses from Europe, and to compete with older East Coast cities. Art museums established across Ohio from the late 1870s and the 1910s are part of an archipelago that extends from Pittsburgh and Buffalo to Midwestern industrial cities such as Chicago, Indianapolis, Detroit, St Louis, Milwaukee, Kansas City, MO., and Minneapolis-St Paul. It's impossible to understand the visual arts in the U.S. without appreciating these treasures. The Cleveland Museum of Art, for instance, boasts masterpieces such as J.M.W. Turner's The Burning of the Houses of Lords and Commons, October 16, 1834, of 1835; Nicolas Poussin's The Holy Family on the Steps, 1648, and Stag at Sharkey's, 1909, the most famous painting by Ashcan realist and Columbus, Ohio, native, George Bellows.
The Butler Institute of American Art in Youngstown has an excellent collection from the 19th-century to the present, centered on one of two versions of Winslow Homer's Snap the Whip, the artist's 1872 paean to rough-housing boys at play. The Metropolitan Museum of Art in New York owns the other version. The Toledo Museum of Art has a superb collection of European Old Master, Impressionist and contemporary American paintings, and the Columbus Museum of Art excels in holdings in early modern American and European paintings, and in works by self-trained Mississippi wood carver Elijah Pierce, and 2004 MacArthur Prize-winner Aminah Robinson, both of whom chronicled Black life in America.
Ohio's leading art museums participated fully in the global art museum building boom of the past few decades. The Wexner Center for the Arts kicked off the trend in the U.S. in 1989 when it debuted in a new building designed by architect Peter Eisenman with postmodern elements such as a partially deconstructed castle turret and a suite of galleries with sharply angled walls. In its insistence that an art museum could be a work of art in itself, the Wexner anticipated Frank Gehry's 1997 Guggenheim Museum in Bilbao, Spain.
The Guggenheim Bilbao owes an even more specific debt to Cleveland insurance tycoon and arts patron Peter B. Lewis, who in the mid-1980s commissioned Gehry to design a lavish house for him in one of the city's suburbs. Lewis abandoned the project after five years, but refining a dozen versions of the house enabled Gehry to master CATIA, the aerospace design software he used to design the custom-fabricated elements of the curvy, titanium-clad museum in Bilbao.
Other notable new museum structures in Ohio include Zaha Hadid's 2003 building for the Contemporary Arts Center in Cincinnati; the 2006 Glass Pavilion at the Toledo Museum of Art, designed by SANAA of Japan; the 2007 expansion and renovation of the Akron Art Museum, designed by Coop Himmelb(l)au of Vienna; the Museum of Contemporary Art Cleveland's new building, designed by Farshid Moussavi and completed in 2012; and the Cleveland Museum of Art's 2013 expansion and renovation, designed by Rafael Vinoly.
Despite such investments, Ohio has been more of an exporter of talent than an importer. Bellows achieved fame in New York; Cincinnati native Frank Duveneck prospered in Boston and Munich, although he returned to his hometown to teach. Noted artists who left town after studying at the Cleveland Institute of Art include Charles Burchfield, Hughie Lee-Smith, Robert Mangold, Joseph Kosuth, Heidi Fasnacht, April Gornik, and Dana Schutz. Roy Lichtenstein earned his bachelor's degree in art at Ohio State before spending six years in Cleveland as a draftsman at Republic Steel, and as a window-decorator at Halle's Department Store. He left in 1957 to teach in upstate New York and at Rutgers University before joining the Leo Castelli Gallery and inventing his Pop Art style.
Exceptions to the centrifugal pattern include mid-century Social Realists Clyde Singer and Clarence Carter, industrial designer Viktor Schreckengost, and Op artist Julian Stanczak. They all spent all or part of their careers in the state, getting far less attention from art historians and the art press than their East Coast peers in the process. Stanczak made a brief national splash for his eye-tingling abstractions in the 1965 Op Art show, 'The Responsive Eye', at the Museum of Modern Art in New York, but continued working in near obscurity in Cleveland for decades before seeing an uptick in media interest and prices for his work before his death in 2017 at age 88. "I am numb," Stanczak said in 2009. "Once you get older, you look at it with a cat's smile. It's very pleasant, but where have you been all this time when I needed you?"
A notable strain in the state's art history is based on close ties between design and industry. Joe Oros, a 1939 graduate of the Cleveland Institute of Art who trained under Schreckengost at the Cleveland Institute of Art, led the team that created the iconic 1965 Ford Mustang. The Toledo Museum of Art, which owes its existence to glass manufacturer Edward Drummond Libbey, hosted a pivotal glass-blowing workshop in 1962, during which Harvey Littleton and Dominic Labino launched the modern American art glass movement. Outcomes include the museum's extensive collection of art glass, and the new pavilion devoted to the medium.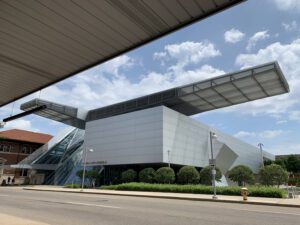 Today, Ohio arts leaders see opportunities to grow the arts as an economic sector and as a creative enterprise based on the state's history and extensive infrastructure. One such cultural entrepreneur is retired advertising executive and photography collector Fred Bidwell, who in 2018 inaugurated the FRONT International: Cleveland Triennial for Contemporary Art, a $5 million, summer-long visual arts festival inspired by European models such as Documenta in Kassel, Germany. FRONT's inaugural edition, aimed at changing perceptions of Cleveland and attracting global attention, exhibited works by 129 artists from around the world at two-dozen venues. It drew 230,000 visitors, 30,000 of whom came from outside the region, generating $31.2 million in economic impact. The second edition of the festival has been delayed to 2022 because of the coronavirus pandemic, but Bidwell hopes to surpass the 2018 benchmarks. Bidwell is also helping to lead an effort to expand the Cuyahoga County cigarette tax to include all tobacco products, and to persuade the Ohio House and Senate to enable such a tax in 13 other urban counties.
Ohio's conservative governors and legislature have hamstrung cities for decades by allowing predatory mortgage lending, decimating the state's local government fund, limiting money for mass transit, and refusing to let localities toughen gun laws. But heavy backing for the arts from business leaders — the kind who support political campaigns — explains why the tobacco tax has a fighting chance, particularly amid the pandemic. "They get it,'' Bidwell said of state legislators. "The argument is that this is a big, important legacy industry that you can't rebuild. You can't let it fall to pieces and think it's going to come back. You can't recreate the museums or orchestras.'' Conservative legislators also understand the reputational value of the arts. "The Cleveland Orchestra, the Cleveland Museum of Art, the Wexner Center: These are international brands,'' Bidwell said. "Corporations and talent thinking of moving into town — what are they going to respond to? They're going to respond to brands they know. These are powerful brands."
Of course, the arts are vulnerable to assaults from across the political spectrum. During the culture wars of the 1990s, Hamilton County's sheriff raided the Contemporary Arts Center in Cincinnati in 1990, charging it and director Dennis Barrie with violating obscenity statutes for exhibiting homoerotic photos by Robert Mapplethorpe. It was the first time an American museum faced such criminal charges. Barrie and the center were later acquitted on all counts.
More recently, Ohio art museums have had to adjust to the racial reckoning sparked by the pandemic and the Black Lives Matter movement. That has been a challenge for largely white-run institutions located amid minority communities suffering from decades of systemic racism. Mark Masuoka, former director of the Akron Art Museum, resigned in May, 2020 amid allegations of racism, sexism and bullying of employees by managers, which he later denied. In June, Jill Snyder resigned from the directorship of the Museum of Contemporary Art Cleveland after New York artist Shaun Leonardo said he had been censored by the museum's decision to cancel an exhibition of his drawings of unarmed Black men and boys killed by police. The museum said activists had persuaded it that the exhibition would re-traumatize victims' families, a serious concern in a city where 12-year-old Tamir Rice was shot and killed by a patrolman in 2014. But Snyder later acknowledged that the museum had failed to seek more diverse views about how it could have proceeded with the show. After Trump's election in 2016, national media outlets engaged in hand-wringing over how little they understood the heartland. As its cultural and artistic history shows, Ohio is far more than merely a bastion of Trumpism. It's a complex, contradictory, and fascinating place where the arts are strong, deeply rooted, and loved by people of all persuasions with the highest expectations for local institutions. That's one reason why it's a pretty terrific place, and well worth knowing.
Steven Litt is the Art and Architecture Critic for cleveland.com, and The Plain Dealer. He is a winner of the Rabkin Prize for visual arts journalism.
Volume 35 no 5 May/June 2021