Chicago Cultural Center (September 17, 2016–January 8, 2017)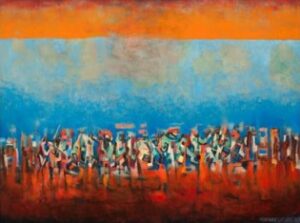 As I ascended the majestic staircase of the Cultural Center, I wasn't prepared for what I was to find. I am familiar with Norman Lewis' contemporaries, such as Willem de Kooning and Jackson Pollock. But Lewis' abstract expressionism was unknown to me.
At the start of the exhibition, we see a painting, "The Woman in the Yellow Hat," that echoes Cubism, yet has its own character. The early work featured in "Procession" is figure work and city scenes, including all-too-relevant subject matter: police officers beating a black man. In the city scenes, line and color evoked sight and sound. I could hear the city in these paintings.
Norman Lewis's work is noisy. It doesn't make sound visual like Kandinsky (though one piece in the show is probably influenced by Kandinsky) but one can hear as well as see the paintings. This came to full bloom upon encountering "Jazz Musicians."
I heard jazz looking at it. It's an astounding and slightly disorienting experience to both see and hear paintings and drawings. Sometimes it was noise or one tone; other times, it was rhythm or melody.
The exhibition sought to establish Lewis as influenced by and in the school of de Kooning or Kandinsky. Yet Lewis's body of work has its own idiosyncratic path not contained within the categories of "White-European-Avant-Garde" and "Art Establishment."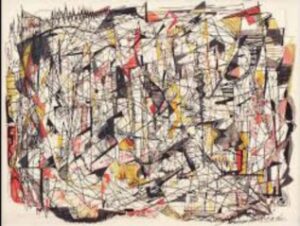 Clearly, Lewis was friends with these artists and in conversation with avant-garde and the western art traditions, but his body of work doesn't seek to be reframed or in rebellion against the European art world. The entire body of work is melodious, rhythmic, and visually overwhelming.
Lewis has a severity sprinkled with whimsy that is almost missed but comes out in two pieces, "Sunday Afternoon" and "Untitled," painted the year before he died. Procession presents works from Lewis' differing styles and periods leaving the observer satiated.
Larry E. Kamphausen
Rev. Larry E. Kamphausen, OJCR is an icon painter, theologian, writer, ordained minister, and goth. Larry also writes for the dark alternative Kilter Magazine. He has shown his work at the now defunct Gallery B1E and the Rogers Park Art Gallery.
Volume 31 number 3 January / February 2017 p 35