Margaret Lanterman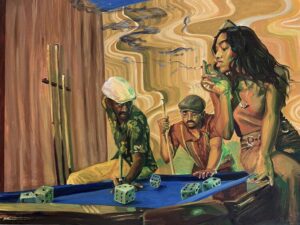 Spring in Chicago brings weather that varies between blustery snow and 80-degree sunshine, and that abrupt dichotomy was also the feel of the most recent Art Expo, the International Exposition of Contemporary and Modern Art. Alongside migrating birds and drifts of tulips and jonquils, we once again had a mile of art to explore after a hiatus of two Covid years and the draining necessity of virtual, non-contact art viewing. Work spanned the whole gamut from venerable classics to young break-out artists.
This year the ninth enactment of Expo hosted over 140 leading galleries representing 25 countries and 65 cities world-wide. Beyond the established galleries, both commercial and grass roots, the exhibit also featured solo booths, focused projects, and special exhibitions of non-profit institutions, museums, and organizations. Countries represented at the 2022 exposition include: Argentina, Azerbaijan, Brazil, Canada, China, Colombia, Finland, France, Germany, Great Britain, Greece, Ireland, Israel, Italy, Japan, Mexico, Netherlands, Peru, Singapore, South Africa, Spain, Thailand, Turkey, United Arab Emirates, and United States of America. It was a world art exploration in a single weekend.
As usual the Expo was installed at Chicago's 55-acre Navy Pier, built as part of the Daniel Burnham 1909 Plan for Chicago, and since used for commercial shipping and recreation. The original name, Municipal Pier was changed to Navy Pier as a result of a strong Naval presence during the first and second World Wars, when sailors and pilots were trained there at the same location where aircraft carriers were based.
Every year there seems to be a new theme threading through the show. Two Expo's back social conscience and environmental awareness predominated and last Expo presented a decorative preponderance. This year was more reserved and the theme was a little harder to pin-point, unless it was blow-back art- a luscious walk down memory lane of elegant neo-modern sculptures and satisfyingly familiar painting favorites. We saw representation of Diebenkorn and some of the everyday objects painted by Wayne Thiebaud, fat Boteros and melodic Bertoia sculptures activated by air motion. There was less mixed media, precious little fabric art and more integrated art that included photo collage.
In between all of that there also seemed to be a focus on Black Art which was often embodied in showy work that addressed true social problems. The content was sometimes emphasized over the art aspect, but this did not deny a real effort to use art as a connector to ideas, as a visual expression of persistent relevant issues.
One notable presence came from the museum of Science and Industry, with the ambitious intent to present the contributions, culture and heritage of Black people in the arts by bringing representation from their annual juried exhibit, Black Creativity. This was an exhibit initiated in the 1970's by local artists and staff members of the Chicago Defender newspaper and supported by the Museum. Originally called Black Aesthetics, a juried art exhibit has always been at the core of this program, which claims to be the longest running platform for Black Art in the country. 2022 is the first year that Black Creativity was represented at Navy Pier's Chicago Art Expo, and this exhibit was organized by Manny Juarez, Director of Science and Integrated Strategies at the museum of Science and Industry, Chicago. Black Creativity now encompasses education and careers in science, tech, engineering, art, design and medicine.
One of the artists represented in this booth space was the painter Raven Smith. These sophisticated, packed paintings combine realism with surreal components, both in the visuals and also in the comprehension of the culture being presented. While Ms. Raven aims to desegregate Black art from the larger field of art, she also highlights aspects of heritage and culture that emphasize that existence and perpetuates some long-held impressions. The work is rich in the culture, color and texture of Black life.
An exception to the content laden work was When the Land in Plumage, the lushly bejeweled, obsessively ornate, three-dimensional peacock made of sparkly mixed media objects with a hugely elaborate, vertical tail, by the Jamaican born artist Ebony G. Patterson. This piece took up a major section of floor and wall space of Monique Gallery and could not be ignored visually. It seemed to have little content other than the explosive ornamentation, although the de-humanization of colonialism seems to be a theme in some of Patterson's other works.
The first exhibit visible before one even enters the building is by the National Resource Defense Council. This environmental organization has had a strong presence for the past couple of exhibits, and this year it was assigned a sheltered outdoor space in which to print and display silkscreened posters punching out actions that should urgently involve all of us concerning our environment. Many artists and organizations wholeheartedly conspired to pull off this tour de force artistic statement of what our immediate direction needs to be in our earth-stewardship. With Ann Balke as Special Events Coordinator of NRDC and Julie Yost as Arts Consultant, many young artists and activists put their all into catching the attention of the greater art world. The exhibit was a bold, no-nonsense display and visitors had the added impact of being able to watch the posters being printed.
It was unfortunate that the Expo committee did not designate a more visible location for this very worthy and active exhibit, which perpetuated one of the major tenets of art from the onset, the communication of important values and current issues.
Collaborators included: Aaron Hughes, Artists Commit, Carlos Bareberena, Erik Ruin, Experimental Sound Studio, Grae Rosa, Kahari Black, Molly Fair, Monica Trinidad, Pete Railand, Rebirth Poetry Ensemble, Roger Peet, Sanya Hyland, Sarah Farahat, Southeast Environmental Task Force, The era of Footwork Crew, William Estrada, Andrea Narno.
Fabric art was hard to find, but was represented by Richard Saltoun Gallery, London, with some wall pieces designed by Columbian born Olga De Amaral and constructed by members of her shop in the 1980's of wool and horse hair. These vibrant wall hangings daringly combined unlikely materials with their voluptuous presence and deep colors. An important figure in post war Latin American abstraction, De Amaral is known for her daring and success in using paint, gesso, precious metals and natural fibers to bring her 2-dimensional work off the wall and into a fuller spatial awareness. This work existed alongside examples of the incomparable fabric and sculpture artist Magdalena Abakanowicz, 1930-2017. With her penchant for more somber colors and an awareness of the angst of the culture, her work never ceases to impress.
The Jean Albano Gallery presented a full court tribute to the beloved and accomplished artist Margaret Wharton (1943-2014) who was known for her long interest in clever and beautiful de-constructed chairs of great inventiveness and complexity. Her craft and skill were irreproachable, and her many accomplishments included being one of the founding members of the pivotal Chicago women's collaborative Artemisia Gallery, 1973 – 2003. During its life Artemisia Gallery supported and exhibited local, national and international women artists, presenting cutting edge art of hundreds of artists.
Space travel was not necessarily on everyone's mind as they walked through these earth-bound exhibits, but space art was a focus for the artist Eduardo Kac, with Galerie Charlot, Paris, who featured an installation concerned with an event that he had planned and negotiated for ten years before it reached fruition. This art, Inner Telescope Video, was highly remarkable – not for the actual art itself, which was modest, but for the concept, the deep thought process and the audacity of the idea which he finally brought to fruition.
Two main elements of the installation consisted of the display of an unspectacular paper sculpture homed inside of a simple, well-crafted box, and a video. The video initially seemed of mild interest to this viewer as a puzzle to solve – what programs and manipulations were used to create the illusion of this paper object floating in space.
Then Mr. Kac appeared to explain that this was no trick or illusion, that it was an actual video of the sculpture floating in gravity-free space, with an amazing view of earth through the spacecraft window.
The fascinating backstory unfolded. Kac was quick to point out that this was not a conceptual piece, but that space art was the focus for this work. He was fascinated with the idea that the situation of zero gravity caused special circumstances to exist; common experiences are gone and semantics that we anticipate have changed.
Kac realized two things: first, that art is inseparable from human function; that it is and always has been and will continue to be a present aspect of our humanity. Second, that heading into space is simply inevitable now that we have already started on this path which will soon involve ever increasing numbers of humankind. In fact, Russia has been shuttling 'guests' to our shared space station for years, and NASA recently approved the trip for three American businessmen.
And so, Eduardo Kac set himself the task of designing an artwork for his endeavor, systematically working with the International Space Station to devise a plan, and recruiting an astronaut to work with him on the project. Permission requests, proposal development and preparations were finally approved and the agreement for the project was sealed. Kac gave the French astronaut, Thomas Pesquet, instructions on how exactly to prepare the sculpture from a single piece of paper already onboard the craft and then release and monitor the object as it moved through the space vehicle, being filmed. After ten years of work this art was born in space, and it was a first.
Eduardo Kac was born in 1962 in Rio de Janeiro, Brazil, and is a veteran artist who has worked with unique and sometimes morally challenging ideas since the mid 80's. Although he does claim not to be a conceptual artist, his work has consistently been more important for the ideas communicated than for the artness of the objects themselves. His works have used biotechnology and genetics and so he refers to himself as a 'transgenic' or 'bio' artist.
Looking at break-out artists, the University of Chicago had a strong showing of three young artists with a mind to pushing boundaries. Holden Head regaled the audience with giant colorful popsicle sticks featuring printed messages on one end and on the other, what at first glance appears to be an answer that in fact instigated more questions. In his work we see humor, curiosity and requestioning of set ideas and values.
Daisy Schultz is frustrated with the tradition of photos confined by the 2-D plane and so creates architectural structures on which she attaches her abstracted, gently nuanced grey-scale photos of human body segments. We can surely look forward to the further ground that she will cover as she develops her investigations of space, form, and the photographic media.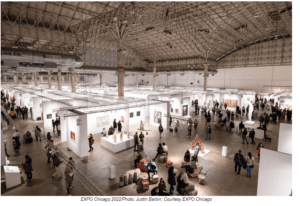 At once dainty and powerful, the expressionistic, impasto oil on panel paintings of Krista Varsbergs are arresting for their impassioned interpretation of human form, and their quiet conveyance of values through painting. Colors are warm, thick and muted. In Rules #8 the disassociated legs are clearly the focal point, yet Varsbergs was successful in fully integrating the entire surface of the painting as she created a rich and soulful 98.6 presence. She states that "wresteling with control … of the medium, the mind, the present, the future and the powers that be" is the struggle that permeates her thinking as she works. This is an artist worth keeping track of.
Hundreds of worthy art works laid in wait of discovery at Expo and throughout the city during Expo week. It was a joy to see some old familiars and a delightful to meet some of the legions of artists new to the scene.
Chicago is a vibrant art city with much going on, from a massive year-long student photo documentation project like the 100 Views of Lake Michigan, supported by UChicago Public Arts and a College Curricular Innovation Grant under the direction of Laura Steward, Curator of Public Art at the University of Chicago to the endless fun-to-see pop-up shows in small storefronts and other venues. We now encounter ever more sophisticated original art works in hotels and public spaces replacing tired prints, and a renewed effort from the museums and galleries to stay in the new and in the know. Art Expo can of course never represent all the fine work that exists internationally and it's true that this year was an enthusiastic but limited party, but it was a party worth attending.