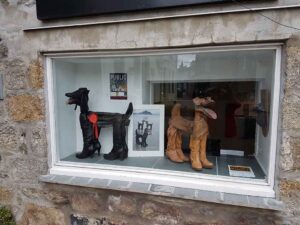 I happened to be, for the second time in my life, in beautiful Cornwall and happened to visit the current exhibition at Penwith Gallery in St. Ives. I could have turned away and not written this but I have a need to share my opinion with others.
"Art must discard nothing or no one, like Misericord" is a beautiful concordia sentence recently said by Pope "Franciscus I" and "All men are born equal but it is the last time they are so" is an obvious reality long ago stated by USA president, Abraham Lincoln.
If we apply this philosophically diverse thinking to the present world of Art and make a perverse second reading of those two phrases, does it mean that we have to accept everything that comes out of the creativity of non equals as being Art on an equal level?
In the world of sports there are many different categories determined by physical constitution, age, dedication or disabilities and everyone plays, enjoys and some have their three minutes of glory in their own category and this is accepted and consider logical and proper because all of us have different gifts, different skills or are in different points of the process of acquiring an excellence in a particular field or technique. Why is it, nowadays, so hard to accept this in the contemporary Art circuit? We need to reflect on this.
I hate to say this, because my natural inclination is that of the Pope, but like in the morality tale, someone has to cry out that the Emperor is naked.
Nevertheless, seeing this exhibition dawned on me the immense importance of the figure of the curator. It is this expert who has to make a schedule for a fixed weight class and not put together the juniors with the seniors, the professionals with the amateurs, a flyweight with a heavyweight and besides display it all in a somewhat didactic and artistic way. Being an artist himself, they have to make the right frame for the artwork to glow. Otherwise, the rotten apples can damage the good ones ending all up in a "totum revolutum" where the highlights of some are diminished by the lowlights of others; where an accidental visitor can step out dizzy and disappointed.
Maybe, this was the reason why it was so difficult for me to glimpse something brilliant, more than only decorative, with a message or a story to tell, a new material or process to introduce or a heart or a brain to melt. Most I saw , not all, was confusion, imitation and dullness that even made me question my own artistic practice.
ART, with capital letters must be or intend to be sublime. Otherwise it is barely crafts and good will. In my opinion it is time to bring back the glam to St. Ives´ artistic community!
(Susana visited the Penwith Gallery, St Ives Society and two smaller galleries while in St Ives.)
Susana Gómez Laín in studying for her MA at Plymouth College of Art and lives in Madrid, Spain.
Volume 32 no. 1 September/October 2017 p 33