Nancy Nesvet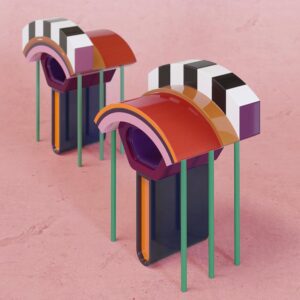 In an exuberant display of form and color, bright with the optimism of newly attended exhibitions after the isolation of Covid, BrazilXIran: Colors and Forms, curated by Roya Khadjavi and Flavia Tamoyo at High Line 9 Gallery 4 in New York from February 2-15, makes me want to dance among painted flowers, immersed in sunlit skies and flowing water. Expressing cross-cultural form and content by artists who share similar concerns, water imagery, open spaces, plants and light, universal imagery particular to both Iran, Brazil and immigrant voyages coalesce to unite artists' practices and imaginations.
Recognizing Brazil's long history of colonialist influences mixing with indigenous patterns and traditions of art and craft making, and Iran's Persian codes and symbols expressed in textiles and fine art, I saw patterns emerging from varied cultures, overtaking and mixing with the other. Interpreting current events and psychological issues stemming from the stress of politics, the pandemic and perennial problems in growing up in our stressful world, Brazilian and Iranian artists creatively use visual media's international language to connect with each other and the viewer.
At the white-walled High 9 Gallery, artists exhibiting in BrazilXIran use of saturated bright colors, extensive visualization of plants and light and the flow of water portrays nature survived in its most beautiful forms and the newfound optimism of our hopefully post-covid existence. As in the world's ongoing recovery and the return of gallery goers viewing art, optimistic and brightly dressed, several artworks show the seemingly impossible becoming the possible and real. Yet, there is an undercurrent of hidden angst, in webs of thread encompassing the flowers and ancient Brazilian ritual. Then, we see teddy bears to hold onto, providing security and relieving the tension of the times and voyages.
Luring me to cool waters, Brazilian photographer Maritza Caneca's photographs of swimming pools show specific surroundings amid the universality of gently rippling water created by the swimmer, attesting to the individual's influence on place. The enclosed pool, the tiled wall around it, a demarcated border, similar in all locations, isolates the swimmer from her surroundings, showing the determination of the immigrant successfully swimming with the tide.
In a creative iteration of the movement of the seas, Brazilian Anna Paola Protasio's "No balanceo do mar", (Waving Blue Sea), ingeniously uses tambourines, paint, steel cable and screws to present a panorama of waves, not dissimilar to the discs encompassing water in the work of Olafur Eliasson. Concrete media illustrates the moving waves and ephemerality of water, drawing illusions to seas witnessed by immigrants crossing the waters, tossing and turning as they move far from home to a new place.
Iranian artist Afsaneh Djabbari Aslani's purple web of geometrically displayed thread-like lines disturbs delicate flower shapes backgrounding them. Lines appearing to demarcate borders or fences become three-dimensional cubes. As squares fall, breaking the line, nature and architectural form unite, not unlike the New York City panorama surrounding this show.
Iranian artist Maryam Palizgir's "Epiphany # 0311 shows sunny yellow light illuminating the air and facades of tall buildings, reminiscent of those in New York City. Palizgir's sail-like forms, could be ships sailing on the seas to where you come from or where you want to go, comprising the Epiphany reflected in her title, "Epiphany #0084". Brazilian Sylvia Martins poses her flower-like forms on an empty bed of white, perhaps sand of her native Brazil, or Rock in her "Eden" referring to virgin Eden, a place not yet built on reminding me that immigrants have crossed deserts as well as seas to reach foreign lands. Atieh Sohrabi's Persian Flowers, clearly drawn and colorful bring an organized, planned visualization to the display of flowers, to beautiful effect.
Iranian artist Zahra Nazari's "Thought Process" and "Circle of Life" are controlled chaos, roped in only by the edges of the wood board she paints on. The controlled rib-like linear patterns, resembling the cage of Jonah's whale or ship architecture, again recalls seas and water. The roller-coaster like loops of her "Circle of Life" comprise an almost musical score of interlocking rhythms and harmonies. As I move around this space, I continue to roll with the visual waves, aware of the actual water not far from the gallery.
The awareness of that close water is apparent in painter Dana Nehdaran's "Forough" posed on a bed covered with patterns of his native Isfahan. A living green plant separates her from the outside window-covered wall, with the Hudson River, visible beyond that window. His "Parmida" sits casually crossing her legs, face partially covered by palm fronds against a highly textured, but bare wall, immersing the figure in the natural plantscape that has inspired Persian motifs, but that also exists in his new home, New York.
Mana Sazegara, a designer based in New York shows that distinctive architectural form that sits magically suspended on edge, impossibly leaning back, its precedent in the Brazilian Embassy building in Washington, DC. relating precarious stance to that of new immigrants.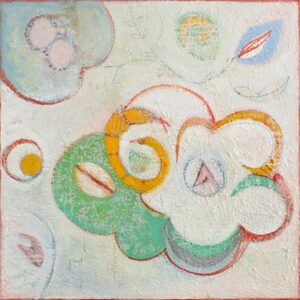 Bringing identity into the mix, photographer, Vincent Rosenblatt shows us Carnivalesque figures of the Bate-bola cult, Turma Amidia who live in a secret location in Rio de Janeiro. Both magical and frightful, the umbrella carrying figure and the next, Turma Oswaldo Cruz, bring us into a dystopian world of Brazilian fire and myth, with the seemingly impossible again becoming the depiction of reality.
Dariush Nehdaran, a brilliant Iranian photographer produces a psychedelic mosque using and literally showing the tools of photography in this photographic print. Method and result are one, producing a unique self-portrait without the artist present, identified by his tools and the resultant image. His vocation denotes who he is, as he carries his identity from one nation to another.
Iranian Malekeh Nayiny, in the mixed media on canvas with collages, "My Teddy Just Cares for Me" and "Togetherness" treats the transitional object, the Teddy Bear as a source of comfort. Hugging the soft toy, which could be an extension of the mother, provides a soothing presence for children and adults in tumultuous times, as the non-human object, first an American stuffed animal, later worldwide comforter becomes the soothing mother.
Rona Neves' "Jovem Guerreira" Young Warrior looks like a Brazilian version of Picasso's Guernica which used symbols of Spain to illustrate the destruction of the Spanish town of Guernica. Here, Neves uses the eagle, darts, a young woman, ladders, and red blood falling from bowls. Neves encompasses an entire history of Brazil's farmers, again painting the agricultural history of Brazil's farmers in Funcao na Roca (Farm Function). Codes and symbols are employed to illustrate history, ongoing culture, and the plight of people, while glorifying the farmer, nature's protector, and recalling the plantings she has left. Erick Vittorino modernizes and adds a feminist edge to Picasso-like drawings, bringing in beautifully executed line drawings of women with flowers in their hair. His linear paintings, white on black and alternately bright colors on white grounds incorporating flora, fauna and outlined nude figures, often hiding behind trees, seem to portray Eve in her garden, with her future not yet determined.
Elaborating on the flower them, Atieh Sohrabi's paintings of flowers, vine-like patterns and fresh-faced women and Bruno Schmidt's "Multa Cones" (Many colors) bring bright, clear color, addressing the theme of possibility as colors seem to lead into each other in almost subconscious steps, referring again to the path of immigrants figuring out how to proceed as they move through new places and cultures.
Farnaz Zabetian's "Cherry Blossom" shows cherry trees, similar to those that were a gift from Japan to the US. perhaps referring to the friendship of these Brazilian, Global South painters with those originally from Iran, woven together and unified here by strands of Iranian, or Brazilian hair. Like those intertwined strands of hair, histories, plantings, urban land and cityscape, and cultural production intertwine in a show that beautifully combines cultural, historic, architectural and personal themes.
Whether buildings stand on edge, webs shield delicate flowers, brilliant light illuminates beautifully geometrically ordered cityscapes, or mythic dancers enthusiastically perform, water flows or figures appear cognizant of water's peacefulness, I'm thankful for the collaboration. It works.
High Line 9 Gallery 4, 507 W. 27th St., New York, NY, Feb. 2-Feb. 15