Graziella Colombo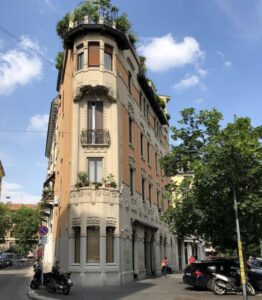 Milan is still a city made of stone and iron, stucco and bronze, stained glass, mosaics and ceramics. It is the Milan of Liberty, the instantly recognisable Art Nouveau style, innovative in the use of materials, which became popular at the beginning of the 20th century. Milan is the result of the inspiration and creativity of architects, artists and craftsmen such as Giuseppe Sommaruga or Alessandro Mazzucotelli, who gave a new face to the city, promoting a stylistic evolution in step with historical, social and economic changes and with the commercial and industrial bourgeoisie, who were eager to show off their wealth through new and striking building.
Many buildings scattered around the city deserve to be rediscovered. This can by done if you look up as you walk, looking out for decorations, floral and plant friezes made on glass or with wrought iron, painted ceramics on facades and imaginative, delicate shapes, sometimes a little repetitive but nonetheless showing extraordinary skill in execution. It is a distinctive style that had a short but fruitful life. Most of the Art Nouveau architecture and decorations are located in the central areas of Milan, where the buildings still bear the names of the first owners. One of the most representative is Casa Galimberti. Built between 1902 and 1905, it is a superb example of the use of decorative majolica and wrought iron. The external surface of the building is covered with painted tiles which, like a mosaic, outline male and female figures in an intertwining of flowering and luxuriant plants: a decorative set of great visual impact. Casa Campanini, designed in 1906, also combines polychrome glass, wrought iron, frescoes inside, and modelled concrete. The use of cement was frequent because it represented a continuation of the traditional use of stucco but in an innovative key. The Civic Aquarium, created for the 1906 Universal Exposition in Milan, deserves mentioning. It represents one of the major expressions of Art Nouveau with its depiction of the marine and underwater world through friezes, ceramics and sculptures.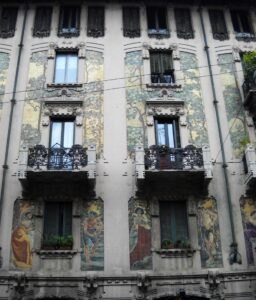 The city's Monumental Cemetery is a true open-air sculpture museum. Friezes, mosaics and polychrome marbles were often used in an imaginative way to decorate the tombs of the wealthy middle class, eager to show their prestige in their final resting place. By around 1915 the Liberty period was ending. As a final example, I would mention a 1910 Art Nouveau building, Casa Sartorio, which is in the shape of an iron. So Milan, like New York, has its own small 'Flatiron Building'! Liberty in Milan represents a curious and interesting artistic itinerary within a city in constant evolution, which today sees the rise of modern glass and steel skyscrapers. But that's another story.
Volume 35 no 2 November / December 2020