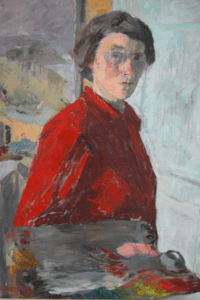 Nordic Impressions spans nearly 200 years from 1821-2018, includes 53 artists representing Finland, Norway, Denmark, Sweden, Greenland, Iceland, Aland, and the Faroe Islands. The Phillips Collection survey offers the viewer meditations on nature's expression both benevolent and horrible.; as well as an extensive catalogue organized by Klaus Ottmann, who is Chief Curator and Deputy Director for Academic Affairs. Ottmann has selected Art based on his impressions after traveling through the represented countries, "….these are now paired with more current subjects such as climate change, sustainability and immigration."
Nordic painting subjects range from daily routines of families sitting before a fire, engaged in reading about heroines from a treasure trove of sagas; doing things like braiding hair, just sitting or doing nothing to the generally held cultural myths of the Kalevala from Finland or folk tales.
Two works stand out for this reviewer.
Ruth Smith's impressionist influenced "Self-Portrait", portrays her struggle with depression and eventually she lost her eyesight. Smith faces the viewer as if to say, "I paint anyway, I dare to paint."
Kjarval's "Warrior Maiden" is a romanticized semi-abstract painting which coalesces strength and sexuality. He searched unconscious recesses to reflect a creative understanding of life. "Warrior Maiden" is a search for meaning, a version of the Icelandic myths devoid of posture. An organic free play of line surrounds the maiden as she reaches for her sword while swimming in a deep blue sea. As a fisherman Kjarval knew water and her moods like no one else.
Annie Markovich
NORDIC IMPRESSIONS, Art from Åland, Denmark, the Faroe Islands, Finland, Greenland, Iceland, Norway, and Sweden, 1821–2018. Phillips Collection, October 13, 2018 – January 13, 2019
Volume 33 no 4 March / April 2019