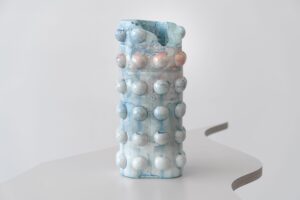 'Architecture of Consolation' currently on display at Chicago Artists Coalition features new work by BOLT resident artist Cathy Hsiao. Hsiao's subject matter is the Bijin-ga, or "beautiful person picture" a Japanese term for erotica, specifically images of beautiful women presented in the Ukiyo-e method of print making. Hsiao, who herself has a background in the craft of weaving, presents a screening, a sound performance and a wall drawing of bathing women. The film entitled "The
Bathers" was filmed at the BOLT gallery featuring choreographed movements and the sound of water.
Hsiao's architecturally scaled ink drawing looms over the onlooker, featuring nude women, courtesans, in the style characteristic of Bijin-ga style Ukiyo-e prints, specifically drawn from a print entitled Interior of Bathhouse by Torii Kiyonaga that was once owned by Edgar Degas. The history of the ukiyo-e print figures prominently in Hsiao's work. Ukiyo-e was central to forming the West's perception of Asian art in the late 19th century, and Hsiao takes interest in how the circulation of images and the circulation of actual bodies coincide with one another, stating that the circulation of images and the migration of bodies have coincided on a similar scale simultaneously. The work is concerned with how boundaries between the material and the digital have become increasingly porous and are drawn and redrawn with increasing speed, a point that gets a little bit lost in the show as images and objects circulate and recirculate in space. The show felt a little disjointed overall but leaves the viewer with plenty to contemplate.
Architecture of Consolation, Friday, January 4, 2019 – 5:00pm to Thursday, February 14, 2019 – 5:00pm
Spencer Hutchinson
Volume 33 no 4 March / April 2019