Mark Bloch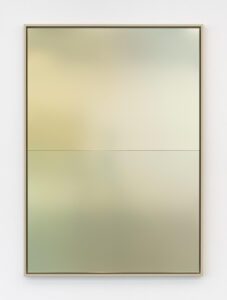 After it was forced to cancel its 2020 manifestation and issue full refunds, Frieze New York 2021 reduced itself by two-thirds and moved to The Shed, the gimmicky building in Hudson Yards, leaving behind its beloved Randall's Island tent for the first time since its tumescent 2012 maiden voyage.
With May's art week expanding into what felt like a month, with the Independent, TEFAF, and Future Fair holding court seven days early, 68 international galleries set up shop at Frieze and its still-formidable, but reduced, four-story Shed location.
Conceptual artist Jessica Vaughn brought a giant dose of mail art to the entrance of Frieze as the recipient of the first Artadia Prize, a new special commission by the non-profit that celebrated her three-year conceptual exploration of the United States Postal Service (USPS). Monumental digital latex injet on linen and canvas show enlarged marks, stamps and USPS code in The Internet of Things (2020-23), remnants of pieces intentionally mis-mailed to US commerce-affiliated,"violence or leisure sites – from Silicon Valley to the gated Florida community where Trayvon Martin was killed in 2012 – so that the envelopes would return to sender. Vaughn sees a 'revisioning of the traditions of landscape painting' in her printed images of the geometrically chopped missives while Artadia's executive director cited 'the institutional politics of labour—in this case, the United States Postal Service.' The piece was beautiful in its hugeness that delivered visually for those of us who love the look of mail.
Inside, Frieze's Focus section for younger galleries and the more established galleries' solo presentations blended right into fair fatigue from the git-go, save for one glossy, glitzy Nan Goldin spotlight at Gagosian that, for me, was a commercial for All The Beauty and All the Bloodshed, the Laura Pointras film by Neon and Participant that delves into Sackler-centric power relations in the art world.
Speaking of glam-gore hybrids, from its prominent locale, the crowd-pleasing Artist Plate Project to benefit the Coalition for the Homeless boasted that every $250 plate would feed 100 hungry people. In this, their third annual manifestation, snappy images on plates by Alice Neel, Marilyn Minter, Louise Bourgeois, Murakami, Peter Beard, KAWS, Maurizio Cattelan and many others, about 100 in all, mostly sold and provided the closest thing to a spectacle under the fourth floor lounge where branding, art and consumerism similarly co-mingled but without do-gooderism.
But for art that simply conveyed a traditional feast for the eyes, at Mendes Wood (Sao Paulo, Brussels, New York) I enjoyed Paulo Nimer Pjota's acrylic tempura and oil on canvas. Four vessel images that looked collaged-on descended vertically like The Shed escalators against a warm yellow field surrounded by little bits of color and random 3-D bits. David Kordansky Gallery (LA, New York) featured eye-popping digital imagery by Lauren Halsey who mashes up dozens of computer-generated images inspired by funky Afrofuturism. Halsey, an LA artist, transformed the rooftop of the Metropolitan Museum across town. Finally, Raymond Saunders' tall, thin mixed media on panel piece at New York's Andrew Kreps was another random-looking composition executed pleasingly – some ducks, some postcards, some musical scores and paint, particularly circles of black and gold suggesting sunflowers while other flowers positioned like bullet holes brought a central dart board-mandala to life.
For the still-visual but more conceptually minded, Scott Lyall's work at Miguel Abreu Gallery, called Talents, offer several examples of two compressed planes of glass creating soft mirrored surfaces. The back sheet is a mirror; the front pane is covered in gel medium and nanoparticles of gold applied by the artist then printed on the inside with colored pixels. They constitute variegated monochromatic surfaces which brings to my mind the black paintings of Ad Reinhardt. To the artist they are reminiscent of golden backgrounds by Cimabue. Lyall, known to collaborate with optical physicists to create his sublime works, showed with Abreu five times previously
Sprüth Magers and Karma International (both Swiss) jointly presented Zurich-based Pamela Rosenkranz whose works uniquely explore materials. Her works Anamazon (Amasses) and Express Nothing (Tank) are 'acrylic paint on emergency blanke' and 'medium and pigments on mirror,' respectively. Her day-glo NYC now-iconic Old Tree, adorns the High Line presently over the intersection of 10th Avenue and 30th Street. The man-made 25 feet tall sculpture, is an electric pink and red system of branched human organs, blood vessels, and tissue, on view through Fall 2024, the third incarnation of the Plinth commission, which changes every 18 months.
Esther Schipper (Berlin, Seoul, Paris) showed AA Bronson's 2015 White Flag #1 made of Rabbit skin glue, Champagne chalk, and raw honeyon wool, cotton and metal grommet on linen. Bronson was part of the Canadian collective General Idea, whose Polaroids (Sex and Responsibility), is a set of nine 1976-78 Chromogenic Polaroids of skulls, Adolf Hitler, four of the General Idea members posing for snapshots amidst other imagery.
The Berlin-based Italian Rosa Barba's Mending Clear Positions, 2022 also animated Schipper's booth. Made of steel, glass, motor, 35 mm film, and aluminum, Barba often explores cinematic subjects. Here, sections of celluloid thread themselves onto seven revolving spools.
Finally, Michael Rosenfeld Gallery floated 1973, an exquisite exhibition featuring small works by a potent roster of female artists including Louise Nevelson (1899–1988), and ten others.
Fifty years ago, January 22, 1973, the U.S. Supreme Court's Roe v. Wade decision landed with second-wave feminism at a peak. Not every piece in this presentation is overtly political, yet a subtext of matriarchal thought and struggle is perceptible in each work, explicating the mindset of 1973 life and art.
Powerful alchemical transformative works by Hannelore Baron (1926–1987) included No. 27, a mixed media collage; an assemblage box, SB-2, in wood glass ink paint, white pencil, metal wire and paper and two more boxes around the corner, one textual, enigmatic and impenetrable of wood, metal, nails and the other tall, in glass, wrapped in wire. Each looked delicate but conveyed strength. A magical glass and wood construction by the late Mary Bauermeister (1934–2023), spilled onto the wall above and below and back into this year near one of her timeless stone and sand works adhered to particle board. Lee Bontecou's (1931–2022), b&w graphite and gesso on paper countered Jay DeFeo's (1929–1989), Untitled black and white images—photo collages on black paperboard—including four surreal torso forms.
Nancy Grossman (b.1940) showed two drawings of faces made out of guns and a powerful zippered fetish sculpture made from black wood, paint, epoxy and a cast aluminum head in leather and metal hardware. Betye Saar (b.1926) made Adori, a bewildering boxed mixed media religious icon gathering found objects, flowers, halos, photographic images and a small frame containing a Madonna and child as centerpiece, flanked by plastic lobster utensils. Lastly, above that was Lenore Tawney's (1907–2007) mixed media collage with various papers, feathers, quills, thread, watercolor and ink on paper, a complicated mandala-chart-diagram invoking gods on horseback, perhaps an owl and Saturn. Bravo Michael Rosenfeld for the stellar cultural time capsule.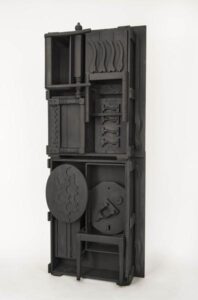 The Volta Art Fair, a Basel-born platform for younger galleries, started in 2005 and debuted in New York in 2008. Fifty convivial galleries showed up at the Metropolitan Pavilion this year.
FORMah, or the FORM Art House for emerging and mid-career female/identifying artists opened its Lower East Side spot a year ago. The owner, Maryana Kaliner, migrated from Tel Aviv, where her artist Noga Yudkovik-Etzioni, whose disguis" works on paper, which use hybrid materials and fit inside a suitcase, currently lives and works after growing up in a Kibbutz. Her work, Chellis Baird's layered textures and Prema Murthy's smallish oils on canvas in either black or white, each highlighted FORMah's mission in stark monochromes.
I spoke with Kaliner and her fourth artist, colorist Rachel Rubenstein (b. 1985) who grew up in Southern California's idyllic Malibu which she conveyed has brought her to some dark places that emerge furtively and beneath surfaces. A burgundy image conveyed the difficulty of a break-up. Elsewhere, vertical bands of color depicted angst and family-based strife. Rubenstein's transformative melding of abstraction, color field and painted strips of canvas, ripped and pulled apart, create rough, textured expressions similar to 20th Century décollage, but more delicate and controlled as the tearing does battle with smoothness and consistency.
Laurent Marthaler Contemporary of Montreux, Switzerland showed another LA-based artist, the self-taught Daniel Allen Cohen, who began in 2015, This is Addictive, a 'periodic element' format with supportive consumer information labels reminiscent of Damien Hirst's prescription drug explorations. Each of Cohen's objects of desire contain identifying letters, facts, a number and a 3D object, fetishizations of entrepeneurship, jewelry, luxury, cocktails, cigars and fashion.
'Luxury' is accompanied by caviar, for instance while "Entrepreneur" sports a copy of Napoleon Hill's book Think and Grow Rich.
I always enjoy the work of the veteran painter Johann Wahlstrom, currently showing monochromatic experiments with color and light with the Wadström/Tönnheim Gallery from Marbella/Spain & Malmö/Sweden. By building up the surfaces of his works in a slow moving process, he is also able to employ other investigations as they dry. The results are like peering into multiple cellophane worlds behind top transparent layers that unleash whimsical cartoony images lurking just below the surface that pivot in visibility as the light changes. What was demonstrated here, and in snapshots,is that, for collectors, sunlight brings out elements that other environments might not. Wahlstrom knows where he wants to go in this project and is embracing his process to get there. Matias Di Carlo's Aluminum sculptures and Ellen Frances' dance performance also brought the space to life.
Three performative works by Maria Palacios from the Mexico City based CAM Galeria created a mysterious allure. A drum with a thin piece of wood instead of a drumhead was positioned under a pair of drum sticks with large pointy thorns, making it hard to imagine how to hold and use the instrument, accompanied by two large photos: the artist bound in paper, cardboard, plastic bags and magnetic tape with an arm and foot barely exposed and a black and white profile with only her legs exposed, with the artist engulfed in air-filled packing materials.
Blond Contemporary showed Gary Komarin and then Tafadzwa Masudi (b.1988) who moved from Zimbabwe to Cape Town turning himself into a hopeful stranger in a foreign land. Projecting optimism, Masudi's explosive palette also uses day-glo, depicting black males in benign, everyday poses positioned within fantastic balloon- and pattern-filled backgrounds.
Lastly, Blond's Zavier Ellis' rhizomatic Sites of Conflict series utilize deconstructed flags and checkerboards as staging grounds for prognosticative conflict. Ellis oscillates between the cerebral and the physical, mapping societal codes onto the painterly by collaging personal mythology over multiple canvasses conveying messages as archetypal street signs or graffiti.
He depicts Iran's protests against the laws prohibiting removal of the veil or hijab; Jewish populations in Israel marching against right-wing rule; and the 1789 Bastille juxtaposed against May 1968 and present day Paris. Delacroix and Goya portrayals intermingle with JFK, Nazis, the dismantling of the Berlin Wall, and Michelangelo's Moses. These small rough hewn, layered works look as if they, themselves, had been tossed in the street, whipped by chains and then lovingly restored.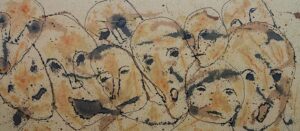 1–54
I headed to W. 127th Street in West Harlem to the 1-54 Contemporary African Art Fair near St. Nicholas Avenue in the Manhattanville Factory District. I found it refreshing and inspiring for uncomplicated, old fashioned aesthetic reasons – just plain beauty. Dedicated to the African diaspora, the wares of the 26 galleries from Lagos, Ivory Coast, Dakar, Brussels, Paris and local venues felt daring, revitalizing and renewing.
Powerful photography by Malick Welli from Senegal drew me to Galerie Atiss Dakar's booth. Then another artist, Ousmane Bâ, did himself, Atiss Dakar and 1-54 a favor by being physically present to discuss his work. He creates colorful silhouettes of humanoid figures (and some animals) on wood panels using collage, sumi ink, and Japanese pigment. But Bâ's work came to life for me when I realized he adheres not found images but an array of delicate papers he creates himself including Japanese washi. Bâ was born and raised in Strasbourg, France on the German border. After using his left brain in the business world, he moved to Japan in 2017, showing collage, painting and digital works in Japanese galleries.
Another young artist visiting from abroad was Rufai Zakari via Kristin Hjellegjerde Gallery (London, West Palm Beach) who creates art by recycling packaging and other found materials by heating smooth colorful sheets that then literally are sewn and weaved together using helpers from his village to create stark images like a local woman holding her cell phone that became a transformative icon for the creators then for viewers. Close examination revealed product packaging residue being effectively utilized to counter consumerism, environmental pollution, industrialization and exploited labor. Zakari (b.1990) lives in Accra, Ghana and his home town, Bawku, directly taking on Ghanian life with his literal "It takes a village" approach to user-friendly 2D constructions.
Mehari Sequar Gallery from Washington DC focuses on women-identified artists of the diaspora, but they ventured into their first-ever art fair not only with silhouetted imagery by Jamilla Okubo, an interdisciplinary artist exploring the intricacies of her American, Kenyan, and Trinidadian identity but also Werllayne Nunes, a self-taught painter who left Brazil to study medicine, but switching to portraying marginalized people, particularly children, highlighting race and socioeconomic status by creating charming portraits of empowerment of gorgeous faces recontextualized against vibrant colorful backgrounds.
Finally, at this fair with too many worthy presentations to cover, let me mention Angèle Etoundi Essamba, born in Cameroon in 1962, who lives and works in Amsterdam with her thirty years of striking humanist photography of women, here engulfed in sculptural headdresses. Galerie Carole Kvanevski in Paris shows both emerging and established artists like Essamba whose imaginative headshots were a highlight.
Now in its fourth consecutive year, 1-54 originated in 2013 in Marrakech by founder Touria El-Glaoui
Future Fair
Future Fair launched in 2020, making it perhaps the youngest of the fairs. With a title like that, I found it a bit unfortunate that there was nothing remotely futuristic. Nevertheless their return to Chelsea Industrial, an interesting building on 28th Street for their third edition allowed 50 local, national, and international exhibitors to share what they do.
The Bahnhof Gallery is nomadic, varying its locale according to need and currently based in Brooklyn. It was founded by Ekaterina Soriano, born in 1986 in Saint Petersburg but who grew up in the Siberian town of Omsk. An interdisciplinary artist she showed, Sabrina Haertig Gonzalez, is New York-based, receiving her BFA from Cornell last year and pursuing 'absurd phenomena within the commercial economy.' Her 2021 work Patronato Real Steel, made of silicone cast-chicken skins, resin cast double-jointed hands, and chain was an eerie sculptural structure of a figure stripped down to a few essentials and emanating foreboding darkness. The title refers to the Spanish colonial empire and the resulting tangle of trade, politics, and religion. Another work, conflating luggage and confinement was a see-through book bag from a larger work S.1200 — 99th Congress, 2020, made of expanded sheet metal and steel rod, equal parts familiar, amusing, absurd and menacing, not in that order. It refers to the 1986 Immigration Reform Act passed by Reagan, essentially criminalizing migration.
Martin Art Projects, founded in 2020 in Cape Town and dedicated to African artists showed a new body of canvas works by Tafadzwa Tega that celebrate a spiritual richness while tackling migration, displacement and legacy. The artist depicts ex-pat Zimbabweans who become immigrants in South Africa like him, using bold, vibrant color including yet more masterful use of day-glo which seems to be a popular South African tool powerfully used this year. Keep an eye out for that and Tega's portraits.
While competent and living up to their goal of providing access, with so much competition in town, I found those two outstanding exhibitors at the Future Fair the exception not the rule.
Thankfully, Manhattan in May, despite widening out chronologically, was a somewhat sober affair, still exhausting, but perhaps a relief for an art-industrial complex weary of every discussion descending into a game of Bobbing for Earth Shattering Importance and/or another deadening treatise on auction prices. After three numbing COVID years, the masks-off culturati seemed hungry for something that just might make a little sense for a change. Regarding the work itself, another season of politically correct worshipping at the long-neglected altars of women and POC artists remains contrived yet good for the soul, opening things up aesthetically and refreshingly in ways that the "same old" can not. Sure, it is a mere fringe benefit, but a welcome one that could usher in a more mature phase for the Art Fair Division of our world's non-stop Impress-a-thon.