Nancy Nesvet
At the invitation of Art Basel to participate in the magazine sector and give a presentation about Art Lantern and the New Art Examiner, Daniel Nanavati, Nancy Nesvet, Elizabeth Ashe, Anna Gav and Isabella Chiadini attended the private and press days of Art Basel 2023 in Basel, Switzerland, coming away with some unique perspectives on the historical and current state of art fairs. Later, we attended the Venice Architectural Biennale 2023 which corrobated our belief that art fairs and biennales serve distinct purposes and serve vastly different purposes in the art world.
Art Basel, founded in 1970 when three Basel art gallerists, Ernst Beyeler, Trudi Bruckner and Balz Hilt came together to mutually present artwork and artists they represented in their city. Beginning as a typical art gallery environment, later adding the Art Unlimited Sector with its open plan environment in the 2000's Later, Conversations, where panelists presented aspects of collecting and exhibiting art, discussing the politics and economics of the art market, provided a global platform for gallerists, collectors, artists and the art public who attended Art Basel fairs. But was it a cultural incubator, as writers from Wallpaper magazine suggested in an article? Probably not, as Art Basel is a fair, with its gallerists intent on selling the work. Consequently, the work displayed appeals to the wealthy art market present, whether sensational, politically oriented, or merely top of the line artists' work.
At Art Basel Miami Beach 2022, art collective MSCHF displayed the real bank balances of wealthy users of ATM Leaderboard, at Perrotin's booth. Famously, Perrotin also displayed Maurizio Cattelan's 2019, Comedian, the banana taped to the wall, and later eaten by performance artist David Daturna. The performance was named Hungry Artist. Having attended the December 2, 2011 Gate Theatre production of Samuel Beckett's Krapp's Last Tape at DC's Shakespeare Theatre with John Hurt playing Krapp, Sophie Gilbert of Washingtonian Magazine noted the production expressed the loneliness of the human spirit! That production included a monologue by Krapp, speaking with a banana held like a microphone into a tape recorder, recounting his history as a failed artist.
The association of Comedian with Beckett's play was only further implied when Daturna ate the banana, making it a performance like that which undoubtedly inspired it. Amidst the chaos and breaking news of the banana mania, I sat with Mr. Landau at Montreal Gallery Landau Fine Art's booth at Art Basel Miami 2019, amidst a display of the finest art of the last century. He emphasized that people now buy art only for investment, not for the satisfaction of looking at a fine piece of visual culture (although he buys only art that he loves). Yet he was insistent that art must evolve, that other forms must emerge. I think, with a wink of his expert eye, he would acknowledge that this new form is indeed art, indicative of the culture that produced it. Unlike the Miro's Picasso's and Giacometti drawings displayed at the booth of Landau Fine Art, it is not sublime, not beautiful, not even original but perhaps, not ridiculous at all. But the uniqueness, the newness of these artistic jokes and sensationalism comprises the art at Art Basel that makes the newspapers and gives the buyer and artist prominence on the new art scene.
It is this lack of recognition by the Art Basel audience of inspiration for the projects, and insistence on their newness and stand as an artistic joke, a dada experience, which so opposes the intentional theses and inspiration for the important projects regularly displayed at the Venice Biennales. This underscores the history of fairs. Always
commercial enterprises. Presently, there is an emphasis on including artists from long neglected countries and marginalized groups by galleries in the established artworld. I'm leery of the mass of galleries and museums showing the work of African and Asian artists because they have been neglected, without an understanding of the issues, feelings and unique histories presented by these artists, without imparting knowledge of cultures and histories. Frankly, it reeks of colonialism, whites giving a chance to blacks and browns to bring their culture for westerners to see, without understanding where their art is coming from, an understanding demanding histories not their own nor histories and cultures they have bothered to understand. Only now when it is economically advantageous, to sell the art are galleries showing indigenous art. It is neglecting, except for a few venues, the fact of successful galleries and museums in Africa and Asia showing their own, taking advantage, justifiably of this new lens trained on them.
That is not the case with Biennales, where the lack of commercialism and prevalence of education and global community-building to present possible solutions to problems encompassing all of us has prevailed since the inception of the first Biennale in Venice. On April 30, 1895, a resolution of the Venice County Council on April 19, 1893, proposed the founding of a 'biennale national artistic exhibition' to celebrate the silver anniversary of King Umberto and Margherita of Savoy. The exhibition has grown from a further 1894 decree to adopt by invitation a section for foreign artists and to admit works by uninvited Italian artists, selected by jury to its 1907 biennale where national pavilions were constructed. Belgium, the first was followed in 1914 by pavilions of Hungary, Germany, Great Britain, France and Russia. In a nod to inclusion, as early as 1922, sculpture by African artists was exhibited with a historical archive of contemporary art established in 1928.
Curators of individual exhibits and the Curator of the Arsenale exhibits have used this lens well. I remember the 2019 Ghana exhibit at the Arsenale during the Venice Biennale d'Arte that year. The walls, by famed artist Anatsui looked made of gold, but that gold was in fact painted fanta caps, referring to the fanta addiction foisted on Ghanans by their British colonialist usurpers, and to the gold in the Ghanian mines, wealth that was and is effectively stolen from this land and its people to advantage colonialist nations. I remember the Hegemony Museum and the Emancipating Opera where Chile's project offered Altered Views, a proposal for decolonization through a review of European history.
The cohesive thesis of the latest Architectura Biennale de Venezia 2023, one of the best I have seen, addressed the problems engendered by mining worldwide, especially in Africa, and the ramifications for the human race across the globe. It encompassed us all, brought us all together, provided possible solutions that required all of us to come together and work toward. It used technology, film, digital photography, not to show off new technology but rather as a means to highlight the global crisis through contemporary means understandable and impactful on those who can work to effect change. Leslie Lokko, the Curator of the Venice Architectural Biennale this year is a Black woman architect from the African continent, a superlative choice based on her history as an architect but also her understanding of the unique characteristics of architecture and architectural history in Africa seen from the viewpoint of an African woman. Lokko has brought together creative minds who presented the problem and some creative approaches to begin to amend our world. One of those projects, essentially a peep show video in a cut out section of a concrete rectilinear column, forced me to look closely and solely. Another video, well above my head, at the entrance was an angry voice, necessary to introduce the solutions to devastation if we did not act. Yet there was a rhythm to the words, that kept me focused, that did not allow me to look away.
The 2022 Biennale d'Arte Venezia, postponed one year due to Covid, similarly had a timely and cohesive thesis. Curator Cecilia Alemani brought the whole world together to attempt an understanding of how we are changing, as people, as animals, as a global living kingdom, with all of us victims, consequently asking, as Lesley Lokko does in 2023, how we can come together to avoid ultimate destruction and depletion of our planet's resources. It is this sharing of knowledge and creative approaches that is a hallmark of Biennales, particularly those in Venice. It is only that knowledge sharing that can save us together, and this is the value of the Biennales.
Creative solutions and global community building has become increasingly urgent, with wildfires in Canada polluting US air, with overflowing rivers in Europe stemming from Ice melt in Russia and far northern waters. For the 2024 Venice Biennale d'Arte, French-Caribbean poet and visual artist Julien Creuzet will present sculpture and performance incorporating immersive narratives informed by French, Indian and European culture in France's pavilion. In the UK pavilion in 2024, Josh Akomfrah will show art films and video installations addressing colonialism, racial injustice, migration and the climate crisis.
My favorite exhibit at this year's Biennale de Architectura in Venice was presented in a space off the separate space on the street leading up to the Arsenale. The Lithuanian pavilion's 'Children's Forest Pavilion' was a playscape where children interacted with tree branches and each other to construct shapes and forms to play with and find uses for. Focusing on the ecosystem of the forest, the exhibit went on to highlight the woodlands of Finland and Lithuania as negotiated spaces where all must treat the forest responsibly for it to thrive. What better way is there to insure responsibility for the future of our world and the natural environment than to engage children?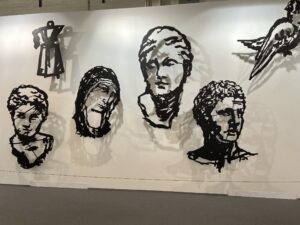 Biennales are looking at the question and at artists who are finding creative questions, if not solutions, to pose. Perhaps, it is time not to drag an iceberg into the Thames, as Olafur Eliasson did years ago, to show climate change and its ramifications as the iceberg melts, but to ask artists and children and scientists to come together to find solutions. Artists are the most creative people on earth. Their creativity and motivation know no bounds; their comeraderie and cooperation allow them to come together as artists always have, not only to warn, but to act. Science and art must come together calling on all the citizens of the earth to act and act quickly lest we destroy all.
More than 300 Biennales continue to address the important problems faced by humans worldwide including the Islamic Arts Biennale; Desert X, the Liverpool Biennale; the Helsinki and Sao Paulo Biennale; the Whitney Biennial (held since 1932), the Glasgow Biennale, the Berlin Biennale for Contemporary Art, held since 1996 and funded by the Germany Government through the Federal Culture Foundation, the European Nomadic Biennial, which changes location every two years, the Rotterdam Ljubljana, San Sebastian, Palermo, Marseille and St. Petersburg Biennale. New talent, and artistic talent of longstanding is featured as artists including Dali, Jackson Pollack, Rene Magritte, Sigmar Polke and William Kentridge, from nations worldwide were featured at the Carnegie International in Pittsburgh.
This worldwide effort to keep the arts alive and relevant to the world situation is thriving in the Biennales without any commercial pressure to sell, and that is important for the art world and for artists recognizing the impact their questioning and debating has for the world at large, and for all of us. May the Biennales live on and thrive in this complicated, frightful world we all live in, showing the power of art and artists to create a better world.