Mary Fletcher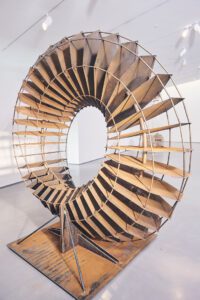 Yet another contest – for public sculpture this time.
They spend a long time introducing the judges, then get to the three contestants – but don't say two of their last names. These surnames do appear on the screen for those who don't glance away – but this won't help their fame and fortune and is a bit thoughtless.
I notice all the women in the show have very striking bright lipstick. No one mentions how they were chosen – they are all quite young. Were they favourites the curators were aware of already, or was there a call for contestants put out in the north of England?
Although I suppose I should be rating the artists by their work, it's impossible not to be influenced by their personalities and what they say. I take an instant dislike to all three out of envy of their opportunity, but as the programme goes on the talk of spiritual wisdom and spiritual conductors – or as I term it pretentious guff – puts me off two of them and I prefer Saad Qureshi who at least has a morsel of self deprecation and humour and prominent leopard print spectacles.
Naturally the time for making the work has to be only two weeks and all three rely on skilled fabricators. Meanwhile we are introduced to artists in the Grizedale Forest – where today's works will be placed after being at the Hepworth Wakefield Museum.
Sadie Clayton – the one with pink hair who looks like a page in Vogue – produces a copper concoction loosely related to a Yorkshire rose. It comes out much nicer than her drawing and forms a gateway with stone supports. She was the one with the annoyingly over-the-top manic enthusiasm.
Saad Qureshi used a lovely turquoise for his perversely three-winged dragonfly piece, though it was a bit disappointing in scale and static looking.
All three are using flat cut-out sheets of metal. The first two artists are emphasised as having dual heritage in their national identity.
So this leaves Steve Anwar, whose construction is the biggest, most complex, and interesting from many angles. It's made from Sheffield steel – but the sort that will rust. He has been severely ill and is now in recovery, is keen on meditation and includes words from Sufi poetry. It's a wheel shape with many pieces and he says it represents breath.
I choose Steve as my winner and have the satisfaction of finding the judges agree on him too. It's interesting to see how the sculptures are made, and, apart from one judge being surprised that the three sculptors are so different from one another, there's not a lot of nonsense spoken.
Roll on the other heats of the competition I say.