by Graziella Colombo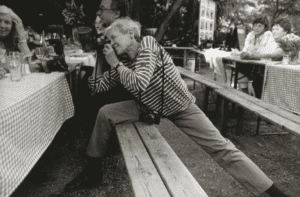 A hundred and fifty shots by Inge Morath, all in rigorous black and white, are exhibited at the Diocesan Museum in Milan and will remain there until November 1, 2020. It's a vast retrospective, enriched with original documents, dedicated to the first woman photographer admitted to the Magnum Agency. She joined Magnum as an editor, becoming a full photographer in 1955. Magnum was founded in 1947 by Robert Capa, Henry Cartier-Bresson and David Seymour.
Born in Graz, Austria, in 1923, Morath died in New York in 2002 after an intense and extraordinary life. Polyglot, exuberant, inquiring and determined, she was a collaborator on magazines such as LIFE, Paris-Match, Vogue, was a tireless traveller, always ready 'with a suitcase in hand' to document reality around the world, capturing every aspect of it in a frank way, with naturalness and sensitivity. She always placed people at the centre of attention, whether they were ordinary or famous, because, as she wrote, "I am more attracted to the human element than the abstract." The exhibition at the Diocesan Museum includes reports of her many travels to Europe, Russia, the Middle East, China and of course the United States, where she lived after her marriage to the playwright Arthur Miller in 1962.
A large space has been given to the portrait, a recurring theme in Morath's career. This section, with the series of portraits of Pablo Picasso, Philip Roth, Allen Ginsberg, Pablo Neruda, Audrey Hepburn, Arthur Miller and others is one of the most beautiful and interesting. The photos, taken in the 1950s and 60s, express an intense and deep relationship with the subjects, immortalised in serious and absorbed poses, or more spontaneously in everyday life. Most famous is the image of a beautiful Marilyn Monroe, who is dancing in the shade of a tree on the set of The Misfits in 1960, the year in which Morath met Arthur Miller, who was still married to the actress.
Another section concentrates on 'masked' portraits. Born from the collaboration with the designer Saul Steinberg, the series shows several photos from New York in the 1960s portraying people in masks with clothes complementing the masks. The photos are funny and ironic and I think it is true that, after all, we often wear masks, depending on the places and situations in which we find ourselves, revealing different attitudes and behaviors.
In 1957 she photographed a llama with its head outside the window of a car near Times Square in New York. The picture was part of a project dedicated to animals employed on movie sets and has become iconic.
Italy is also represented in the exhibition with photos dedicated to Venice from 1955. Here Morath has chosen to capture moments of daily life in poorer, less visited environments of the lagoon city. A choice that certainly reflects the reality of the time, though I would have liked to have seen some photos highlighting the wonder of such a unique city as Venice.
Beyond pure photographic technique, I think a photo should convey an emotion and be able to involve the observer, making him or her a part of the immortalized moment. Morath has always studied and deepened the different languages and cultures of the places she visited in her travels in order to better express her emotional closeness and to transmit this through her images. Surely this is one of her merits. She wrote, "I loved the people. They let me photograph them, but also they wanted me to listen to them, to tell me what they knew, so that we told their story together."
This show at the Diocesan Museum in Milan is certainly an exhibition for photography fans, but above all pays homage to a woman, journalist and photographer, who made her work her passion. The show is a fitting tribute to the role, the value, the intelligence and the many skills of all women.
Volume 35 no. 1 September / October 2020
| | |
| --- | --- |
| | Inge and Ernst Haas during their first reportage trip for Magnum, Capri, Italy, 1949, photographer unknown |