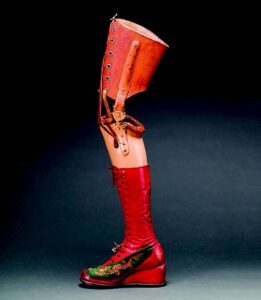 Cherry red leather, seventeen holes, mismatched laces (one silk, one cotton) and many decades before Dr Marten's became the punk sole of choice.
Broadly, the exhibition retells the history of an artist, who has become an icon, but behind the act of presentation (slightly too much 'ambience' for me) the objects disclosed something profoundly humane.
The boot attracted my attention and that was surely the curators' intent. Brass bells are tied to it. Bells which must have announced her at ten paces if they had chimes, if they did not, then the embroidered Chinese dragons would command ample attention. This, worn in the last year of her life, is a confidant boot.
If it was untiled; you would be forgiven for assuming that that was it. It has a boot stretcher of some kind in it, but just a boot. Except the stretcher is not there to hold the shape of the boot but rather to support the wearer.
If I were to title this piece, I would change the emphasis from 'Prosthetic Leg with Leather Boot' to 'Leather Boot with Prosthetic Leg'.
"I am not sick. I am broken, but I am happy as long as I can paint" said Kahlo. This distinction encapsulates what is poignant about the collection. Simultaneously a denial and an acceptance but qualified by a confidence.
Thankfully, few of us will have to endure the physical misfortune that 'broke' Kahlo. If you did, would you face it so boldly? I certainly hope I would.
Amos Jacob
Making Herself Up at the Victoria and Albert Museum, London
Volume 32 no 6 July/August 2018 p 17