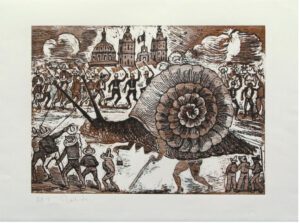 Once again Washington DC's largely insensitive and lax art community has seen an art maestro come and go. Francisco Toledo, hailing and thriving in Oaxaca Mexico, celebrated throughout the world, stirred not a yawn in the Washington DC art scene. He should have.
The work of Toledo is primal, pyscho-sexual abundance, sub-conscious disruption and beauty. He works in many media but the American University show was primarily prints. Masterful prints from his local world class print collection, part of his ongoing contribution to the Oaxaca cultural community, are on display. From Durer to Tamayo, these prints offer a consolation to his fellow Oaxacans. Toledo is a genius community artist, selling his prints to support his work at home; whether it is film clubs, educational projects, the Ethnobotanical Garden of Oaxaca, the building of libraries and helping other artists, he is constantly growing his local culture
The life of the Oaxacan environment infuses his imagination, his pre-Columbian realm, politics, mythologies, struggles both personal and social, charge and enliven his imagery. Animated moving subconscious beings "talk" throughout his work. His environment is to his mind as a plant is to soil, a constant interweaving that is both distinct and mysterious. Often uncomfortable and simultaneously indescribable, but you feel it, if you let the message seep in. He often prints his images many times, as they develop. We can see his images evolve. He is a perfectionist. He is riddled in life, lurching, biting, feeling, sentient and dreaming; his work demands you keep your eyes unblinking.
He owes much to the surrealists and Fauvism, and his fellow Mexican modernist. His teachers trained under Diego Rivera and Frieda Kahlo. His accomplishments may be seen, as his "language of confrontational dreamlife brought to bear". A personal language of our insides, the conflicts of our irresolute psyche, our beautiful uncountable feelings, our animus.
Animals play a large part in Toledo's pictorial world. One of his favorites are monkeys. Monkeys are often seen as human to Toledo. His monkeys are partying, having disturbing sex, being hunted from trees; they drink and smoke and blow horns and ramble about, innocent. Sort of half knowing, half dressed, thrown together, silly, ponderous, funny instinctive, screeching away.
He often positions his characters in hostile relationships. Like his lion tied up by mice or his frog pouncing on an ox or his carnival bear dancing with a masked girl or his turned up ass disemboweled – on its back being howled at on one side by a fox and on the other by a lion. Or a woman with thousands of monkeys lined up behind her, all in line for continuous sex as she smiles. What do these images elicit from us? They are seductively done. Our ire is shaken as a taboo is violated. I think you should partake. The Maya smile. He provides an Oaxaca path not welcomed enough in Washington DC.
We are hijacked in his beauty. Something is within us, and Toledo seizes us. This, to his credit, is hard to explain.
Francisco Toledo struggled with ideas of being a political ideologue as so many of his contemporaries were. His artistry towers above any revolutionary message.
The director of the Katzen Art Center , Jack Rasmussen, is to be congratulated for having the insight and determination for bringing this show to our community. Not enough people came to see it.
Al jirikowic
Francisco Toledo: Toledo Múltiple, Katzen Art Center American University April 3 – May 27, 2018
Volume 32 no 6 July/August 2018 p 30