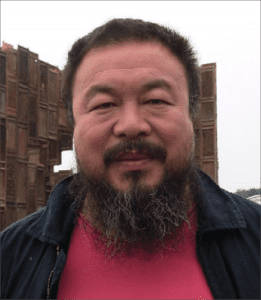 What does artist Ai Weiwei's complex identity as an activist mean for artists campaigning on human rights
There were two years, 2011 and 2015, that well-known Chinese contemporary artist, Ai Weiwei, appeared near the top of Art Review's "Power 100," a ranking of the most influential people in the contemporary art world.
Both years happened to coincide with events connected to his arrest by the People's Republic of China.
In 2011, when Ai Weiwei was named the most influential artist in the world, he was also detained by the Chinese government as part of a crackdown on political activists. As part of the process, Ai Weiwei had his passport confiscated. Four years later, in 2015, he finally regained his passport and, with it, the freedom to travel and work abroad.
Later that year, he appeared in second place on Art Review's "Power 100" list. Correlation doesn't equal causation but, in this case, it's an interesting one to consider. It seems as if the artist's perceived greatness is closely connected to his uneasy political relationship with China. Is Ai Weiwei's greatest redeeming quality the act of challenging China on behalf of the West?
Between 2011 and 2015, Ai Weiwei was featured in two documentaries (discussing his political imprisonment and activism) and had work pertaining to social issues exhibited at Blenheim Palace in England. This exhibit included a pile of porcelain crabs. They take on meaning within a specific cultural context: The Chinese word for "river crabs" is a homophone for the term alluding to "censorship" in Chinese media; It's a term netizens often use when critical articles suddenly disappear.
Ai Weiwei's artistic thesis revolves around the freedom of expression. He believes that art is not only self-expression, but a demonstration of human rights and dignity. For Ai, speaking out against injustice is as much a part of his everyday life as the art he produces. He said in 2009, "My activism is a part of me. If my art has anything to do with me, then my activism is part of my art."
The curious aspect about Ai Weiwei's identity as an artist-activist is that he isn't known within China the same way he is in the western art world.
Most Chinese don't know about him, and the few who do know of him heard about him from his arrests. He is the guy who "got arrested for tax evasion and pointing his middle finger at Tiananmen Square." What knowledge people have of Ai Weiwei can also be partly attributed to his famous poet father, Ai Qing, whose works appeared in many Chinese middle school textbooks.
Many who read about Ai Weiwei in the news dismiss him as a "typical crazy artist" or as a miscreant who is provocative for the sake of provocation. This impression comes from his irreverent approach to art. When he smashed Han vases that were regarded as cultural heirlooms, many Chinese saw him as being mindlessly disrespectful towards history rather than thoughtfully critical of it. Nevertheless, a majority of ordinary citizens are not concerned with Ai. The social For Whom (and What) Does an Artist Truly Perform?
What does artist Ai Weiwei's complex identity as an activist mean for artists campaigning on human rights implications of his work are not discussed widely in the country that they are meant to affect. That means Ai Weiwei's real target audience (regardless of his intent) is outside of China.
Ai Weiwei's critical works about Chinese society are primarily consumed and discussed in the West. Looked at in that way, he seems to serve a performative rather than transformative purpose.
His works become performances that validate preconceived notions of non-Chinese towards China. If he's not transforming Chinese society, and he is not an effective activist artist (the way he imagines himself to be), then what type of artist is he?
A quick online search will reveal that some critics believe Ai Weiwei isn't a great artist in either the aesthetic or conceptual sense. In a 2013 New Republic article, Jed Perl criticizes Ai Weiwei for being unoriginal in copying American modernism and merely inserting Chinese images. Perl acknowledges Ai's courage while dismissing his artistic merit with the verdict, "I admire the politics and am left cold by the art." He acknowledges Ai's importance as a political artist but Ai Weiwei's political identity is often difficult to pinpoint.
He's a Chinese artist who makes a case for Chinese social change to an audience that is outside of China. At the same time, he tries to expand his experiences of social injustice in Chinese society into issues about international human rights. He wants to make his experiences relevant to everything he sees in the world around him. In November of this year, Ai held an exhibit in New York City called "Laundromat." In it, he displayed 2046 articles of discarded clothing from refugees who were forced to evacuate a camp along the Greek-Macedonian border. He cleaned and ironed the clothes because, growing up, he associated clean clothing with human dignity. His concern with the human experience of refugees is shown in his extensive visits to their camps. Since 2015, Ai has visited over twenty refugee camps across Europe, Africa, and the Middle East while documenting the impact of the crisis on people.
Ai attributes his passion to his family history. In the late 1950s, his family was sent to a labor camp when his father offended the Chinese Communist Party. Ever since then, Ai Weiwei has thought of himself as being a refugee and sympathizes accordingly.
The artist often toes the line between being outrageous and plain inappropriate, which doesn't stop when he addresses international issues. After taking a photo of himself lying on the Greek island of Lesbos, in reference to the famous 2015 photograph of Aylan Kurdi, a young Turkish refugee whose corpse washed onto the beach, Ai faced an immense backlash online.
Art critic Mat Gleason, writing for the Huffington Post, called him out for mocking the tragedy and using it as a tool for self-promotion. He essentially accused Ai Weiwei of rubbernecking when he suggested Ai was simply in the area to "capitalize on tragedy" because he was collecting rubber pieces from refugee boats to make artwork.
A Chinese-speaking netizen commented on the backlash. A rough translation of his comment goes, "the West will back you (Ai) when you criticize the government no matter how distastefully it's done as long as it is your own government, but they won't really tolerate your input when you start talking about their government or other countries." It raises an interesting point.
Ai Weiwei seems discontented to comment solely on his motherland. He wants to be a global artist. The artist mounted an exhibit in Alcatraz, the former San Francisco prison in 2014, where he paid homage to victims and fighters for human rights all across the world including Edward Snowden and Martin Luther King. Although some of his motifs may be Chinese, the artist isn't confined to speaking about China. This isn't a surprise, but it is also no secret that criticizing China is his mainstay in the art world.
Almost every article about Ai begins by describing his rebellion against Chinese autocracy. That his audience most enjoys hearing him talk about China leads to some interesting questions. Are the issues that artists will be most recognized for defined by a single political identity? Who decides that identity? Will a Chinese artist be taken more seriously in the West when they are talking about China in a way that reflects how the West likes to feel about China? Should a black artist only talk about the black community? Can a male artist talk about feminism and still be taken seriously? And if not, what are the implications of keeping each of us segregated within our niches?
Artists sometimes pick uplabels throughout their careers which facilitate their discussion of underrepresented minorities whom they personally speak on behalf of. But at the same time, when these issues consume their practice and career, these artists spend less time engaging with issues outside of their direct community. In a way, people might close themselves into a bubble. Do we do this because it's personally convenient and neat categorization makes content readily digested by a large audience? If every artist plays a particular role, never to break character, then art becomes merely a performance with less relevance to the realities ofa changing and nuanced world. Ai Weiwei is an artist who is simultaneously a political performer.
It's impossible to conjure his image without envisioning Chinese politics. His claim to fame as an opponent of Chinese authoritarianism casts him as a specific archetype of an Asian artist. Just as tropes help viewers to quickly understand what type of movie they are watching, this archetype makes Ai Weiwei easier to position. This artist is still expanding his practice. Whether he will be equally valued as a global artist will reveal the art world's sincerity towards his politics.
Feier Lei
Feier Lei studied industrial design at the University of Illinois at Urbana-Champaign. She developed an interest in art as a form of storytelling. She likes to see how people convey ideas through their work while trying to make sense of their underlying narrative.
Volume 31 number 3 January / February 2017 pp 22-24