Entering through the hills on an impossibly narrow meandering road you have presented one the best views in Europe; the bay of St Ives. From there, while descending to this subtropical paradise, you are taken back a few centuries with the streets tighter and cobbled. Where the beaches are golden, natural life is lush, and the seagulls own the skies.
The archite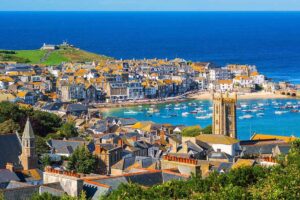 cture is typical of the area, stone houses, stained glass windows, wooden signs, small shops and a multitude of pubs and eateries proudly serving the same ten dishes. Everything is homogeneously faithful to the characteristics of the Cornish region. After passing two of the four beaches while strolling through history and taking in all the smells and the ever-present salinity, that feeling comes to an end. A reinforced concrete beigy-white boxy structure resembling a mid-range hotel from the French Riviera stands tall, consequently disrupting the delicate continuity of this immaculate bay. The feeling extends inside of the building as well, nonsensical placement of works of art, mismatched rooms and a substantial addition that does not follow the design of the original building. Evans and Shalev, two award-winning architects from London, designed the building and pushed the locals to approve the plan with several heated town hall meetings. Ultimately promising an influx of visitors and a rebirth of the area, Evans and Shalev persuaded the opposition to go ahead with the project. They pledged to create a structure that would pay homage to the local artists who lived and worked in the area, completely missing the mark on the physical appearance of the venue and how it permanently would change the visual grace of the coastline.
Alfred Wallis, Ben Nicholson, and Barbara Hepworth are displayed in the permanent exhibits but no sights of M W Turner or Henry Moore who first came to St. Ives in the mid-1800s; they are responsible for today's prominent art scene and still a magnet for emerging artists looking for inspiration. A significant ceramist duo is also missing from the Tate, Bernard Leach, and Shoji Hamada, world-renowned potters who are so notable that took the cover of one of our past issues. (New Art Examiner, vol 33, No.1 Sept/Oct 2018)
Perhaps the most remarkable work of art in the Tate St. Ives is the appropriately sized and descriptionless masterpiece by Evans and Shalev. The precise placement of a square window on the second floor leading to the exhibit: the sandy beach just below the footsteps of the museum. A contemporary but timeless gem.
Ben Russo
Volume 33 no 5 May / June 2019