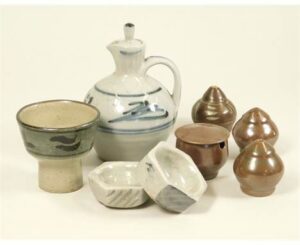 'Simplicity! What a hard thing to achieve'. May Davis
The Mahoney Collection of Crowan Pottery, made by Harry & May Davis, from 1946-1962, reveals a stunning combination of function and beauty. This is real pottery made by genuine potters in a traditional way. Nowadays, it almost seems as though 'ceramics' look down from their lofty porcelain towers on the humble, useful wheel-thrown bowl. Why is it that the idea of actually using pottery seems so out of fashion?
Harry was one of the best throwers that has ever thrown a pot anywhere and both he and May worked at the Leach pottery in St Ives but could not agree with the Leach creation of 'Art' pottery, preferring to make things for everyday use.
They dug up their own minerals, crushed them to create glazes and used power from the water wheel at Crowan Mill to work everything in the pottery. They used only two glazes, iron and erithrine, an impure form of cobalt, but what remarkable results they achieved.
Much of the so-called pottery that is produced nowadays is not fit for purpose and is extremely ugly. It is now de rigeur to call oneself a 'ceramicist' and, judging by much that is produced under that label, it appears to be a cover all term for a total inability to achieve even the most basic items in the potter's armoury. Not so with Harry and May whose pottery is still used and appreciated all over the world every day. I write this as I happily pour milk into my coffee from my beloved Crowan Pottery jug.
Maxine flaneuse de Cornouaille
An Exhibition of Crowan Pottery, Crowan, Cornwall, April 13th/14th, 2019
Volume 33 no 5 May / June 2019