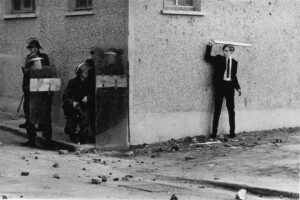 This is Humanity
This is Truth
This is Politics
Don McCullin is a photojournalist whose career has taken him to reaches of the world where war, politics and human tragedy have been brutally played out. He has dedicated his life and camera skills to documenting these events in the hope of bringing about change by those with the power to effect that change.
The exhibition at Tate Britain is a retrospective of 60 years work and contains over 250 black and white images, each carefully printed and mounted by McCullin himself.
McCullin's career began in 1959 with the publication of his photo of a North London gang, 'The Guv'nors'. He describes himself as being a captive to photography and his career is far from finished.
The exhibition is a testimony to McCullin's ability to capture small human gestures and heart-rending moments of intimacy against backdrops of unspeakable horror. The starkness of the black and white images focuses our attention and sucks us in. McCullin has deliberately avoided colour, which he maintains can be distracting and 'Hollywood'. However, to see McCullin's work as purely black and white does an justice to he way that he harnesses light, depth and every shade that exists in the monochrome. His print of the homeless Irishman in London is a striking example of how black and white photography can enhance features and depict texture and nuance with revealing radiance.
Here are the almost living and the nearly dead. Here is the skeletal albino boy in Biafra clutching the corner of an empty can of corned beef, the suited Catholic teenager pitted against soldiers in Northern Ireland, the hollow stare of the shell-shocked soldier in Vietnam, the woman waving goodbye to a loved one on the other side as the Berlin wall is erected and many more. Poignancy slices into the soul of the observer and etches itself upon our brains. This is humanity. This is truth. This is politics. Visitors stand silent. Staring. Paralysed. Some weep
The benign surroundings of Tate Britain do little to protect visitors from the visceral and harrowing impact of McCullin's work and the discomfort of being a 'voyeur' of suffering.
What has been the personal toll on this man who walked so close to the edge? McCullin's honesty about his own dilemmas reflects the searing truth of his work. His commentary describes how he struggled with despair and helplessness in the face of such appalling suffering. He would use the onslaught of his own emotion rather than his skill with the camera to capture the images. He was constantly plagued by moral dilemmas but fought back by reminding himself that his task was to remain a neutral observer so that he could accurately record for decision makers and all people, the experiences before him. McCullin admits that he still restlessly questions the morality of his work and continues to relive the nightmares he has witnessed. He still disputes whether or not he was successful in his goal of bringing about change.
The exhibition is not for the faint-hearted. Be prepared to be moved and challenged. Stark, disturbing images will stare back at you through McCullin's lense. McCullin strikes hard at the heart of the issues where there is no room for debate and where 'fake news' would not dare to tread. Every image shouts: 'WAKE UP! This is us. This is the shame of humanity. This is the corruption within politics.'
Sheelagh Barton
Volume 33 no 5 May / June 2019