Sandy Bellamy
Design Miami during Miami Art week 2022 provided a multi-cultural show of carefully curated work representing modernism to contemporary arts. Representative of the multi-cultural program was the exhibit by The Southern Guild of South Africa. The artists and gallerist on site addressed their art practice, explaining: The gallery was founded in 2006 by Alet Pretorius and Michael MacGarry, and has since exhibited the work of some of South Africa's most promising artists hailing from the Xhosa Tribe, including new sculptures, paintings, and installations by Zizipho Poswa, Andile Dyalvane, Rich Mnisi, and other artists from the Southern Guild collective.
The gallery has come a long way since its inception more than a decade ago. It started out as a small space in Cape Town dedicated to promoting new talent, but it has since grown into one of the most respected contemporary art galleries in the world. Southern Guild's artists have been featured in major exhibitions around the world, and their work is held in prestigious collections such as the Museum of Modern Art (New York), the Tate Modern (London), and the Johannesburg Art Gallery. The gallery's mission is to 'present an international platform for South African art and to stimulate critical discourse around it,' reflected in its thought-provoking and engaging exhibitions, including the work of: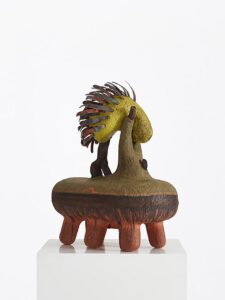 Born in 1978 in the small village of  Ngobozana, near Qobo-Qobo in the rural Eastern Cape province of South Africa, Dyalvane grew up farming and looking after his father's cattle herd – sewing a deep connection to the land and his Xhosa culture that resonates powerfully through his work today. His medium of clay or 'umhlaba' (mother earth) is, at its most fundamental, a life-affirming connection to the soil. But by providing a medium for storytelling, it is also an essential energetic link to his past, present and future. Zizipho Poswa, a South African artist, whose paintings and sculptures explore the complex relationships between people and their environment, often using traditional African symbols and motifs to express these ideas. Rich Mnisi, a South African visual artist and fashion designer's paintings, sculptures, and installations fuse modernist forms with traditional Xhosa culture. Mnisi's work is characterized by its organic forms, bold colors and expressive style, often employing traditional African symbols and materials such as beadwork similar to the Ndebele.Mnisi's work has been exhibited all over the world, and it is held in prestigious collections such as the Museum of Modern Art (New York), the Tate Modern (London), and the Johannesburg Art Gallery. His paintings are characterized by their bold colors and expressive style, and he often uses traditional African motifs and symbols in his art. His most striking work at Design Miami was a chandelier inspired by the form of a snake. While his work evoked Joan Miro's use of space and Salvador Dali's surrealist clocks, it is unmistakeably grounded in African abstraction and continues the use of traditional African natural and decorative materials.
This showcase of diverse cultures and art practices within a contemporary context is a laudable progre
ssion for a Design Fair. That the work is beautiful and elegant, exciting and refreshing – does a good job at negating the premise of non-western art being craft or functional rather than fine art. Introducing art goers to global culture expressed through the decorative and fine arts is certainly a compelling endeavor.