Scotti Hill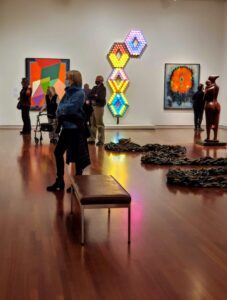 On July 3, 2020, The New York Times reported that the Black Lives Matter protests in response to the May 25th death of George Floyd likely constituted the largest in United States history, garnering a half-million participants in over 500 locations at their peak. The magnitude of these events collided with an America encountering a once-in a century health crisis, creating a timely recipe for a collective awakening regarding how Black and brown Americans have, since the nation's inception, been subjected to persistent and unimaginable injustice. Inevitably, visual culture is responding to this moment, evidenced by spontaneous murals, artworks, and literature taking note of history unfolding.
Indeed, art is among the most powerful tools through which to exercise a nation's history—individually through the voices of artists, and collectively through the movements and institutions they create. Far too often however, such personal narratives conflict with an idealized cultural cohesion imagined by the dominant caste, who, either through submission, apathy, or tokenization, relegates minority art as monolithic or distinct from instead of intrinsically part of American history.
Now, "Black Refractions: Highlights from the Studio Museum", a new exhibition on view at the Utah Museum of Fine Arts, offers Utahns a rare glimpse into the deep and multi-faceted collection of Harlem's Studio Museum, one of America's most groundbreaking institutions.
The traveling exhibition showcases more than one hundred artworks by nearly 80 artists from the 1920s to the present. This monumental exhibition is arranged thematically, offering tantalizing avenues through which to contextualize this rich body of work. Among these themes are "materiality," or the ways in which artists of African descent explore abstraction using non-traditional media; "framing blackness," highlighting and critiquing visual representations of black identity; and "notions of progress," an evaluation of how and to what degree progress has been attained.
The Studio Museum's core mission is to collect and foster work made by American and international artists of African descent, as well as work inspired by black culture. Founded in 1968, a pivotal moment of social and political activism in America, the Studio Museum's creators vied with the status quo for an institution shaped by black voices. Adding to the urgency of activism were growing frustrations over institutions like the Whitney Museum of American Art, host to the controversial 1971 exhibition Contemporary Black Artists in America, which imagined shows without the insight and contributions of black artists and curators.
Indeed, this issue of equity persists in the modern day. The act of recognizing the contributions of persons of African descent, as well as Native American and other non-white artists, is multi-faceted. Should the goal be to expand the all-powerful art historical canon or to demolish it? Does one invariably lead to the other? For institutions and curators, representation is a start, but often does not go far enough. As the Whitney debacle demonstrates, it isn't enough to merely show the work of Black artists, it's vital for viewers to partake in exhibitions crafted by Black artists and curators using their own creative agency.
It is then important, to say the least, that such a collection would reach Utah. The state composed of a majority white population – 90.6% as per the 2020 census – can now engage with works that inform and challenge perceptions about black experience. Importantly however, while much of the exhibition grapples with the personal and the political, many of the works concern materiality, experimentation, and abstraction – affirming that the work of artists of African descent need not be defined merely by their biographies, but, of course, by their practices as well.
For UMFA, the process of obtaining the exhibition was an interesting one that began five years ago, when the museum was closed to undergo widespread renovations. Whitney Tassie, UMFA's Senior Curator of Modern and Contemporary Art, says that the Studio Museum, who prior to this show had never toured their collection, had the specific intent of bringing their collection to a larger audience. "We had to jump on this because we knew this was a phenomenal collection and this was a once in a lifetime opportunity," says Tassie.
Although UMFA secured the show years ago, as the exhibition drew closer, the Covid pandemic presented real obstacles, including a delay in the exhibition schedule, a rapid shift to online programming, and devising a strategy to account for in-person museum attendance in a safe manner. Adding to the ordinary stress of installing an exhibition of this size was the fact that the two curators who would normally travel to assist the museum with the installation were required to assist remotely instead. In a remarkable feat, the museum was forced to re-vamp their installation schedule and communicate with the curators over Zoom and Facetime, which meant the installation took longer than the two-week timeframe. Despite such challenges, the exhibition is stunningly executed, replete with neatly organized sections of visually and conceptually tantalizing works that call for multiple viewings.
At the outset, Glen Ligon's large light sculpture Give us a Poem, 2007, presents the large words "ME" atop the word "WE." Light moves back and forth as each word lights up in succession, highlighting the interplay between the personal and the collective.
Adjacent to the museum's grand hall are a series of works which concern a diverse array of experimentation—some showcasing the power of the abstract mark and many others which demonstrate the remarkable possibilities of materiality. Tom Lloyd's Moussako, c. 1968, composed of aluminum, lightbulbs, and plastic laminate, is striking — at once evoking a high-modernist sculptural milieu while simultaneously calling to mind mechanical car parts and traffic lights. Lloyd's work, as per the museum's label, "embraces abstraction at a time when audiences expected works by artists of African descent to be socially relevant and representational."
Mickalene Thomas' Panthera, 2002, is a dazzling work composed of rhinestones on birch panel showcasing a panther— a symbol of Black feminine power for the artist—sprawling in a lush canopy of hanging vines, teeth out and ready to pounce. From a distance, Kori Newkirk's Solon 6:12, 2000, takes inspiration from the negative press bestowed on tennis ace Venus Williams, whose beaded hair was deemed inappropriate for her 1997 U.S. Open appearance. At a distance, the work, consisting of plastic pony beads, looks like a beautifully contrasted abstract painting. Upon closer inspection, the physicality of the work is evident, as the beads hang down in delicate threads.
Elsewhere, Leonardo Drew's Number 74, 1999, made of rust, fabric, string, stuffed toys, and wood, is both unruly and painstakingly devised, evoking themes of subjugation, decay, and memory. Among the most striking of works in this materiality category is Maren Hassinger's River, 2011 (first constructed 1972), a sculpture devised of chain and rope. The work coils in a snake-like manner throughout the floor of the large gallery space, haunting and unrelenting as it beckons for our attention. Hassinger's interest in manufactured materials unmistakably evokes the horrors of slavery and the Middle Passage, forcing a painful reckoning with the nation's past.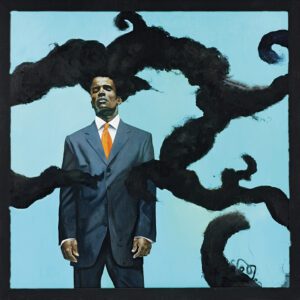 Hanging regally on a blue wall at the entrance to a separate gallery, Barkley L. Hendricks' remarkable Lawdy Mama, 1969, captivates. The portrait, devised of oil and gold leaf on canvas, is the museum's signature PR image for the show – it represents a black woman with arms folded and pose erect, gazing sharply at the viewer. The figure's apparent strength and royal visage, shrouded in gold, evokes a Byzantine icon of early-Christian lore. The power of such posture is emphatic, elevating the feminine Black figure to the role formerly preserved for saints and, singularly, for white figures.
The works in these adjoining galleries grapple with notions of marginalization, representation, and progress. Among the most stirring works in the exhibition are Titus Kaphar's Jerome IV and Jerome XXIX, both 2014, two small paintings comprised of oil, gold leaf, and tar on wood. On the surface of each modestly sized work a man's face is visible atop a bright gold background. Each face is half-obscured by thick, dark tar, evoking a sensation of muzzling and suffocation. This visual device is emblematic of the work's narrative, as these painted mug-shots began with the artist "searching online databases for his father's prison records, [in which] Kaphar found ninety-nine other men who shared the same first and last name and were jailed for nearly identical crimes," according to the museum's label.
Elsewhere, Steffani Jemison's video piece Maniac Chase, 2008-09, depicts an endless loop of running figures moving through various settings. The repetition and arduousness of the task symbolizes the fight for social mobility in a deeply unequal America. Seeing this in the year following the horrific death of Ahmaud Arbery, a Black man murdered by two white men while jogging down a residential street in Georgia, the work takes on even more searing weight.
Still other works directly address the art historical canon's white domination. Works such as Lois Mailou Jones' Still Life with Portrait, 1944, is a striking example: a work in which a portrait of a Black woman is interposed with a still life and an Ionic column, recognizable symbols of white Western tradition. Two works by Kehinde Wiley – The Gypsy Fortune Teller, 2007 and Conspicuous Fraud Series #1 (Eminence), 2001 – each implicate the dominance of white bodies in art historical masterpieces and, by extension, what viewers have come to connote with elegant "masterpieces." The large tapestry of Fortune Teller is a visual wonder, weaving the intricacy and style of an 18th-century French tapestry fit for a royal palace with a grouping of Black men at its center. The act is at once powerful and subversive – undermining the art historical "masterpiece" of Western lore with a post-colonial appropriation. Additionally, the title of Wiley's Conspicuous Fraud gives us a hint that the figure dominating the work's composition — a Black man with large, intersecting locks of hair—may be considered an outlier. The painting's subject is dominant and unmistakably captivating, reminding us of how rarely in the art historical canon are we granted permission to marvel at the beauty and stoic presence of a powerful Black male.
For many, the calamity of 2020 has ushered in an urgent reminder of the need for prioritization and reconciliation. The varied works of Black Refractions invite us to consider the indelible role of Black artists in shaping art historical trends and institutions. Aside from such academic concerns, as Utah's demographics become increasingly diverse, it is incumbent on us all to avoid treating the contributions of minority artists as merely 'distinct' histories but see them, in fact, as a more accurate accounting of our shared American history.
First published in 15Bytes, Utah's Art Magazine.
Black Refractions: Highlights from The Studio Museum in Harlem, Utah Museum of Fine Arts, through April 10 2021.
Volume 35 no 4 March/April 2021