Mary Fletcher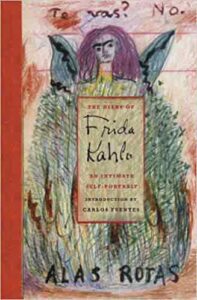 This is as close as I can get to holding Kahlo's actual diary.
Most of it is written in Spanish in a very legible rounded script, helpfully translated at the back of the book with black and white reproductions of the pages so that you don't get confused, despite the lack of page numbers.
The diary has drawings also and is colourful, spontaneous looking, presumably done with no thought of publication. I don't find the images particularly wonderful and Kahlo clearly refined her ideas visually and intellectually when she painted for exhibition. I have seen a show of her works – which are not very large, lack some panache in the execution but are very expressive of her life: her painful experiences after her ghastly bus accident and operations, her difficult life between the two cultures of America and Mexico, her turbulent relationship with Diego Rivera.
In the diary two things particularly struck me – her almost adolescent adoration of her husband, who had been her teacher, expressed in declarations of love in block capitals, and a similar insistence on admiration for Stalin – which I have not been aware of before. The latter is unmissable though, as it is repeated several times.
Were Stalin's crimes unknown to her? If she had an affair with the visiting Trotsky, who was shortly afterwards assassinated by Stalin's agent in Mexico where Diego was hiding him and his wife – did they not discuss politics?
I see Kahlo as a very alarming person, suffering so much, acting selfishly, accepting Diego's infidelities to some extent, but now I have to suspect a lack of political moral rigour, a simplified dedication to the communist cause despite what I see as the failure of the early revolutionary hopes as Stalin became a ruthless and paranoid dictator.
Kahlo idealises the Aztec heritage, which was a cruel, bloodthirsty culture; Diego, who was an unfaithful lover; and Stalin, who was an antisemitic ruthless dictator. Kahlo and Rivera both had European Jewish roots and boldly said they were Jews when checking into an American hotel that would have refused less famous Jewish guests.
The introduction by Carlos Fuentes, who once saw Kahlo, is a fanciful, wide-ranging celebration of her. The essay by Sarah M Lowe refers usefully to the actual journal.
The contents of her diary are perhaps not as interesting as its appearance, which somehow reminds me of her flamboyant style of dress. I can imagine her sitting in bed writing and painting in it, making of it a colourful flowing statement of her state of mind during her last 10 years.
The Diary of Frida Kahlo: An Intimate Self-Portrait. Hardcover – Illustrated, by Sarah M. Lowe (Author), Carlos Fuentes (Introduction). Published 1995 and 2005 – £10
Volume 35 no 4 March/April 2021