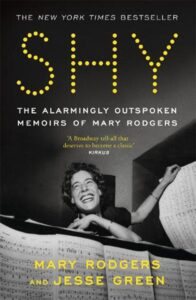 The Alarmingly Outspoken Memoirs of Mary Rodgers," by Mary Rodgers and Jesse Green, Farrar, Straus & Giroux, 467 pp.
Scott Winfield Sublett
Everybody loves a name-dropper when the names are Stephen Sondheim, Rodgers and Hammerstein, Barbra Streisand, Truman Capote, Judy Holliday, George Abbott, Carol Burnett, Elaine Stritch, Mary Martin, Hal Prince, Woody Allen, Leonard Bernstein, Roy Rogers and Captain Kangaroo.
In "Shy: The Alarmingly Outspoken Memoirs of Mary Rodgers," the fiendishly funny daughter of musical theatre genius Richard Rodgers has something tart to say about all of them. Small wonder that everybody in New York with any interest in theatre is inhaling this wickedly witty charge through the 20th century, with a cast of show business characters unrivaled since Jane Fonda's star-studded 2006 memoir "My Life So Far."
More than just a daughter of a genius, Mary Rodgers composed the 1959 hit "Once Upon a Mattress," the show that made Carol Burnett a star. Later in life, when musical jobs dried up, she wrote a "young adult" novel, "Freaky Friday," that was made into a movie three times—once with Lindsay Lohan.
Mary seems always to have been in rooms or taxis where people were saying quotable things, such as the actor who asked director George Abbott what his motivation was, and Abbott snapped, "Your paycheck." And the taxi where Leonard Bernstein judged Sondheim's "Sweeney Todd," "Disgusting, enough to make you throw up in your galoshes! I guess Steve finally got to write a musical that suits his temperament perfectly." Mary wrote it off to jealousy that Steve could still write fun shows and Lenny couldn't, but to be fair to Bernstein, the show, after all, was about cannibalism.
What's perhaps most arresting in the book is what it was like to grow up with Dick and Dorothy Rodgers as parents. "Darling, you must know, Daddy is a drunk," her mother told her. Dick started at lunch with gin and Dubonnet (a favorite cocktail of the Queen Mother) and later in the day mixed Scotch and serial adultery, often with actresses in shows he composed or produced, among them Eva Gabor, Diahann Carroll, and the original Tuptim in "The King and I." He suffered from depression and once spent three months in a mental hospital.
Dorothy was an icy, snobbish, pill-popping neat-freak who married down. It was bad enough that Dick's people were from Russia—but the West Side of Manhattan! "He was from the wrong side of the tracks," Mary writes, "but the minute you're famous there are no tracks to be from the wrong side of: you pull up the tracks behind you." From neither parent did Mary get the approval she craved. When she struggled with weight as a young woman, her casually cruel father observed, "You are so fat that your arms swing out on either side like an ape."
"We love you but we don't like you," her mother said.
Mary had a tendency to date and marry homosexual men, sometimes knowingly, sometimes not. The most famous of her gay beaus was her lifelong friend, "the love of my life," Stephen Sondheim, who told her early on he thought he "might" be gay, to which she replied, "Oh, you can go to a psychiatrist and get that changed." Which, she rightly points out, everyone thought back then, even Sondheim. Quack psychiatrists were apparently plentiful in midcentury America, and Sondheim's quack prescribed falling in love with a woman. Mary and Stephen tried a sort of "experimental" (not legal) marriage, sleeping in the same bed, "frozen," never touching. After a year, with Steve sneaking out late at night to "the gayest of gay parties," they decided to go back to being just friends.
"I don't go in for cheap psychology, only the expensive kind," she writes at one point, and maybe that's why she doesn't really delve into the psychological roots of her attraction to gay men. "Heterosexual men were mean and controlling, and I didn't want to be controlled," she says, as though, ergo, marry a gay man, problem solved! She didn't know her first husband was gay and when he came out of the closet, she was sympathetic: "Anyone under fifty can't possibly imagine what a nightmare it was to be gay in those days." Of course, Larry Hart, Dick Rodgers' lyricist before Hammerstein, had been gay, and although Richard Rodgers was capable of referring to Hart as "that little faggot," Hart was a beloved family friend of whom Dick Rodgers was fiercely protective.
The motif of gay lyricists pops up elsewhere when she almost marries her "Once Upon a Mattress" collaborator Marshall Barer. He was in love with a chorus boy, but good in bed and game to wed Mary. (A footnote reveals that Barer, at 24, had had an affair with the considerably older diarist Anaïs Nin, making Mary the second of the two straight women who would sleep with him and later write about it.) When Mary realized her fiancé was still seeing men, he asked, "Were you under the impression that I was going to stop having sex with men if we got married?" Mary said that indeed she was! "Well, of course not."
Her fed-up father said, "Why don't you go all the way and just marry Truman Capote?" Instead, she finally finds a nice straight guy and has more kids, and it's a testament to the verve of her writing that even that part of the book is kicky.
Was it Fran Lebowitz who first said, "I have no guilty pleasures, because pleasure never makes me feel guilty." "Shy" would be worth the read even if it were nothing but gossip, but it isn't. It's a fascinating portrait of the manners, morès and work habits of Broadway theatre-makers during a golden age. Rodgers was serious about her craft, and the book is sprinkled with musical theatre wisdom and lore. For example, she reports that her father decided to switch lyricists, from Larry Hart to Oscar Hammerstein because, "He'd decided that he wanted the drama to dictate the music rather than vice versa, which meant working with a lyricist who swung that way. Larry could only write lyrics to music that already existed; Ockie was bitextual but preferred to write the lyrics first and hand them over for a setting." It was a decision that would change the style of American musical theater forever.
"He hated having his time wasted with intangible things like emotions," Mary says of her father, which rather refutes the silly shibboleth that to hear a composer's music is to know his soul. Dick and Dorothy Rodgers were emotionally incompetent, yet Mary Rodgers thrived and triumphed. Reading her memoir, one can't help thinking it was because she had such a great sense of humor.