In August 1992, when the dog days were drawing to an end, I set off to walk the county of Suffolk, in the hope of distilling the emptiness that takes hold of me whenever I have completed a long stint of work. And in fact my hope was realized, up to a point; for I have seldom felt so carefree as I did then, walking for hours in the day through the thinly populated countryside, which stretches inland from the coast.   W.G. Sebald, The Rings of Saturn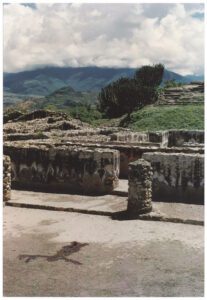 I was reminded of this passage from Sebald's 1995 narrative by Hamish Fulton's photograph France on the Horizon (1976).
Fulton's view depicts a grassy slope leading to an expanse of water and a faint shoreline on the horizon. France, we are told. Any sighting of "France," though, is known as much by the suggestion of the title as by any visual evidence offered by the image. In the wall text, Fulton is quoted, "A walk can exist like an invisible object in a complex world."
Notions of invisibility, things not there, things unseen or things we mis-see meander throughout this small, compelling mainly photographically-based exhibition.
It opens with the two non-photographic pieces, Turtle Road (Michelle Stuart, 1974) and untitled (Richard Long, 1987). Like photographs, these pieces are created through traces (here physical) – Stuart's piece of earth and graphite "ground and rubbed" into the surface of the paper, Long's footprints in "River Avon mud" on rag board – which index that which is not present.
Absence and traces are arguably photography's central characteristics. "That-has-been!" as Roland Barthes writes in Camera Lucida. While the photograph seems to offer plenitude, it withholds and presences are filled in by the viewer. Thus, Fulton's France on the Horizon as well as Ana Mendieta's Untitled from the Silueta Series(1973-77), Richard Misrach's Lake Mead #1 (1986) and Carrie Mae Weems Ebo Landing from the Sea Islands series (1992). Mendieta's triptych offers what seem to be stains of vaguely human form across a series of surfaces, one of which appears etched into the earth, covered by a garish red that blankets the lower half of the form, a sense of blood, wound, absence overpowering. In Misrach's photograph, the barrenness of the landforms – a "martian Nevada landscape" – conjures the inaccessibility of Mars, despite the scrub foliage which becomes apparent on close examination, and a sliver of what appears to be water in the middleground. Weems's piece re-presents in two black and white landscape photographs (taken on St Simons Island, Georgia) plus a short text the story of an 1803 incident in which Ebo men, brought during the slave trade to the United States, returned to the water, choosing to drown rather that to be sold into slavery. The photographs depict an unpopulated swampland, lushly covered by undergrowth with – cutting through the middle of both images – a path or waterway leading from the foreground back to an impenetrable stand of distant trees. The photographic spaces are empty, holding traces of the trauma that took place more than 200 years previously. A trauma – like all traumas – that cannot be simply forgotten, that if not worked through will never truly be absent.
While all photographs are implicitly built on what is not there, the works by Maria Gaspar (Disappearance Suit, 2017), Jeanne Dunning (Study After Untitled Landscape 1987, 1987; 1994/95) and Nancy Holt and Robert Smithson (Swamp, 1971) revolve around what seems to be there but is withheld. In these works, surface is fundamentally imperfectly seen.
Dunning's two small photographs suggest snapshots, hurried glimpses of landscape in passing. The image on the left conjures a blur of roadside underbrush, made indistinct through movement and shallow depth of field; the one on the right a vague, softly undulating series of earth forms receding into the distance. On closer consideration, however, we become aware that the landscape Dunning's photographs depict is the body. These surfaces, it turns out, are really those to which we are closest and most intimately connected but remain at the same time most mysterious and unknowable.
Gaspar's photograph of an empty field with a hill in the background and a matted down indentation in the grass in the foreground seems as if it could be anywhere. Totally nondescript. On closer look, however, the indentation is the "disappearance suit," a human figure "dressed as" grasses to escape notice, to blend in with, to become the earth.
Holt and Smithson's film purports to be Smithson instructing Holt on how to move through an overgrown landscape without taking the camera from her eye. It opens with Smithson's direction, "Just walk in a straight line, straight into that clump . . . just go right in – turn to your right. Just keep advancing in . . . " What follows is Holt's six minute point-of-view shot through this labyrinthine space while she is essentially "blinded" by her dependence on the camera in front of her. The paradox of not seeing because of an over reliance on the instrument of vision is reinforced by Smithson's off-camera utterances ". . . don't worry about the focus . . . just keep advancing in as far as you can . . . how is the film holding up?" What the viewer sees is a confusion of plant growth, vision blocked by blurs of light and dark, an indistinct non-place. Where am I? What am I seeing? The film suggests something of a "re-visioning" of the myth of the labyrinth, in which the thread Ariadne (Smithson) offers to Theseus (Holt) is not a physical object but a vocal trace, one as tangibly absent as the figures of Holt and Smithson moving through the landscape. Smithson "sees" the space and translates it into instructions. Holt records but doesn't see (or missees) the landscape. The film ends with Smithson simply uttering, "nothing." Unlike the other two videos in the exhibition, in which the audio is accessible through head phone as viewers watch on monitors, Smithson's voice permeates the exhibition space, in a sense instructing viewers as they move through the exhibits, translating the landscapes before us that we see, or don't see or mis-see.
There is a process of translation happening in the works of Vito Acconci (Stretch, 1969), Dennis Oppenheim (Negative Brand (Detail), 1968) and Michelle Stuart (Turtle Pond Site Drawing # 36, 1974), as well. These three works, displayed sequentially across the same wall, deal with mapping – that representational form occupying a liminal space between image and language. In Acconci's piece, images are pointed to by arrows next to written instructions for camera positioning. Yet the position of the viewer and what the viewer looks at is unclear. So too, in Oppenheim's and Stuart's pieces, we are placed cartographically . . . somewhere. The photographic images in all three pieces orient the viewer to no place outside the immediate frame.
In an exhibition of understated, compelling work, less engaging for me were the video pieces by Regina Jose Galindo (Tierra, 2013) and Elizabeth Webb (Five Quarts, 2011 and Untitled (Fountain), 2011). Both feature naked female forms in landscapes suggesting menace. Both speak of the vulnerability of the human body in nature, specifically in settings or situations manipulated by human intervention. These pieces, to me at least, overstate the obvious rather than resonate with the subtle poetry found in the other works.
A Body Measured Against the Earth, on view at Chicago's Museum of Contemporary Art from August 2018 – April 2019.
Steve Harp