Mary Fletcher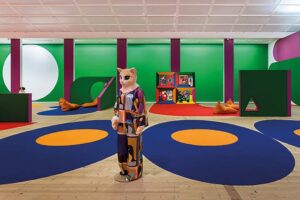 Walking into the big gallery the colours are very strong – it seems to be an era of painting the walls at Tate St Ives, with the Sol le Witt work that took weeks of meticulous work in the curved gallery and now this design which contains the Ad Minoliti pictures, mostly very flat arrangements of shapes with some recognisable elements such as Pac-Man, simple flower motifs etc.
There used to be packs of sticky paper cut into brightly coloured shapes for children to use and it is of this that the paintings remind me. There are three figures of toy animals which I can see appeal to very young visitors. There are tables set out for what is called a 'feminist school of painting', and a rack of 'zines on various subjects such as witch hunts in the Middle Ages and other subjects on queer or feminist topics. There are colouring books on the tables and felt tip pens. The carpet has bold shapes and colours also. The vibe comes from 1970s design, the intent is apparently to contest stereotypes of gender and binary categories – but I get this more from the free booklet and the ten minute talk than from looking around.
The artist has entered the mysterious category of those on the international exhibiting list and fits right in with the contemporary concern to be gender non specific, with a pronoun choice of 'they/them' but attendants keep forgetfully calling Ad 'she'. I so share the desire to combat stereotypes. I respect the effort- but – but– the show looks like a play area in a department store or an airport or maybe a gender reassignment clinic for children and mostly strikes me as an excellent set in which people photograph themselves and their children.
It does bring out my rebellious side as I refuse to fill in the colouring book neatly and write on one that I won't keep within the confines of its lines. The attendant says twice that we can stay as long as we like – but surely that's a feature of art galleries in general. Why the seventies? (The artist is 42.) Is it saying anything other than that Ad presents some playful designs to look at or to colour in? And should I be content with that?
Mary Ad Minoliti exhibition at Tate St Ives 28 May to Oct 30, 2022