Rachel Lebowitz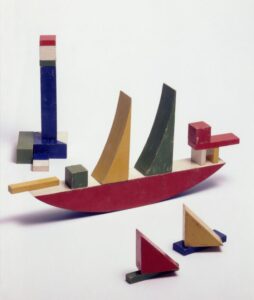 In the art world, artists must often come to terms with the changing market, and creating work can become serious business. But there is an intrinsically playful element of the creative process, which celebrates limitless imagination and childlike exploration. It seems fitting, then, that many well-known artists were known to create toys for children. While some of these artists pursued toy-making alongside developments in their broader art practices, others found that the two modes of creation were indistinguishable.
Particularly during the first half of the 20th century, as artists grappled with enormous political and social changes, some aimed to mold young minds through educational toys that were mass-produced for children everywhere. Other toys created during this era were intended purely for fun, made by artists for their own children or grandchildren, while they also reflect revolutionary strides in modern art.
The following seven toys, conceived by artists from Alexander Calder to Renate Müller, take various forms and functions, whether that be dynamic blocks or therapeutic stuffed animals. Yet they all showcase their makers' inventiveness and overarching interests—and invite us to embrace our inner child.
With his revolutionary Cubist paintings and assemblages, Pablo Picasso pushed beyond the academic tradition of creating that that imitates life. To hone his style, he studied from his own four children, admiring the imperfection and energy of their drawings. The link between Picasso's children and his own creativity extended to paper and wooden dolls that he made in the 1930s and '40s. (In turn, he sometimes incorporated his children's toys into his own sculptural artworks.)
One of his most well-known toys, however, is the horse he made for his grandson Bernard in the early 1960s. Standing around two feet tall and perched on four wheels, the toy was made to be ridden by the toddling Bernard (who has recalled attempting just that). The horse is made up of six pieces of metal TV-table legs, with eyes drawn on; its angular, abstracted form aligned well with Picasso's larger oeuvre.
Alexander Calder's experimentations with motion and industrial materials run throughout his large-scale mobiles and wire sculptures—as well as the numerous toys he created. Beginning in the 1920s, he made rocking- and pull-toys: horses, kangaroos, birds, and fish wrought from wood, wire, and string. He also fashioned toy cars from cigar boxes and tin cans. Yet his most famous toy is perhaps his least conventional: The traveling circus that the American artist made in Paris around 1926 to 1931 has been in the permanent collection of New York City's Whitney Museum of American Art for 35 years, and is the subject of Jean Painlevé's 1955 film Le Grand Cirque Calder, 1927.
In over 200 live presentations of his circus, Calder used strings, air hoses, and levers to animate dozens of figurines inside a miniature ring, set to grandiose recorded music. Calder operated the characters—which were made from wood, wire, leather, and cork—in sequential acts, for audiences that included fellow artists like Piet Mondrian and Marcel Duchamp.
While the pieces could originally be neatly contained in two suitcases, later it required five. The set grew to include acrobats, clowns, a ringmaster, an elephant, a lion trainer, a dancer, a horse and standing rider, a chariot race, and more, all based on real-life circus performers of the day. Many of the figurines—like the lion, with its simplified wire body and shaggy, fabric mane and tail—not only reveal Calder's playful approach, but also echo the well-known wire sculptures he developed around the same time. Reviewed by critics as a serious art form when it was first performed in Paris, the Circus is a significant part of Calder's body of work, and brought the joy of toys to adult audiences.
Anyone who has ever owned a stuffed animal knows their potential for comfort and companionship. Over half a century ago, German artist Renate Müller began creating her jute-and-leather toys to serve as therapeutic aids for hospital-bound children with disabilities. Hospitals found that they were effective, and with their bright colors and huggable bodies (some are large enough for kids to sit on), it is easy to see why. Through her handmade purple seals, green-horned rhinos, red-eared elephants, and multicolored birds, Müller also pays homage to the 19th-century German toy-making tradition, which insisted upon high production standards. She uses her own technique of hand-stuffing with a combination of wooden pieces and soft filler to make the animals, which also include invented creatures like two-headed horses and two-tailed hippos.
Today, Müller shows her creations in the gallery setting, where they attract serious collectors. Yet while in school at Sonneberg Polytechnic for Toy Design in the 1960s, Müller learned to strive for simplicity, and her forms, colors, and materials have consistently adhered to that mantra over the decades.
Along with Rafael Pérez Barradas, Uruguayan artist Joaquín Torres-García co-founded Vibrationism, which applied Cubist and Futurist aesthetics to depictions of modern city life. His other brain-child was Constructivismo Universal (Universal Constructivism), the philosophy behind the grid-and-symbol paintings guided by universal forms for which he is celebrated.
Alongside his cerebral art practice, beginning around 1917, Torres-García also created dozens of different children's toys, which he intended to be both recreational and educational. He based his oil-painted wooden figures on turn-of-the-century pedagogical theories that valued active learning, and through which avant-garde artists strove to teach a new generation how to realize utopian ideals in the aftermath of World War I. Through mass production, Torres-García disseminated his designs for what he called juguetes transformables (transformable toys). The figurines—including people, vehicles, and farm and circus animals—were made from various wooden pieces that children could assemble in different arrangements to hone their own creativity and construction skills. Their simple shapes and caricature-like detailing cleverly veil the serious intentions behind their creation.
Along with Picasso, Paul Klee was fascinated by the spontaneity of children's artwork. In 1902, Klee described his own childhood drawings as his "most significant" artwork up until that point. He also cherished drawings made by his son Felix, for whom he created toys, including a cast of hand puppets, to nurture the boy's creativity. Beginning with a group of eight that were based on the popular German puppets Kasper and Gretel—characters that were similar to the British Punch and Judy toys—Klee made some 50 puppets from 1916 to 1925, which Felix used to perform shows in their apartment.
Simultaneously adorable and ominous, the puppets were made of plaster and—like Klee's few sculptural artworks—incorporate found materials like beef bones, nutshells, and electrical plugs. They are strange, somewhat totemic creatures with haphazard costumes—apt vehicles for the satirical, politically driven shows that Felix later put on as a young student at the Bauhaus, where Klee taught. When Felix left home as an adult, he brought a number of the puppets with him. Sadly, many were destroyed during the Allied bombing of Würzburg, Germany, in World War II, with only 30 remaining today.
Beginning in 1922, Alma Siedhoff-Buscher was a student at the Bauhaus, studying under Klee and Wassily Kandinsky before she began to specialize in wood sculpture. During her tenure at the school (where she later taught), the German designer created children's furniture that was both practical and facilitated play, like a wardrobe-type cabinet from 1923, which had built-in space for a puppet show. The objects she designed for children extended to toys, such as her Throw Dolls (1924), which were made from fibers and wooden beads, and were designed to survive being tossed about by their young handlers.
Closer in form and material to her furniture was her Small Ship-Building Game (1923), a mass-produced set of 22 assorted wooden triangular and rectangular blocks that children could use to assemble a toy ship. Painted in the Bauhaus's signature primary hues (red, yellow, blue), as well as green and white, the pieces could be arranged into numerous combinations, with the educational aim of strengthening children's inventive capacities. Soon after their roll-out, Siedhoff-Buscher's furniture and toys were shown at conferences for daycare staff and kindergarten instructors, helping to advance the Bauhaus's desire to use design to positively influence the next generation on a day-to-day basis.
At age 16, American-born Lyonel Feininger moved to Germany to pursue a music career, but instead studied art. Today, he is recognized for his innovative contributions to German Expressionism and to the Bauhaus, where he taught, headed the school's print workshop, and later served as an artist-in-residence. Feininger's drawings and oil paintings illustrate his long-standing interest in urban architecture and spaces, depicted through Expressionistic strokes and colors, as well as angular forms and planes that are indebted to Cubism. These same interests surface in Feininger's City at the Edge of the World (1925–55), a set of 68 objects including human and animal figures, houses, and a bridge.
Playful and sketch-like, the figures (the largest of which is a little under four inches tall) are painted in bright reds, pinks, blues, and oranges, and are made from rough-cut, unpolished wood. Feininger originally made the hand-carved pieces for his three sons, including photographer Andreas Feininger. Another grouping of similar figures, Wooden Toy Town at the End of the World (ca. 1919–50), which highlights Feininger's nostalgia for Medieval buildings and small towns, resides in the permanent collection of the Museum für Kunst und Gewerbe Hamburg in Hamburg, Germany.