David Hockney at BOZAR, Brussels
Sam Vangheluwe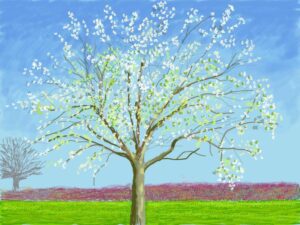 It has been nearly 30 years since the last solo exhibition by David Hockney at BOZAR. That, by any reckoning, is a generation. Many Belgians born in 1992 have by now begotten offspring. Last Saturday, it seemed as if they were all present at BOZAR, with their extended families.
For those who need someone to hold their hand, there are Lunch Tours (sold out) and Interactive Guided Tours ("in all tranquillity", but sold out). Paradoxically, these are (were) probably the only two means of enjoying the exhibition at its best. Hockney may certainly rejoice in the masses coming to see his work, but I don't so much – and surely I'm not alone.
It is not difficult at all to like David Hockney. After all, he is one of the most generous artists of our lifetime. His vast and diverse oeuvre delights, charms, engages and captivates. Whenever the painter talks about his work, or art history in general, he is supremely intelligible – effortlessly eloquent, to the extent of rendering the run-of-the-mill art historian/critic superfluous.Maybe this explains the inanity of some of the PR campaign introducing this exhibition (left in the hands of public outreachers?). The Flemish cultural radio station Klara defined David Hockney as "one of the most important artists of the previous century." I suspect that Klara has copied this from the Tate Kids website, not the other way round. Screw his life and work of the last 20 years.
The introduction on the BOZAR website (anonymous) asks the interested reader: "Did you think that David Hockney was just a painter?" (chorus: Well, what else?) … "He's also active in a range of different media!…" (You don't say!)… "He doesn't shy away from experimentation [really, sic]."
Phew! Not a mere painter then.
The double David Hockney show at BOZAR meets my criteria for a memorable exhibition. Firstly, it stirs an atavistic feeling of freedom, and shows that the world is infinitely richer than everyday reality suggests. Then, as all good painting does (and this may not affect everyone, who knows?), it makes one itch to rush back to painting. Not in order to try doing stuff one has seen, just a general urge to create. To do. The 'creative urge', as it was known in good old 20th century vernacular. Lastly, since leaving BOZAR, the world has been mysteriously 'Hockneyfied'. I now cannot behold a tree without it being a Hockney-tree. Raindrops in a puddle I see through his eyes. Whole swathes of landscapes, even reproduced or on TV, now remind me of the Hockney universe.
Supposedly, one of the most endearing aspects of Hockney and his work is his 'artless' curiosity, his receptivity to all that issues from the concert of the hand, the eye, and the heart – the painterly trinity. When Hockney says that "[…] we are not sure what the world looks like. An awful lot of people think we do, but I don't. […] pictures make us see the world" 1, I find myself in total accord. There is no pre-existant Reality, and I believe that Hockney knows it well. This principle is manifestly expressed in his whole attitude towards photography, e.g.: "We live in an age when vast numbers of images are made that do not claim to be art. They claim something much more dubious. They claim to be reality."2 Or linear perspective: "No there [is no such thing as 'correct' perspective]. Of course there isn't." 3
To describe Hockney's temperament at the artist's current age as 'childlike' seems disrespectful, but I find no better word. He is certainly no angst-ridden painter. He paints and draws with the cheerful gravity and the steady urgency of a guileless child, never fearing failure, unhindered by success.
But however charming, a child's drawing does not hold interest for long. Hockney's works, on the contrary, go far beyond being 'pretty pictures', they transcend the pursuit of beauty, so often attributed to painting (whereas no painter worth his salt can be bothered by this hopelessly redundant category). I believe this is because Hockney paints as much or more how he sees, as what he sees. In this, he joins a great tradition of painters such as Pierre Bonnard, who share a fundamental not-knowing of what the world looks like. Who set out to search, to hunt.
And this is why I do not share Hockney's lifelong love of Picasso. Picasso, who pompously claimed: "I don't search, I find." Who, in private, among his sycophants, mocked Bonnard for not being able to make up his mind as to the colour of the sky. Who derided his erstwhile companion de route Georges Braque, by referring to him as 'his wife'. Presumably, because Braque searched, thereby displaying an unfortunate lack of testosterone. Who criticised Matisse for redrawing the same line 30 times over, whereas all the while the first stroke was the right one. Besides my suspicions of Picasso's personality, there is something more fundamental at hand. What did Picasso heroically find, without searching for it? What else but an assumed hard and singular, much revered Reality? Like the average photographer, Picasso takes Reality for granted. He then disfigures, mutilates it for effect, but reassures the viewer: don't worry, Reality is safe. I believe that Hockney goes well beyond this.
What Hockney does have in common with Picasso, and this might explain his predilection, is an unstoppable and infectious creative energy. A bullish disregard for precepts. For example, I have always had issues with the sometimes plasticky appearance of acrylic paints. I still do. However, walking through both exhibitions, I suddenly realized that Hockney couldn't care less about that. Like a child, indifferent as to whether marks are made with crayon or spaghetti sauce. Also, beyond the earlier paintings and prints, with their neatness of finish, I was surprised at how bold the painting is. No reproduction can convey how boldly, how feistily My Parents (1977) is painted. This is also striking in his 1987 copy of Bathers (1965), and, at the start of the exhibition visit, in the grande machine delectably entitled Bigger Trees Near Warter or/ou Peinture sur le motif pour le Nouvel Age Post-Photographique (2007). The largest plein air landscape painting ever engulfs the viewer. As you get closer, it becomes manifest how cursory the brushstrokes are. More a kind of wild calligraphy than reproductions suggest.
The dimensions, and the multiplicity of perspective invite the beholder to walk along it, towards it, and away again, just to get some handle on it. Unfortunately, this freedom of movement is hampered by the throng, and in particular by the chairs that someone decided to plonk in the middle of each hall. Add to that the hordes gathering to read the explanatory wall texts (do your reading at home, good people!), and you feel as if you're missing out.
During the lockdown of 2020, Hockney and his crew settled in rural Normandy, where he painted the changing of the seasons. In the run-up to the exhibition, I was a bit fearful of the acres of digital greenness in his iPad paintings. There is some of that, but as ever, Hockney's sheer energy, enthusiasm and curiosity abate or even abolish such concerns. Indeed, his cheerful gravity and steady urgency bring him to cross new frontiers. It only occurred to me as I was showing someone a recent Hockney on a tablet: in what way(s) was this different from the 'original'? Is this image on the backlit screen in fact 'truer' than the digital prints on the museum walls? Is any high-quality printout equal to the 'original'?
Lovers of the newfangled might be impatient for radical developments, but chances are that David Hockney's next Enterprise of Great Pith and Moment will involve a rock face, ochres and charcoal. I wouldn't put it past him.
***
David Hockney: Works from the Tate Collection, 1954-2017 and David Hockney: the Arrival of Spring, Normandy, 2020 from 8 October 2021 to 23 January 2022 at Bozar.
Volume 36 no 3 January / February 2022