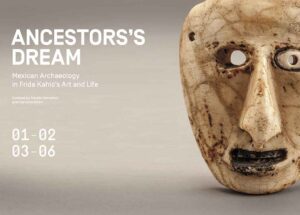 In the collateral exhibition "The dream of the Ancestors" at the MUDEC – Museo delle Culture in Milan the artistic imagination of Frida Kahlo is revived through sculptures, moulded figurines and ceramics from the pre-Columbian civilization of Mexico. In search of her roots and the roots of her art in the Mesoamerican indigenous culture, the artist revived themes, myths and beliefs from that civilization in her painting. She is considered a part of the making of the modern, independent Mexico, and a symbol of the struggle to oppose the interference of foreign powers.
Frida dressed in the traditional garments and jewellery of the native communities, as appears from the photographs displayed and her self-portraits. In this way, she demonstrated not only her sense of coming from Mexican origins, but also her solidarity with the local populations who knew how to make exquisite handicrafts.
In the Casa Azul in Mexico City, where Frida and Diego Rivera lived from 1941, there was a sort of "Aztec pyramid", designed to gather the couple's pre-Columbian collections. Moreover, to host the almost 60,000 pre-Columbian artefacts that they owned, Rivera and Frida planned a museum that they called Anahuacalli, "the house of idols".
In addition to the artefacts, considered in their antiquarian and aesthetic value, other essential elements of Aztec culture influenced Frida's painting. In many paintings there were bleeding hearts, torn bodies, divinities appearing in the form of animals, such as a plumed serpent, monkeys and xolotl dogs that Frida was surrounded by. In the self-portrait "The Wounded Deer" Frida paints herself with a deer's body, pierced by numerous arrows, memories of devastating operations that caused acute suffering and, probably, a reference to nahuatlism. According to this concept, every human being possessed one or more alter egos that were expressed in the form of an animal.
In the painting "My Nurse and I", Frida paints herself being breastfed by a pre-Columbian wet-nurse, who has the face of a funerary image of a nursing mother, which was part of the artist's collection. Along with milk, Frida sucks the pre-Columbian ancestral culture.
As a further example of her desire to belong to the Aztec culture, for a certain period she signs her paintings with the name "Xochitl", which in the Nahuatl language (the Aztec language) means "the flower of life", with reference to the Aztec divinity protector of flowers and painters.
The Aztec roots are entrenched in the story of Frida, roots that return to her works as a recurring motif, a connection with the earth and with her ancestors.
Liviana Martin
Milan
Volume 32 no 6 July/August 2018 pp 13-14