Mary Fletcher
Jennifer Higgie is from Australia and works as an editor of Frieze magazine.
In this book Higgie introduces women who have made self portraits and places them in a historical context, grouping them by themes such as 'Allegory' or 'Hallucination'.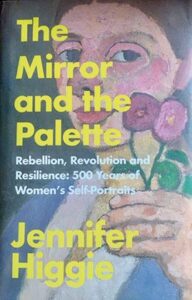 She tells us about their other works, which are described but frustratingly not illustrated so the reader has to do their own internet searches. There are illustrations of self portraits by each of the artists chosen for lengthier mentions.
I enjoyed the writing which flows easily and as I knew of most of the artists mentioned I was reminded of their stories, with some new information being offered.
I was pleased that eventually this author mentions Frances Borzello's Seeing Ourselves: Women's Self Portraits, 1998, which covered many of the same artists.
Jennifer chooses to refer to the artists by their first names after the first mention of their full names. This hinders the reader in remembering their names to find out more about them or be able to refer to them and thereby does not help the progress of spreading knowledge of them.
I am disappointed that Higgie does not break much new ground because it would have been fascinating to learn of women artists in Africa or China, South America etc, but she does include women from Australia and New Zealand.
Also I would have liked the scope of the book to include more recent artists. Tracey Emin would be an obvious contemporary choice. Maybe someone else will take this up.
For anyone who knows little of the subject this book will be a useful introduction.
The Mirror and the Palette – Rebellion, Revolution and Resilience: 500 Years of Women's Self-Portraits. Jennifer Higgie, Published by Weidenfeld and Nicholson, 2021