In 1946 John Cocteau took this fairy story and made of it a film for adults, it was to become a classic, one of his most famous films. Made in black and white, and with music by Georges Auric, it is wonderfully strewn with magical moments, stone heads on plinths, the eyes following the goings–on,; a door which introduces itself, a mirror in which a far away home can be observed. There are strange winds, the presence of good and bad, and a little light comedy by way of Beauty's siblings.
The Beast is sensual and handsome in his finery, his downy face made gentle by eyes which wince from his bestiality. He apologises for his beastly ways, lapping from the pond, hunting his prey. He is master of his domain, yet when Beauty begs to be allowed to return home to visit her sick father, he humbly gets down on his knees and begs her not to beg.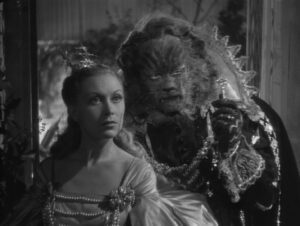 Beauty is gentle and kind, and he dresses her in flowing dresses and glittering jewellery. Her sisters are comedic in their desperate desire to maintain appearances after their father loses all.
La Belle et La Bete won the Prix Louis Delluc and many directors since have paid homage to Cocteau's original film techniques.
A film worthy of watching, and not just the once.
Lynda Green
Volume 33 no 5 May /June 2019