Daniel Nanavati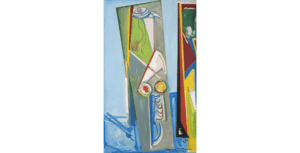 The moment you walk into the exhibition you are back into the 1960s and 1970s.This mutates into some dots by Damien Hirst's stable,some Alan Davie before he was overly influenced by Latin America and Terry Frost, who does not deserve his reputation. The Lowry above the desk in front view as you walk through the door is small and and after-thought.
The mismatch of styles looks a little like a patched-up show to offload some stock. If you wanted to pit the UK against the US you might choose more adeptly but as both are ploughing the same furrow there isn't much of an argument between them so I am not at all sure the "VS' is relevant.
However, as an example of the loss of ideas in western art it is a fine example. You only need a Koons to complete the set of ugliness, deformed colour variations and the corrupted themes of artists who don't know how to be abstract with talent. Even the Henry Moore's are lacklustre – and not just because they are small.
This lacks the interest of If Only These Walls Could Talk in November 2022, or the sheer fun of Patrick Hughes in 2019 which was Zakaim's show for the British Art Fair.
This gallery will bounce back but this show was badly titled, unnecessary and unimaginative.
UK VS USA: POST-WAR TO PRESENT to 7th April 2023: Alon Zakaim Fine Art, 27 Cork Street, London.