Materially and spatially transcendent, High Windows is an organism, a system, within which we are asked to confront evolutionary mechanisms of life, time, and function through the body—an anthropocenic arc of birth and decay.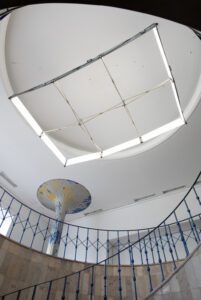 A post-war print house in a district dense with demolition and new construction is the site of Mateusz Choróbski's first solo show with Galeria Wschod. The chaotic, entropic atmosphere of the space and its environs sets the stage for this subtle yet powerful performance in three acts. The facade is home to the first work, a chameleon of corrugated steel and cupping glass blending seamlessly into its surroundings. Once inside, the space is overwhelmed by a subtle hum, like the hiss of a plastic inner tube being deflated. The sound echoes up and out from a sculpture at the bottom of a spiraled stairway, an unending exhale increasing atmospheric anxiety. Above, a rectangular halo of LED lighting panels mounted on a tent frame evokes an institutional yet somehow spiritual tone, this piece becoming the platform to contemplate boundaries and binaries—interior/exterior, divine/quotidian, organic/inorganic—these themes repeating throughout the exhibition. This piece is a standout; the one object that could be relocated and still retain its embodied power. The final space is chapel-like. Objects composed of radiator parts and thermal filler glass mimic light cutting through stained glass. Hanging in the corner like a cocoon, a sculpture made from an anti-bedsore mattress produces a more visceral hum. Its mechanical cadence is the inhale, breaking the previously held tension by completing the cycle of breath.
This exhibition has stayed with me. It's rare that such subtle works feel so matched, so innate, in a space with such commanding architecture. Choróbski, like a trickster, has coaxed something soulful, something deeply contemplative from these material parts. Each site becomes a chapter of a meditation, revealing something found for which we didn't even know we sought.
Kathryn Zazenski, 2019
Mateusz Choróbski, High Windows, 24.05-22.06.2019, Galeria Wschod, Warsaw.
Kathryn Zazenski is a visual artist/writer/curator/teacher/community builder. She is two-time Fulbright Fellow to Poland where she is co-director of Stroboskop Art Space. Zazenski and is a visiting lecturer in Visual Arts at Dartmouth College.