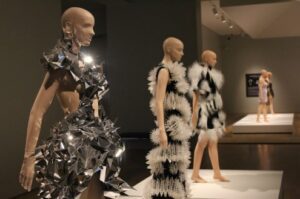 Many times when looking for the latest innovation we seek scientists, engineers and technology. But what if I told you that there is a fashion designer who is combining art with technological innovation, collaborating with other artists, scientists, and architects, and is one of the premier design houses in the world? Iris van Herpen, the young, 33 year-old Dutch woman is proving there are no limitations to what can be done in the fields of art and design.
I was lucky enough to receive an opportunity to have an early viewing session of the new "Iris van Herpen: Transforming Fashion" show at the Grand Rapids Art Museum in Michigan. The show utterly blew my mind, featuring 45 pieces from 15 different collections, from years 2008 to the present. The pieces were some of not only the most beautiful designs I've seen, but innovative and intricate pieces of art as well. The show had pieces featuring fabric manipulated to look like smoke, glass mirrors that had been cut and pieced together, and magnetically pulled metallic textiles-among many other innovations-covering two whole floors of the museum. Iris has proven that fashion innovation is still achievable with her designs, containing hundreds of hours worth of handiwork, and her use of new technologies such as 3D printing. Iris was one of the first designer to work with 3D printing technology. While showing us the first piece ever made with it (a white circularly designed top, far right in picture) she says, when they first started working with 3D printing, the idea was so unknown to the masses, they had to explain to people that what they were seeing wasn't coming from a paper printer. The only question here, how did the GRAM, a smaller midwestern museum, get the internationally acclaimed designer?
In interviewing Ron Platt, chief curator of GRAM, it became clear that Ron was ecstatic to have this show here. Ron first saw her work at the MET in NYC, where he was incredibly moved by it, later traveling to the Netherlands and seeing her workshop. He was part of the group that worked to bring this show to the USA, where it will tour several museums. He says "being chosen to have this show feels like being chosen to be in the Olympics.
It's a great honor." When I asked Ron how he felt about having the collection at the GRAM, he talked about how he really wanted to push the limits of the museum. He doesn't want it to be just a simple, midwestern museum, but instead have it show the true innovation and design happening in the world today. Grand Rapids is a city that's moving up, the people aren't self conscious and are really ready to try new things. He thinks that people will respond well and will really appreciate the show on many levels.
Iris shows us, not only how much there is to be achieved, but how age truly has no limitation on what you are able to produce. As I prepared to interview her, she stood patiently in a beautiful, intricately pleated, black dress. She seemed quiet, and kind, and I got the feeling she was always very observant of what was happening around her.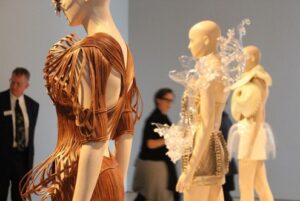 IK: Was fashion design always a passion for you? Did you always know that you would become a fashion designer?
IvH: When I was younger I danced a lot, classical ballet, until, I think I was 16 or 17. But at that time I already knew I wanted to go to the art academy (ArtEZ in the Netherlands). As a young kid I didn't know I wanted to become a fashion designer, but I was very much interested in sculpting and painting. I did one year of Art Academy where I studied different disciplines, I did sculpting and painting but, I also did fashion design, and I realized there that fashion was my discipline. It creates the space for me to still be working with the body and the movement, but also being able to sculpt and paint. It's the perfect marriage between all these disciplines.
IK: What has been your greatest achievement in your career, since you are so young, and you've already achieved so much?
IvH: It's difficult to say one, because I think it has been like a path, a walking path, from many different important moments. I think one of the important moments for me was to change my place from Amsterdam to Paris, like when I started becoming a guest member of the Parisian Chambre Syndicale de la Haute Couture. I think Paris is a very magical place for fashion.
I think that has been a turning point for me to be able to showcase my work there, and to start working much more internationally. Another very important turning point has been this exhibition.
IK: Wow, really here? In Grand Rapids? IvH: Yes here, and also where it started. This was my first big solo exhibition and it started off in the Netherlands, where I make my work. It has been traveling in Europe and now it's been traveling in the US. It's a very special moment for me to bring all the years together and to sort of time capsule all of the work. IK: What is your advice for any young people trying to make it in fashion or in the art world?
IvH: Well the good thing is, there is not one way of succeeding. I think it's very important to find your own path, especially in this time, fashion is very transformative. There are a lot of changes happening in the fashion industry. But I think as a young designer you have to be very creative in the way you make your work, and the way you present it, and the way you communicate it to people. And I think there's a lot of freedom in that now. Much more freedom than we had before. So I think that's a good way of making use of it. "Iris van Herpen: Transforming Fashion" is showing at the Grand Rapids Art Museum from October 23, 2016 to January 15, 2017.
Isabella Li Kostrzewa
Volume 31 number 3 January / February 2017 pp 27-28