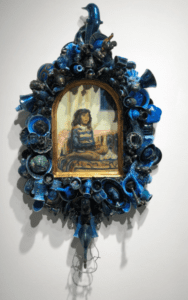 Each fall we look forward to Art Expo, and every time it has a new personality. This is what you would expect, as one of the prominent purposes of art is to reflect the current cultural milieu. This makes attendance at the Expo all the more interesting and enjoyable.
Last year 'social conscience' and 'interactive content' were prevalent. Artwork reflected a world conscience of wrongs that needed to be righted and the environment that needed immediate assistance. This year, that kind of passion and awareness was not as visually present. The show had a strong decorative twist, an interest in bright colors and pulsing surfaces. Not beauty, really, but attractive stylishness. Color and texture dripped off of the walls in reliefs of many materials and paintings of very thick texture applications. Sculptures were seldom sleek but more often mixed media and painterly. One is compelled to wonder, why this interest in decoration over content? Perhaps artists are mentally exhausted from the blatant selfish and unethical actions of our governments, or in the rapid decline of our planet that too many people refuse to promptly and emphatically address? Perhaps artists struggling with these too-weighty issues is just not a tenable proposition, in terms of forcing the rate of change. For many attendees, the lack of solid content was disconcerting. Whatever the reason (and don't stop thinking about that) it's certain that many of the attendees did breathe a sigh of relief that they would be able to view art that didn't pummel them or cause exhaustive thought.
Yet, thoughtful content was there. Often in the sidelines, in the work of newer galleries to the venue and in the solo exhibits, or exhibits by non-gallery groups. In this international presentation there were around 100 established galleries, but also 32 newer galleries and quite a few organizations, institutions and museums. IN/SITU was a display of mostly sculptural installations that were integrated into the side display areas, ceilings and addendum spaces. Curated by the artistic director of the Kunsthal Aarhus in Denmark, Jacob Fabricius had an eye to earth issues when he selected the library of recycled plastic waste by Dan Peterman, which was a large grey colored walk-in space that looked and functioned very much like an actual library with books and seating. The exception to ordinary was the use of recycled plastic as the construction material. There were also informative booths by the Artist's Rights Society and the Human Rights Watch.
A notable presence in a side exhibition space was the American organization, Natural Resources Defense Council, which was partnered with the Garage Museum of Contemporary Art in Moscow. NRDF is a veteran exhibitor from past Expos which engages with artists to promote awareness and action on ecological issues. Its exhibition partner group this year, the Garage, was founded in 2008 and is impressively the first and currently only philanthropic institution in Russia concerned with a comprehensive public mandate for cultural history and contemporary art. Cultural heritage is not the only item in their mandate. Thinking globally, they are also actively engaged in preserving our environment. This action is not only evident in their art programing, but also in the production of their sustainable development program which recognizes the use and output required to sustain a large institution that aims to significantly reduce their ecological impact and footprint. Currently on view at the Garage is the public program For the Coming World: Ecology as the New Politics 2030-2100, which coincides with the Expo panel presentation, No PLAN (et): Ecology as the New Politics. Romanian artist Dan Perjovschi created a mural and poster for the discussion. Alongside Dan's mural was a display of ceramic plates by Kim Abeles, a Los Angeles based artist. Kim invented a unique method to create ten portrait images of world leaders immediately on the plates as well as a quote from each on environmental issues. The portraits were actually "glazed" with captured smog from the air. For The Coming World Exhibit Kim created a set with the smog from Moscow, while the set presented here contained smog from Los Angeles. These plates looked a little slick and bland until one realized the chilling facts of smog as a tangible, permanent presence – attainable easily as an art medium. Kim Abeles states that her art can provide "a viewer with meaningful portrayals of nature and society… in service to re-engage a person with the physical world." One can only think that mass awareness and engagement of this kind would possibly give humanity a fighting chance.
Adrienne Elyse Meyers, a recent graduate of the University of Chicago MFA program (2018) was part of a display at the University booth, and brought work of a more private note. Two delicate paintings achieved through a wash-like effect with oil and house paint could have been easily overlooked in their understated imagery. Closer investigation revealed a subtle sense of seeking, of misplacement or loss in an environment represented by symbols of what should be home, love and belonging. They spoke of youth but also of sophistication of thought and empathy. These small paintings were marked by a sense of poetry and transcendence. Oddly, they were displayed on a wall covered with clothing designed wallpaper and ceramic cabbages produced by Derek Ernster. The green glazed, realistic cabbages unraveled and climbed the wall around the paintings and over the shirts, creating a fun and surreal environment. Everyday items become part of your architecture in this installation that is modular and can be varied to meet unique architectural situations. This melded presentation was not planned or even perpetrated with consent, yet the genial preposterousness of it all caused one to examine each work carefully and further. If it weren't for Ernster's cabbages, which could not be denied, Meyer's quiet paintings may have been missed, which would have been a misfortune.
Gallery Momo presented, among others, the work of Stephan`e E. Conradie, who was born in Namibia and centers her art around the history of colonialism and creolization in South Africa. Everyday objects found in local homes are used in her art to establish a sense of local identity. Displacement, prejudice and an exploration of what speaks of home are apparent in these lavishly decorative and yet compelling collages, which are often accompanied by a richly painted, traditional portrait. Through the lens of objects, Meyers speaks of her roots and also of where she has grown to, currently a candidate for a PhD in Visual Arts at the U. of Stellenbosch, South Africa. The decorative aspect in her work goes beyond style to illuminate and translate the life of working class, mostly ethnic society.
From Cameroon, Africa, and Galleriacontinua came Pascale Marthine Tayou. Landscape Cote d'lvoire is the name of a small sculpture of glass and mixed media. A Janis figure staring into a mirror, this sculpture seemed too derivative until the source was realized as an honest and true inheritance. At that point it became a more powerful yet contemporary translation of culture and heritage.
From Chicago we found a loud statement from Nick Cave, director of the graduate fashion program at the School of the Art Institute of Chicago, but more famously the irrepressible fabric sculptor, dancer, and performance artist. Cave's presence was large at the Expo, with included a display of his Hustle Coat, selling for $110,000. But if that was too pricey for you, you could have grabbed a yard of his wallpaper for $50. Lots of flash and pretty here, but it comes with a solid provenance. If you are chaffing at the dollars rolling into his wallet, be mollified by the fact that Cave's rough early years gives him the understanding that what goes around comes around. His new home/work space, The Facility, located at Milwaukee Ave. and Addison St. in an underserved section of Chicago, now serves also as an instigator for collaboration with emerging artists and young people. Some portion of the money that he makes from Expo will go towards his scholarship fund for young artists.
There was a breath of classic-looking art that came from Gregory Van Strydonck of the Axel Vervoordt Gallery, Belgium. Long white triangulated geometry, high-relief shaped canvas with bulging, abstracted eye-like protrusions were reminiscent of work from another decade, and put one in mind of the flowing shapes of Antoine Poncet. They spoke of the truth, dignity and serenity of thought translated into pure form. They spoke of reassurance and peace in a nervous and non-trusting world.
Margaret Lanterman
Volume 34 no.2 November/December 2019 pp 14-16