Tim Shaw, "What Remains" at The Exchange Gallery, Penzance (10 Feb-12 May 2018)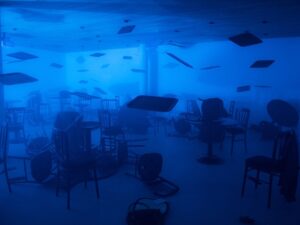 I was left shell-shocked, speechless for a few minutes; I felt blocked. This was the powerful and unexpected effect that Tim Shaw's exhibition had on me at The Exchange in Penzance. No evading reality here, no joy or soothing landscapes. What a sharp contrast to what usually takes place when I look at a painting in Cornwall.
After walking through a winding wooden construction-site structure, I entered a dark room with around 20 other people, where visibility was limited. Tim talked about his work amid his haunting forms that seemed to come to life, while the people watching were mostly motionless almost like statues, as if part of the installation. A statue lying on the floor by me, representing an anorexic woman after being raped and killed, a group of large men surrounding a man with his head covered in a black sack, torn jackets and monstrous looking heads in front of me made me feel a bit threatened and on the alert; it felt eerie. Tim Shaw can incite these powerful feelings in a brief time space.
Outside the installation in a brightly illuminated room Shaw displayed the resource materials of his second installation. These paintings and drawings of the Belfast bombing scene with objects flying about had a haunting beauty of motion and form. Tim told of his childhood in Belfast and Bloody Friday and of the 26 bombs going off unexpectedly all over, paralysing the city and its people.
He set the scene. Entering the next room on our own, six at a time, we witnessed the after-effects of a bombing, with the background noise whistling in our ears. Trays were flying off tables; chairs were overturned; coats, handbags and other objects were left skewed on tables and on the floor. On the walls in the background were shadows of people running, clutching each other, people of all sizes and ages. It was very moving, while also frightening. Tim Shaw had a profound effect on me and led me to think even more of the fear people experience during and after a terrorist attack, life shaping events in all senses, that is if they don't lose their lives in the process. I wondered about the construction of these installations, especially the second part, as there was so much to control, the movement of the trays flying through the air, more than twenty of them, rotating at angles, perhaps attached to transparent strings from the ceiling, the shadows running around the room, the background sound, the positioning of the objects people had left; all must have taken a great deal of coordination to create this very effective installation.
Listening to Tim speak and talking to him showed me his greatness, not only in his artwork, but in the depths of his feelings. He is someone you can talk to, who also knows how to listen, but when he speaks he does not scream violently at you, nor harshly. He gently tells his story, as a father to a child, trying to help the child see through a different lens and help understand how violence is not the way. He talks of the bombing when he was only 7 years old, of the effect on his life and of his not beginning to paint what he had experienced until 30 years later.
Tim Shaw's work left me troubled and full of anxiety, anxiety for the truth that he displays, for the issues I cannot face, nor does our society seem to want to face. His works are like out of a nightmare but are also a reminder of what we must confront and not forget. How difficult it is to accept his work – haunting, disturbing, but also very vibrant and alive. However, I ask myself, what is this exhibition doing in Penzance at the bottom of Cornwall, cut off from the rest of the world, with its barely 21,000 inhabitants? How many souls can this installation possibly touch? I am very grateful to the New Art Examiner for agreeing to run this short but important review to bring his work to an international audience.
Pendery Weekes
Pendery Weekes is the Managing Editor, UK and a writer.
volume 32 no 5 May / June 2018 p 32