What I would see and hoped to see was the unexpected and unfathomable. I was on a journey. First to the grandeur and weight against the land of sand and rocks of the sea on Porthmeor. Then to the concrete face of the Tate gallery where I was to liberate my perceptions of life through sculpture. I pass through the rotunda with its cushions that add a dynamic expectancy of there being an audience. The ticket office like a train station of yesteryear, going somewhere unknown.
I climb the plastic–lined steps, as hopeful as if they are the seven steps to heaven, I pass the bookshop with its many lives and images from worlds set apart, one might say – even Greta Thunberg is there! To then look for an architecture of wonderment not found in the Tate's form as I climbed higher. Finally, through the modern galleries, halted by images from Braque and Lanyon of magical moments, endless in space and their tension of formalistic dialogue.
Entering the comparatively new St. Ives Tate extension, I am confronted by a steel structure in the shape of a woman's head, Constructed Head No. 2, an enlarged version of 1964 from the first version in 1916. Unhappily, I see this Head as literal in form. That is, the formal qualities, in the quest for a penetration into endless space is not fully achieved as in a cubist painting, but only a return to where I stood, going nowhere. The hope of being elsewhere is shattered by the sculpture's literalist form. In contrast to this disappointing experience I see another cubist–inspired figure of a small torso in virtual movement, more to my liking. That is, in accordance with Henri Bergson, the eminent French philosopher whom Gabo had read, and specifically concerning Bergson's views on intuition and ideas about motion, change and evolution. In order to grasp what is unique and ineffable whilst being infused with a sense of duration and shades of other directions: down into the spirit of the sculpture and also into the materiality of the sculpture as an object. But it is here in the tension of found qualities where the requirement of more depth in experiencing the sensuality of formal configurations lies. We are aware of its material and layers of historical knowledge. But then to the underside, hidden, as it were, of the abstract nature of its form is something else. What is important is the sensual tension between the real and the space revealed both by its known and unknown qualities. If this space constantly recedes from us, then here is its success. And thus we have the drama or theatricality between the spectator as audience, and the work itself.
More insightfully, this is about the layers from the obvious to the unseen materiality in the object, (Gabo's sculpture), in contrast to the depth of the object, autonomous and out of reach. Thus, trying to get to grips with something other as an unknown in experiential terms. The spectator remains with the object but out of reach and stranded in that sensual experience between the real and the abstract tension in space. This is an abstraction beyond description, and importantly, the subjective sense of the unfathomable nature of the object itself. This I believe is where the true nature of art lies: something outside perception whilst having within our senses an experience of sensual perception, one that lies at the heart of the material, as a matter of space and form of works of art.
That is, seen as objects, as things in themselves, and entirely autonomous, but with a necessity of the viewer's presence to set up the drama of the work. Emanuel Kant saw this as a transcendental moment away from the object, not however in the object. My thought is toward the qualities of the object in itself as a sensual experience of its qualities. A dynamic tension has to exist between the known and the unknown by the spectator. It should be a dramatic moment. And this is to be found in the abstracted nature of the sculpture itself. The formal sensual qualities however still remain unfathomable.
Perhaps the abstracted endless space I'm looking for here in this opening space of the large gallery split in two by an undulating curve will present itself further. My second encounter came. A very large graphite drawing, 1059 x 1575mm. A competition design for the Palace of the Soviets in 1933. Several structures of the Palace are placed within the central space, leaving an immense space surrounding the centred drawings. On the edge, arithmetical figures that seem to represent a multiplicity of human forms, the populace as a metaphor for life, an endless unfathomable and dynamic space for living. And a formal representation of tension in spatial terms.
I travel on, waiting for more exhilarating moments in time and space with a notion of an aesthetic future-harmonic tension. Gabo's manifesto states that that's possible. I move on to make that discovery. However, Utopias expressed through manifestos invariably lose their shine when read decades later.
The time is Russia 1917, the Bolshevick revolutionaries artists were on the move to a better culture, a new world where art is for the living in the streets and squares of a city. Art is to come out from the dead museums to a living factory of the human spirit. Lenin is making demanding speeches and the artists are grouping themselves into corporate systems while vying for positions of importance. Alexander Rodchenko takes a leading role in a commune of artists, argues with Gabo who resists a placing of his work, a Head, to the tiny village of Tsarevokshaisk in the depths of Siberia. After all, he was the founder of constructivism alongside Vladimir Tatlin, who designed a model of a monumental tower to be 1,300 feet high for the Third International Comintern. The Constructivists' artworks were part of a great visual program meant to awaken the masses and lead them towards awareness of class divisions, social inequalities, and revolution. The Constructivists believed that art had no place in the hermetic space of the artist's studio. Rather, they thought that art should reflect the industrial world and that it should be used as a tool in the Communist revolution. An exciting book on this period in Russia by Camilla Gray, The Great Experiment Russian Art 1863–1922, published by Thames and Hudson 1962, reveals the story of conflicts and evidence of a possible new society until it was cancelled in a referendum by Lenin. The mass of people voted wholeheartedly for social realism. In 1932 Social Realism was established as the official art of Soviet Russia. What was given up however was how the artist could be embodied in the make-up of common life as responsible members of society.
In 1920, Gabo held his first public exhibition, with his brother Antoine Pevzner: sculptures, paintings, manifesto, the lot, to meet the people at Moscow's Tverskoi boulevard on a bandstand. A site specifically chosen in the fervour of the revolution to put constructivist art directly before the public. I am reminded of 1968 in London when artists also took to the streets! In Moscow his manifesto did create differences from his fellow artists. Tatlin, in particular. From that time on Gabo took his constructions to Germany to participate in the 'First Russian Art Exhibition' in Berlin in 1922; which enhanced his reputation as a leading sculptor and announced his entry to the rest of the world.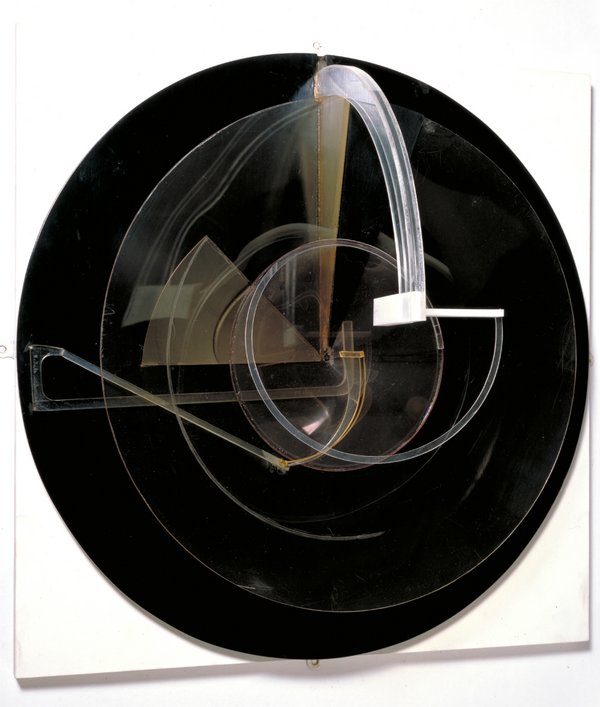 Gabo progressed in the art world from Moscow to Oslo, Berlin, Paris, London, Cornwall's St. Ives, and finally to the USA. But what does it all mean now?
Before I answer, I first want to retrace my steps to the Column of 1921, version 1975. Front on, it's very impressive, But walk round its sides and back and it begins to fail in its depiction of tension in formal space. My slow walk then passes the projection of La Chatte, a Ballet reconstructed by Millicent Hodson and Kenneth Archer from Sergei Diaghilev, and I stop for quite a while. Squares and circles with ballet dancers; intriguing but fragmentary. The dancers originally choreographed by George Balanchine are not exploring fully the nature of space and its movement within its darkened and shiny stage set. More particularly, the form of the figures with squares and circles do not give a sense of evolving sensationally through a space that could be magical. The formal qualities of the dancer's costumes seem out of sync with the geometric shapes. My mind goes to the Bauhaus of 1922 and Triadisches Ballett by Oska Schlemmer, with its integral geometric costume, dynamic movement through space; an avant-garde artistic dance indeed. When you move on in this exhibition you can have fun with the projection of Bronze Spherical Theme and wave your arms around!
Getting somewhat tired of oft–repeated designs, stringed works and others that produce tension but not extension, I found my favourite piece, one that is in the permanent Tate collection.
Construction in Stone with a Collar, 1936. The written comments suggest the theatricality of lime stone, cellulose acetate and brass on a slate base, magnificently, as a drama in space. Because of the drama I stay a long time with this piece. It seems to have been organically structured, or rather placed, and in doing so the materials reveal an imaginative space beyond what is there, and the mind lingers in experience of its sensual qualities; a work of art indeed; perhaps showing the influence of Hepworth. Further on, the paintings are not paintings, just designs in paint. The monotypes are just more designs.
I think it's important to note that Herbert Read played a significant part in Naum Gabo's recognition in the UK. They became friends in Hampstead, London, when Ben Nicholson introduced them along with Marcus Brumwell who ran an advertising agency in Mayfair called Stuarts. Gabo was tempted to make ads for cash but resisted, though he did make designs for coat hangers and other utility objects. In like fashion Tatlin also finally made uniforms for factory workers. Gabo did however design a car conceived for the Design Research Unit c.1943.
Conceived as a dramatically integrated form, the car appears more streamlined and aerodynamic than other British vehicles of that era; a curvilinear body with recessed door handles and headlights. Among the detail consistent with his sculpture from the period, Gabo employed a spiral motif in the grille and biomechanical forms such as a kidney-shaped steering wheel. His design incorporated a curved perspex windscreen and nylon upholstery – two new plastics he had begun to use elsewhere in his work.
Herbert Read in his book Modern Sculpture (Thames and Hudson 1983), says that "Constructivists 'construction', as evolved by Tatlin, Gabo and Rodchenko, was deliberately impersonal, and the spatial relations it created were as abstract as mathematical formula."
French Curves, for example, are to be seen hanging on the wall in his Carbis Bay studio 1940.
Wilhelm Worringer, who's book Abstraction and Empathy Gabo read. writes:
"Our investigations proceed from the presupposition that the work of art, as an autonomous organism, stands beside nature on equal terms and, in its deepest and innermost essence, devoid of any connection with it, in so far as by nature is understood the visible surface of things. Natural beauty is on no account to be regarded as a condition of the work of art, despite the fact that in the course of evolution it seems to have become a valuable element in the work of art, and to some extent indeed positively identical with it."
Along with Henri Bergson, Herbert Read and Worringer, Gabo was also influenced by other artists. Picasso, Braque, Kandinsky, Tatlin, Barbara Hepworth, Henry Moore and many others in Russia, Europe, the UK and USA, as is noted in the Tate's publication on Gabo.I wander out of the exhibition, having happily experienced some works of art. But musing on this brief look back to a bygone era of revolutionary ideas makes me think about today's problems in the art world. The question of how one deals with the fast-changing formal aspects thrust into the internet … .
I'll leave that to another day. On the way out to the beach, I notice that the cushions have gone, and the rotunda has lost a dimension.
Ken Turner
Volume 34 no 4 March/April 2020 pp 9-12