The problem of curating art for block-busters
It struck with magical force, a grove of reconstructed ancient trees bolted into the square, patterning a bare, solid, organic awkwardness against Georgian facades. The unmediated surprise of it invited entry, exploration, touch, curiosity – wonder.
Such was the impact of Ai Weiwei's 'Tree 2009-10, 2015' before I had even stepped inside the Royal Academy to see this autumn's exhibition and before the curators had begun to signal just what it was I should be seeing and admiring; before their attempts to mediate between me and one of the world's most powerful artists; before they edged an excellent exhibition with disappointment.
NOTES TO MYSELF ON BEGINNING A PAINTING
BY RICHARD DIEBENKORN

1. ATTEMPT WHAT IS NOT CERTAIN. CERTAINTY MAY OR MAY NOT COME LATER. IT MAY THEN BE A VALUABLE DELUSION.
2. THE PRETTY, INITIAL POSITION WHICH FALLS SHORT OF COMPLETENESS IS NOT TO BE VALUED – EXCEPT AS A STIMULUS FOR FURTHER MOVES.
3. DO SEARCH.
4. USE AND RESPOND TO THE INITIAL FRESH QUALITIES BUT CONSIDER THEM ABSOLUTELY EXPENDABLE.
5. DON'T "DISCOVER" A SUBJECT – OF ANY KIND.
6. SOMEHOW DON'T BE BORED BUT IF YOU MUST, USE IT IN ACTION. USE ITS DESTRUCTIVE POTENTIAL.
7. MISTAKES CAN'T BE ERASED BUT THEY MOVE YOU FROM YOUR PRESENT POSITION.
8. KEEP THINKING ABOUT POLLYANNA.
9. TOLERATE CHAOS.
10. BE CAREFUL ONLY IN A PERVERSE WAY.
There had been a similar experience in the same space earlier in the year with Anselm Keiffer's submarines, his piece 'Velimir Khlebnikov: Fates of Nations: The New Theory of War'. They hung in dry glass tanks in the entrance courtyard, rusty threats suspended in time, the image all the more compelling because these metal sharks were somehow armed and potent, while seeming frozen and unexplained. My curiosity was charged, stimulated: only later, off to one side, did I see some information about the piece. The curators had been padding the work with prominently displayed boards of text, pointing out how I should receive, react, respond to what I was looking at. They told me who influenced Anselm, offering definitive insights into what he felt and thought in an unquestioning language of certainty, the voice of authority. My curiosity almost lost its edge: only the scale and raw physicality of the artists' work kept it alive.
Keiffer's art is huge in every sense, some of its effect achieved by dwarfing the viewer, emphasizing the insignificance of our fragile humanity. This exhibition was raw and intimidating – the dark messy scale of it, the plasticity, the organic wintered colours, the imagery bleached and metallic. When I stood still and absorbed, I felt awe.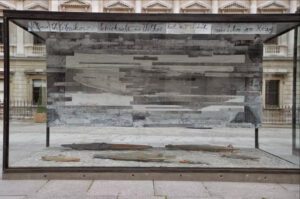 For a long while, I sat before 'Black Flakes 2006', a vast winter landscape with stakes in a white land and a book made of lead floating in front of a dark sky. Powered into surrender, I wondered if this was how viewers felt here 170 years ago, confronted by John Martin's sublime canvasses, his tiny figures dwarfed by raging thunder, lightning, inferno and floods. Looking at this mysterious painting, I glimpsed other viewers coming and going, many wearing the instructive headphones that seem to be ever-present in major galleries, watching as they paused briefly, talking, reading the catalogues. A jet plane passed overhead as it came to me how insulated we all are, how temporary the experience of this art, even when it bursts from the wall like an assault. How our visceral reaction to work is deepened when we are not being instructed in its interpretation.
Much of Ai Weiwei's work concerns itself with exposing oppression, corruption and hypocrisy. Works like 'Dropping A Han Dynasty Urn' do not require any interpretation: the three images and the title express the action while the artist's posture and the look on his face conjure the complexity of reverence, challenge, gravity and humour that infuses the act with depth and questioning. Constructions like 'Souvenir from Shanghai' convey strength and beauty, their form and materials provocative and emotional: others, like 'Table with Two Legs Up A Wall' are elegant as dancers. Several times I could feel the universality of Ai Weiwei's artistic experience being occluded by the interpretation, by a curatorial focus on the Chinese hero, the work simplistically 'explained', reduced to commodity, art's own inner language dimmed by deliberate explanation.
The curator's words were signposted in large letters on the wall in every room of the exhibition, detailing how much of the work's purpose is to highlight repression in China, failing to hint these issues are universal, that exposing double standards is part of art everywhere, including here in the UK, here in the Academy. Was this curation signposting us away from something the artist was saying? Ai Weiwei's wallpaper of golden CCTV cameras is papered over a whole room was being presented inside a country with one of the highest CCTV camera per head of population ratios in the world. In the same room, the graphic tableau sculpture's of the artist's imprisonment were interpreted within the context of China, without any reference to a wider area of concern, for example, in Guantanamo Bay. I wonder how many more people might make these connections if the repetitive curation was toned down, was less authoritative, more allusive. How many people, gazing at the information on the walls and perhaps where the voice in their headphones directs them, will notice the last work in the show, a CCTV camera carved in stone looking at them as they descend the stairs after they exit the merchandising area?
I know I am not alone in feeling resistance to the curator's guidance, what David Blazer calls their curationism. He charts and explores the rise of curatorial influence in his 2014 book "Curationism – how curating took over the art world and everything else". Tracing the emergence of curators from performance art in the 1960s and 70s, he examines their evolution from project managers into cultural gatekeepers, not just in art, but in music, fashion, design, travel, information etc. He takes aim at the way the scholarly authority of curators is asserted, identifying a "new feudalism in culture work, in which a select few, dubbed the curatorial class, maintain their illustrious positions," while so many others imitate their ways. In its extreme form, he argues, "the curator is present, the artist is absent".
Art is, of course, an industry and the leading public galleries and museums its major retailers, coerced into surviving on their block-buster exhibitions, a bums-on-seats philosophy that commodifies the work and requires the
viewer to become a consumer. The result is a way of being with art that is timorous, cosseted, safe – taking art on a plate rather than going to hunt for it, discovering its complexities first hand. Without stillness. Without curiosity.
Yet, as Blazer explores, this is how the big art institutions expect me to receive my art – presented by 'content farmers' for consumption, repeat business, more revenue. It is packaged for dinner party conversation, bucket lists, corporate hospitality and it fuels quips like Steve Jobs' "creativity is just connecting things"…. which is just not so. Creativity is much more skilled, complex and emotive than merely making connections, it is wide and deeply resonant of what it means to be us, to be human. The packaging of curational directives suggests art does not challenge, enlighten, evoke or provoke; does not exist to culturally penetrate the armour of the viewer. Ironically, this contradicts the primary object of nearly all Ai Weiwei's work: attacking dishonesty, deceit, complacency and bureaucracy. Which, of course, we have none of in our UK culture …
The work of Ai Weiwei and Keiffer is epic, much of it with a forceful energy that defies explanation. Not so with an artist like Richard Diebenkorn, whose emotional energy is colour and form, a quite different subtle personal intelligence. An exhibition of his work at the Royal Academy earlier this year was interpreted much like the Ai Weiwei and Keifer shows, with the same large print explanations in each room in the same typeface and a catalogue full of the curator's thoughts and analysis. I bristled. Mainly because I had seen Diebenkorn presented quite differently in San Francisco two years earlier. Here the print explanations were small and discreet, my guide a small piece of paper handed to everyone at the ticket barrier – Diebenkorn's '10 rules of painting'. In his own words, he wrote about his approach to his work, each canvas, each piece of paper. This was neither analytical nor patronizing. It wasn't even informative, really – and it didn't tell me how to look or how to see or how to encounter the work. The reverse, in fact: it stripped away preconceptions in the viewer, creating more likelihood of a face-to-face encounter with colour and form, with movement, observation and emotion. It did not 'arm me with information'. It disarmed me.
"At it's worst" says David Balzer "the power-mongering of curationism creates an intolerable noise, a constant cycle of grasping and display. To escape and conquer this, there must be stillness". These exhibitions do not give us stillness. They give us the large print packaging, room by room, the customers with their headphones on, the curator's noise ever present like a chaperone, making sure none of us get too close to the life and death of it, the sex of it. The endless repetition of themes, theories and messages echo Orwell's doublespeak in 1984, becoming the story, the insulation against the disarming.
Much of Keiffer and Ai Weiwei's work is so majestic, it lives with this noise, though it might have even greater power amongst stillness. Diebenkorn's work is more affected, dulled by the noise, it seems that the vibrant spontaneity of its creation is more easily infected by too much information. We need that is an education, as the poet W.B. Yeats defined it : "Education is much more a fire lit, than a pail filled".
*The Ai Weiwei, Anselm Keiffer and Richard Diebenkorn exhibitions referred to in this article were staged at London's Royal Academy during 2015.
*David Blazer's book " Curationism – How curating took over the art world and everything else" is published by Coach House Books (2014) and Pluto Press (2015).
Richard Sharland
Richard Sharland is an artist and writer who runs a small gallery – Terre Verte – in north Cornwall.
Volume 30 number 3 January / February 2016 pp 19-22