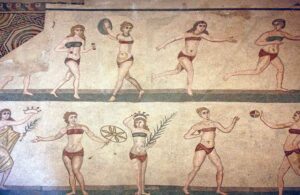 Women have always supported pain and discomfort in the name of beauty and fashion, as they have tried to fit the image society expects of them and have the figure that men of their time admire. All for fashion. The fact that some clothing articles might be uncomfortable or constricting has been considered unimportant and just part of being a woman – discomfort is natural, of course. Women over the ages have undergone endless fashion tortures, from tight bodices, corsets, foot binding in China, girdles, sleeping on steel curlers at night, garter belts, uncomfortable high heeled shoes, thongs, suffocating tights and stockings, to underwired push-up bras to make them look bustier. Would men have ever put up with such rubbish? Would a man be willing to wear an underwire supporter for his trouser snake? No, never.
It's questionable if men would be interested in displaying and making more evident their male genitalia again as they did in the 15th to the 17th centuries, where they wore the so-called codpiece as a pouch in front of their trousers to show off their attributes and virility. The codpiece had no underwiring, hence they had no pain or discomfort in wearing them, probably with an element of pleasure. Fortunately, around 1575 Queen Elizabeth (1533–1603) was able to discourage the use of the codpiece. Today most men wouldn't like all the publicity of having their crotch stared at constantly. However, Amazon does sell at least two models of undergarment codpieces for men in a modernized model that is somewhat similar to the effect of the padded underwired bra. They offer the amazing "male package enhancer" that can be worn underneath trousers and swimming costumes; it gives men a noticeable bulge, so they appear larger. They also offer comfortable elastic ball lifters to enhance their appearance or attraction. Interesting.
Today most of men's clothing is focused on comfort, excluding the tie, which is excruciating at times, especially in the summer heat, though it doesn't really enhance a body part except for a man's face and broad shoulders, should he have them. Men's clothing has more pockets and in general is better made than women's clothing. Seams are often re-enforced, and fabrics are not delicate and easy to rip like the chiffon and silk fabrics often used in women's clothing. Pockets for men are real, whereas designers for some reason often leave fake pockets in women's trousers and jackets, as though they didn't need them. Sportswear for women is changing all this, and it's a godsend. In 2018 isn't it time women eliminated uncomfortable bras that exaggerate the size of their breasts with the conspicuous display of their bodies, advertising their femininity?
Women in the 15th and 16th centuries were exposing their breasts in their dresses, from Queens to prostitutes, as the breast wasn't considered sexy but as a sign of virtue. A press release of the University of Warwick wrote (also in History Today magazine): "In the 1600s it was fairly commonplace for women to bare their breasts in public. The fashions were initiated by court members and Queens, then replicated by ordinary women, and common prostitutes. 17th century fashion, rather than demeaning women, could be empowering. The extremely low-cut dresses were designed to encourage men to look but not to touch. They empowered some women to use their sexuality."
From: https://web.archive.org/
As time went by women covered up again and started wearing corsets. From the corsets came the girdles, and then those too mostly disappeared from the scene and along came padded and underwired bras to enhance the breast lift. These bras promised instant shaping, thanks to the engineering feat of the wire structure; wire, though covered with soft fabric, easily chaffed delicate areas of skin as it offered no flexibility. Women looked forward to nothing more than coming home and taking off their bras, freedom from those wire cages.
Building a bra isn't just a design pattern, but is also a feat of engineering, of hydraulics and physics. Some bras have been studied by engineers as shock absorbers for the big bosomed women who bounce with every step. There are even patents for the engineering structure of some bras; they are not just drawn by fashion designers. Due to market trends some of these highly trained bra engineers are already having to change their specialty and re-train in other fields of engineering.
So why the big shift today from sexy underwired bras to the unenhanced bralette or even the flattening sports bra? The answer is comfort. Comfort over discomfort and a new kind of sexuality, as a trail blazer and burst of sincerity. Women are becoming real, no more illusion, no longer little Barbie dolls. At least some of them, many of them. The underwear industry has had to meet their demands and unquestionably the trend towards sports bras and bralettes is growing exponentially. According to retail analytics of Edited, "sell outs of push-up bras have fallen by 50% compared to a year ago, while sell outs of bralette or triangle bras, have rocketed by 120%. That's based on a sample of 80 lingerie retailers across the US, UK and Europe."
Where sports fashion has been transforming everyday wear even for work, it has finally made a dent in the bra industry. Women are more and more interested in being fit and showing off their fitness; hence the success of the sports bra, but also the little, light bralette, leaving a woman's breasts to feel totally free as though going braless. Can it get any better? Fashion expert Liliana Vazquez says, "Sports bras have almost become women's badge of honor from their workout and having a body that's fitting of just wearing a sports bra." Some progress has been made as women leave behind their cages and embrace their breasts in the wind. Perhaps men will also benefit from this.
With the royal bra fitter (82-year-old June Kenton of Rigby & Peller) losing her famous client, thanks to her autobiography that also covered fittings with the Queen, the Queen Mother and Princess Margaret, what is yet to come? Have they too abandoned their underwires in favour of bralettes and sports bras?
Pendery Weekes
Volume 33 no 3 January / February 2019 p 33-34