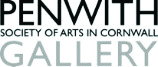 8th April 2016, 7.30 pm Penwith Gallery St Ives
'Should the Future of the Penwith be its Past?'
Questions from the audience from 8pm.
Speakers:
Peter Davies, Penwith.
Michael Gaca, Belgrave Gallery St Ives.
Daniel H Nanavati, UK Editor New Art Examiner.
Derek Guthrie, Publisher, New Art Examiner.
Admission free. Refreshments from the cafe.
Sponsored by Penwith Gallery, St Ives, Belgrave Gallery, St Ives and Newlyn Society of Artists.